October 18th is World Okapi Day and we're celebrating with a very special limited release soap bar developed in partnership with the Okapi Conservation Project.
Native to the dense forests of the Democratic Republic of Congo, okapi are the awkward, adorable, gentle cousins of the giraffe, and they're currently classified as "endangered" by the IUCN Red List.
Okapi Conservation Project works closely with the local communities throughout the Ituri Forest in DRC to protect and preserve okapi and all of the other species that call this region home.
We are proud to be partnering with OCP in October to bring awareness to the okapi and support the important work they are doing.
This limited edition okapi soap bar will transform your bathroom into a rainforest oasis. With the most luxurious blend of jasmine and orchid with a hint of rain and warmth, your day will brighten with every lather, and you'll directly support okapi conservation in the process. 
And if you want to learn more about the okapi and why they're our founder Krystina's favorite animal, check out our full blog post on what okapi are and how we can protect them.
$2 of every Okapi bar sold will be donated to the Okapi Conservation Project.
Please note that all of our soaps are made by hand and therefore may differ slightly from those pictured.

Okapi Conservation Soap Bar Quick Details:
$2 of every bar sold goes directly to Okapi Conservation Project
All-natural and biodegradable ingredients
Safe for sensitive skin and septic systems
Package-free and plastic-free

Vegan, cruelty-free, and palm oil free
✨ Don't forget to grab one of our limited-release Okapi Conservation Swedish Dishcloths, too!
Ingredients
Saponified Oils of Coconut, Olive, and Avocado; Aloe Vera; Kaolin Clay; Indigo Powder; Aritha Powder; Brazilian Pink Clay; Turmeric; Essential Oil Blend for scent
Care
To help your okapi soap bar last as long as humanly possible, be sure to let it dry completely between uses. 
Packaging + End of Life
These soap bars will either be completely unpackaged or wrapped in reused kraft paper, which can be home composted if there is soap residue left on the wrapping. If the wrapping is completely clean, it can be recycled with curbside paper recycling.

Origin
Handmade right here in Tacoma, Washington. Get to know the face behind this product: Soap & Clay.
Ethical Guarantees
Give-Back Program
Made in the USA
Palm Oil Free
Vegan
Washington Local
Woman-owned
🌎 You care about the planet. So do we.
Look. I get it. It's HARD to be an EcoWarrior. Someone who cares about the planet and wants the most sustainable products available - from the ingredients to the packaging to the way that product gets to your hands.
It seems like everywhere we turn, someone, somewhere, is greenwashing us.
But our superpower at A Drop in the Ocean is sorting through the BS, calling it out, and making sure our products are the absolute most sustainable and truly zero waste products we can find.
So on top of all the things we mentioned above about what makes our Okapi Conservation Project soap bar so sustainable, here's a few other things you should know:
We're actually practicing what we preach behind the scenes. In 2022, we saved all of our trash for four months, and wrote a whole blog post on it. The tl;dr version is this: in four months, we only produced two pounds of trash. Everything from the packaging our products come in down to the Sharpie we use to write "Fragile" on your box is zero waste to its core.
We're an online-only zero waste store - which is highly intentional.

 

It may seem counter-intuitive, but

 

online shopping is actually more sustainable than in-person. I'm a data nerd at heart and I love diving into the research, and there are countless studies that have shown that online shopping is the most sustainable way to get your everyday essentials. Don't believe me?

 

Check out our whole blog post on the sustainability of online shopping.
We ship ugly boxes.

 

Your order from A Drop in the Ocean is not going to arrive in a pretty, branded box. It's gonna show up in a reused tea box, or a donated Amazon box, or maybe even an inside-out Girl Scout Cookies box. All of our shipping materials are always 100% plastic-free and reused as much as possible, with curbside-recyclable paper tape and a post-consumer recycled paper shipping label. It won't be pretty, but it will be zero waste.
Got more questions about our zero waste products or our practices behind the scenes? Just send us an email! I'm always happy to chat all things eco.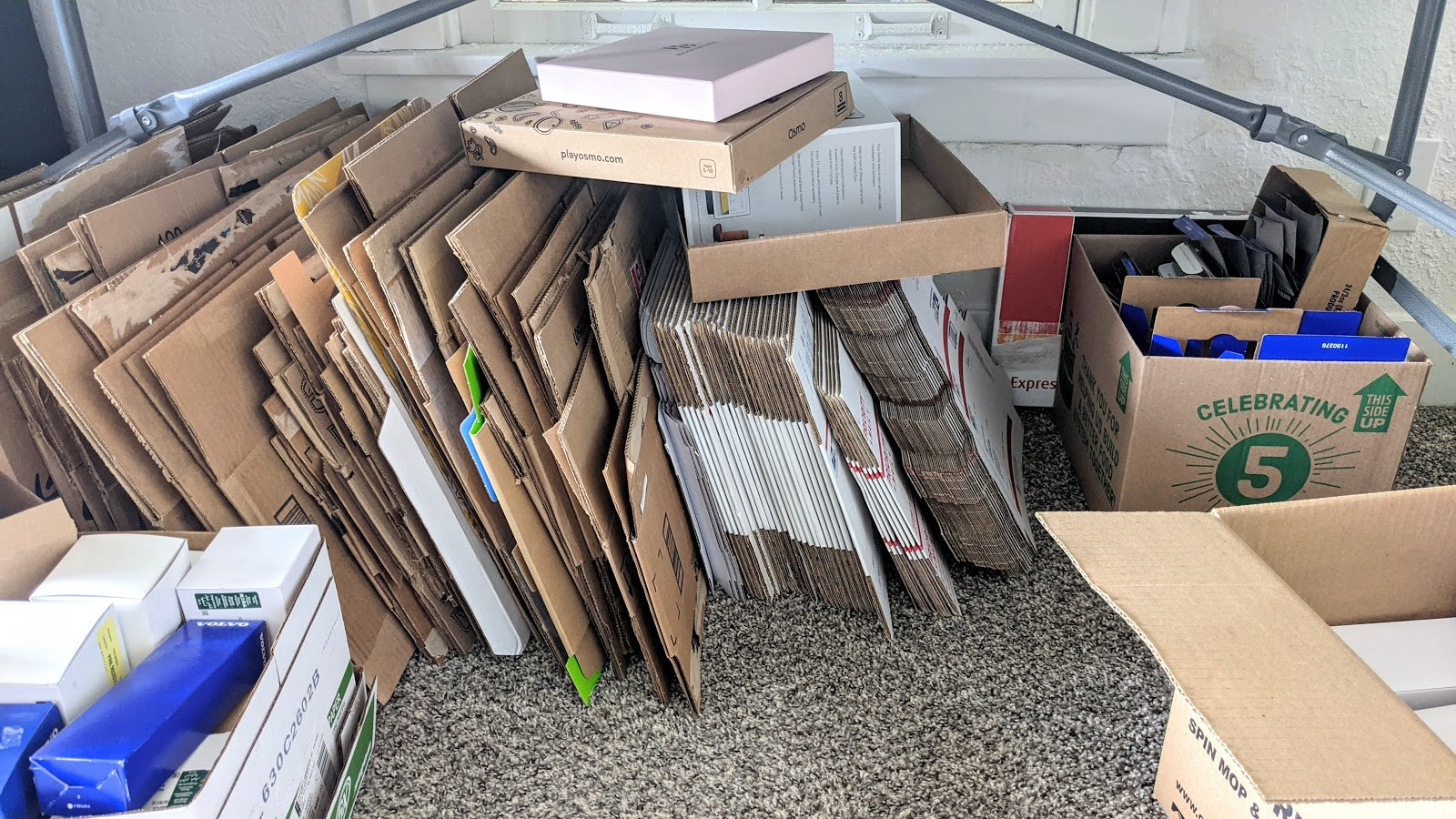 sustainable packaging
We ship ugly boxes
Our commitment to sustainability doesn't end when you press that checkout button.
We pack all of our orders in reused boxes and envelopes, with reused paper packaging, post-consumer recycled paper labels, and even paper tape.
You may not get an IG-worthy unboxing, but you will get the most sustainable packaging we can possibly find.
Oh and did we mention our shipping is always carbon negative?
Let's go to the real winner in my eyes. Honestly, I could have purchased this exact product many other places, but the packaging A Drop in the Ocean uses to ship will have me coming back time and time gain.

My first purchase from them was some floss a while ago and it arrived in a reused tea box with a hand written note that was written on scrap paper. I was blown away.

I had never seen a company who claimed to be sustainable ACTUALLY prove to be sustainable through and through. The fact that every piece of the packaging was reused and minimal will have me come back over and over again. If I can purchase it here, I will purchase it here.

Samantha
Customer Reviews
10/31/2023
Dianna V.

United States
I recommend this product
OKAPI CONSERVATION HAND AND BODY BAR
The bar is beautiful. Very well done. The suds are velvety, just like the coat of the Okapi. I wish I knew what essential oils were used but I detect woodsy scents. Very nice. And it makes perfect "scents" (LOL) since the Okapi live hidden in the tress of the jungle. And who doesn't want to buy awesome soap to support a very worthwhile conservation project!
10/18/2023
Katie V.

United States
I recommend this product
I love this soap!
I bought this soap last year for the first collaboration, and I made sure I bought more bars this year because I loved last year's so much. I love the way it feels and how long each bar lasts me. This year's scent is different from last year and feels more like a nice fall scent versus the rainforest-like scent from last year. If you want more of a fall-feeling soap, this one is fantastic.
11/23/2022
Anonymous

United States
I recommend this product
Okapi-riffic!
The scent of this soap is great. Kinda earthy and Herby but nice. It's not overwhelming. The soap goes on smooth too.
Our EcoWarriors also love...