A Message from Okapi Conservation Project for World Okapi Day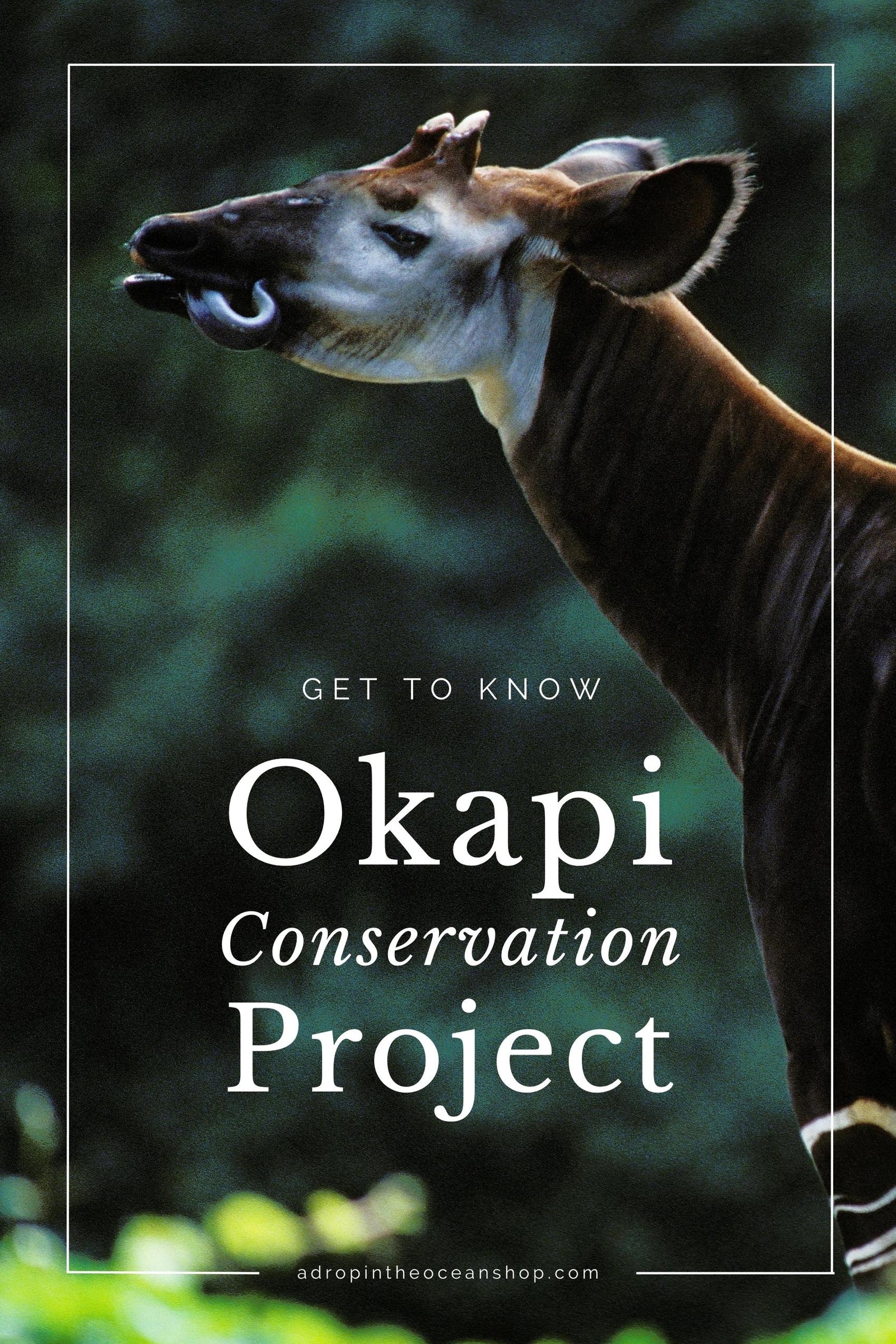 Listen to the audio of this post here:
This post first appeared in our weekly Make Waves Mondays email series on October 17, 2022.
---
Ohmygosh HELLO, friend! I'm so so so freaking excited for today's post. It's time for another guest post!
In honor of the BEST DAY OF YEAR - *ahem* World Okapi Day *ahem* - today's post is comin' atcha from my colleague in conservation, Lucas Meers, Program Manager for the Okapi Conservation Project.
I first met Lucas back in 2018 at a zoo conference when I was just a baby in the conservation world, giving a presentation about an inter-zoo plastic-free challenge I was coordinating. Lucas was working in the zoo world at the time, as well, and was giving his own presentation later that day.
We've since both ventured beyond the zoo world and now Lucas is out living my dream of working with Okapi Conservation Project.
So when my friend, colleague, and okapi mentor from my zoo days, Sarah, reached out last year to plant the seed of an okapi soap this year, I was a million times sold, and absolutely thrilled to hop on a Zoom call with her and Lucas to get to planning.
If you haven't seen 'em yet, our Okapi Conservation Soaps are the bomb dot com, and have been an even bigger hit than any of us anticipated.
Today, I'm passing the proverbial mic over to Lucas, to share with you more about the work Okapi Conservation Project is doing and how you can support okapi from the comfort of your own home.
Thank you so much, Lucas, for putting this together!
---
We at Okapi Conservation Project want to sincerely thank Krystina and A Drop in the Ocean Shop for supporting okapi conservation through the sale of the special edition soaps and Swedish dishcloths, and Sarah Werzinske, okapi keeper at Columbus Zoo and Aquarium, for sparking the idea!
The okapi is a beautifully mysterious animal living in the dense rainforests of Democratic Republic of Congo (DRC).
It is often unknown to the world outside the DRC and when people learn about the okapi for the first time, they often incorrectly assume okapi to be a hybrid of different species, when it is a very special species that has remained unchanged for millions of years.
Despite being endangered, okapi can survive and even thrive with small-scale agriculture and human activity within the forest, but they disappear in areas of consistent forest loss and expansive human encroachment, gold mining and poaching for bushmeat.  
Our programs work with communities to help protect the forest home of the okapi to benefit the animals and people that depend on it for survival.
We focus on three pillars to help protect okapi:
Wildlife Protection
We support the ICCN ecoguards, the government entity tasked with protecting DRC's protected areas, by providing healthcare for them and their families, providing food and other rations on forest patrols and additional bonuses and equipment if needed.
The ICCN ecoguards risk their lives an average of 20 days per month in the forest on patrol collecting snares, removing miners and arresting poachers. The work of the ICCN ecoguards allow okapi and other animals to live and move freely throughout the Okapi Wildlife Reserve.
Community Assistance
Probably the strongest and most impactful pillar is our close work with communities. It's important to not only protect okapi, but also support and assist communities that share the rainforest resources with okapi.
Through our agroforestry program, we provide farming tools, seeds, equipment, and training for local farmers.
By using a combination of our agroforestry techniques, farmers are able to utilize the same plot of land while increasing their crop yields, thereby reducing the need to go further and further into the forest for land to grow crops and access forest resources which can eliminate okapi habitat.
Women in this region have the closest relationship with the forest, and OCP also recognizes that relationship and the important role women play in protecting okapi.
By providing opportunities for alternative income generation and a platform to express and voice their needs and opinions within their communities, women become vocal advocates for protecting the okapi and its rainforest home.
To further develop trust within the community, we also provide access to clean water by renovating and rehabilitating public water sources, and basic healthcare needs to over 20 rural health clinics. Building trust within the community allows us to open a dialogue on the importance of protecting the forest for okapi and people.
Conservation Education
When we provide assistance to the community, we always include an element of conservation education and bring our work back to protecting okapi.
Our OCP educators are hired from the communities they work, allowing OCP to forge strong relationships with people from those communities and facilitate the implementation of our community programs that improve livelihoods and protect the forest.
Our educators regularly meet with school children of all ages, develop lesson plans on human health and protecting the forest and host fun opportunities to engage children and adults on the importance of protecting the okapi's forest home.
How can you help okapi?
Our global network of supporters and okapi enthusiasts often ask how they can help protect okapi when they are located so far away.
We have an incredible community-led team of conservationists that know how to effectively protect okapi. We simply lack the funds and the global awareness needed to implement our community-focused programs. 
If you are interested in helping okapi, we encourage you to support campaigns that provide funding for our programs (like the okapi soaps from A Drop in the Ocean Shop!) and tell all your friends and family about the endangered and enigmatic okapi.
People can't save a species they don't know about. 
For more information about okapi and the Okapi Conservation Project, you can visit our website at www.okapiconservation.org or follow us on Facebook (Okapi Conservation Project), Twitter (@okapiproject), and Instagram (@okapiconservation).
Again, we sincerely appreciate the support of A Drop in the Ocean Shop and your passion to live more sustainable, waste-free lives.
Thank you!
Lucas Meers
Program Manager
Okapi Conservation Project
---
P.S. Wanna learn more about okapi and ways you can protect them? Check out our blog post, "My favorite animal, the okapi."
P.P.S. Don't forget to grab your okapi soap before they're gone for good! There's just a handful left, and I PINKY PROMISE you won't want to miss out on these. I'm ~obsessed~ with the new scent.
---