Make friends with
whale sharks.
Spend three days on the water, swimming with whale sharks, sea lions, and more.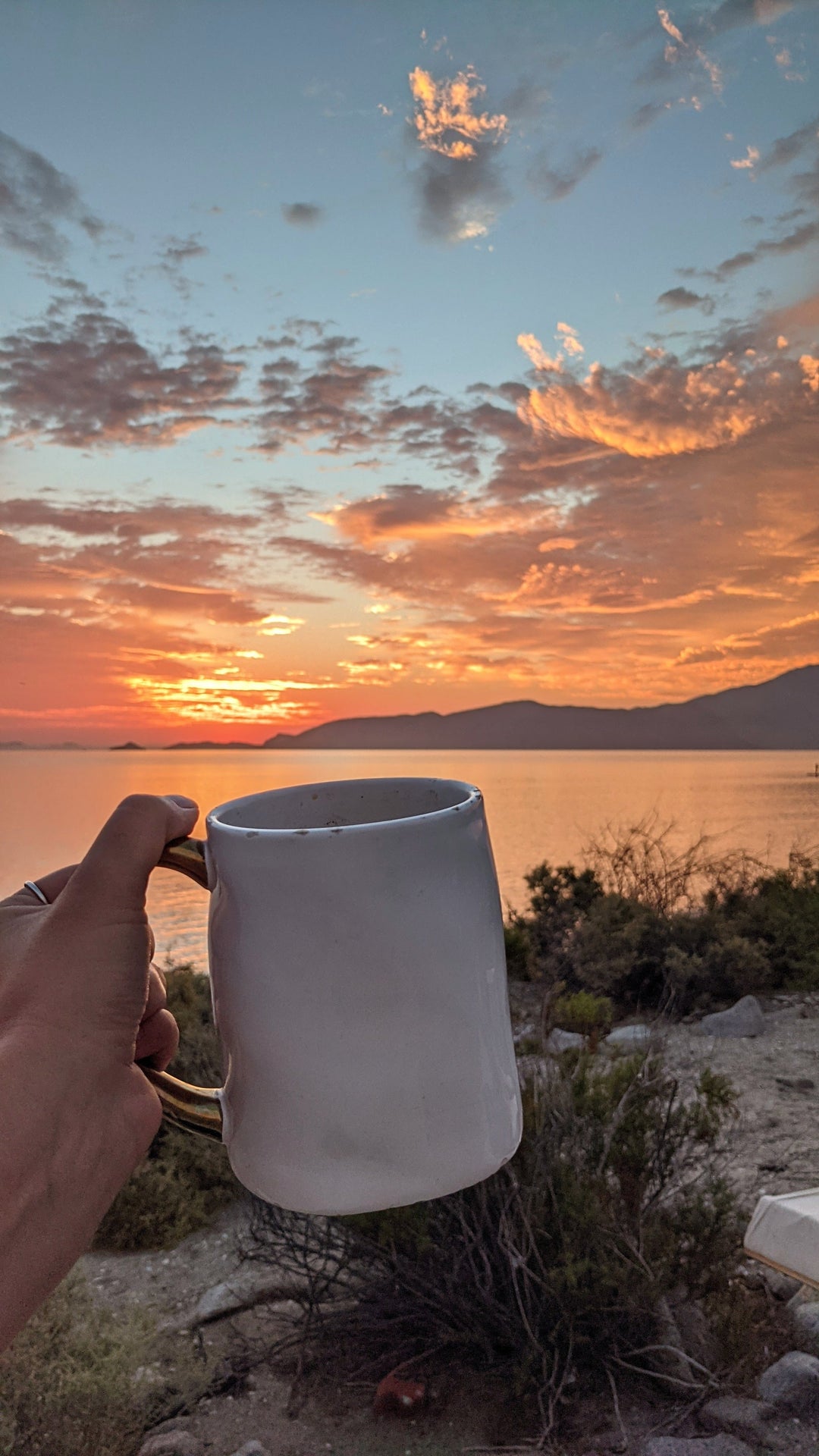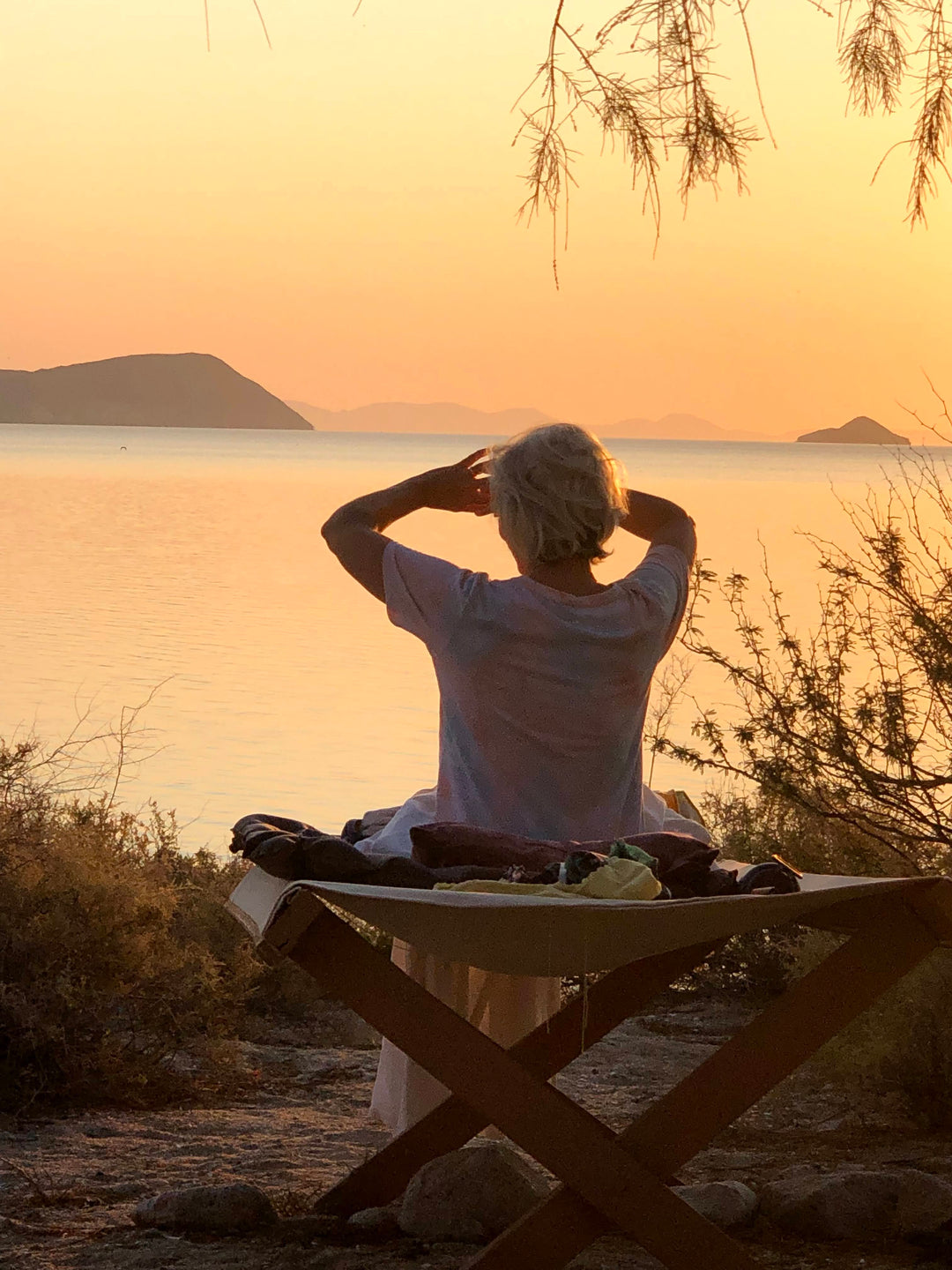 Fall asleep under the stars
Wake to the Sun
As the sun begins to dawn, and the tide begins to rise, open your eyes, pour yourself a cup of coffee, and enjoy the view.
Breathe with the waves.
Practice yoga on the sand each morning with our yoga leader, Erica Chang.
Embrace discomfort
Discover Your Purpose
Through journaling, group discussions, mindfulness, and intentionally engaging with nature, you'll uncover your unique pathway to making waves in your community.
Part yoga retreat.

Part climate action workshop.

Part snorkeling adventure.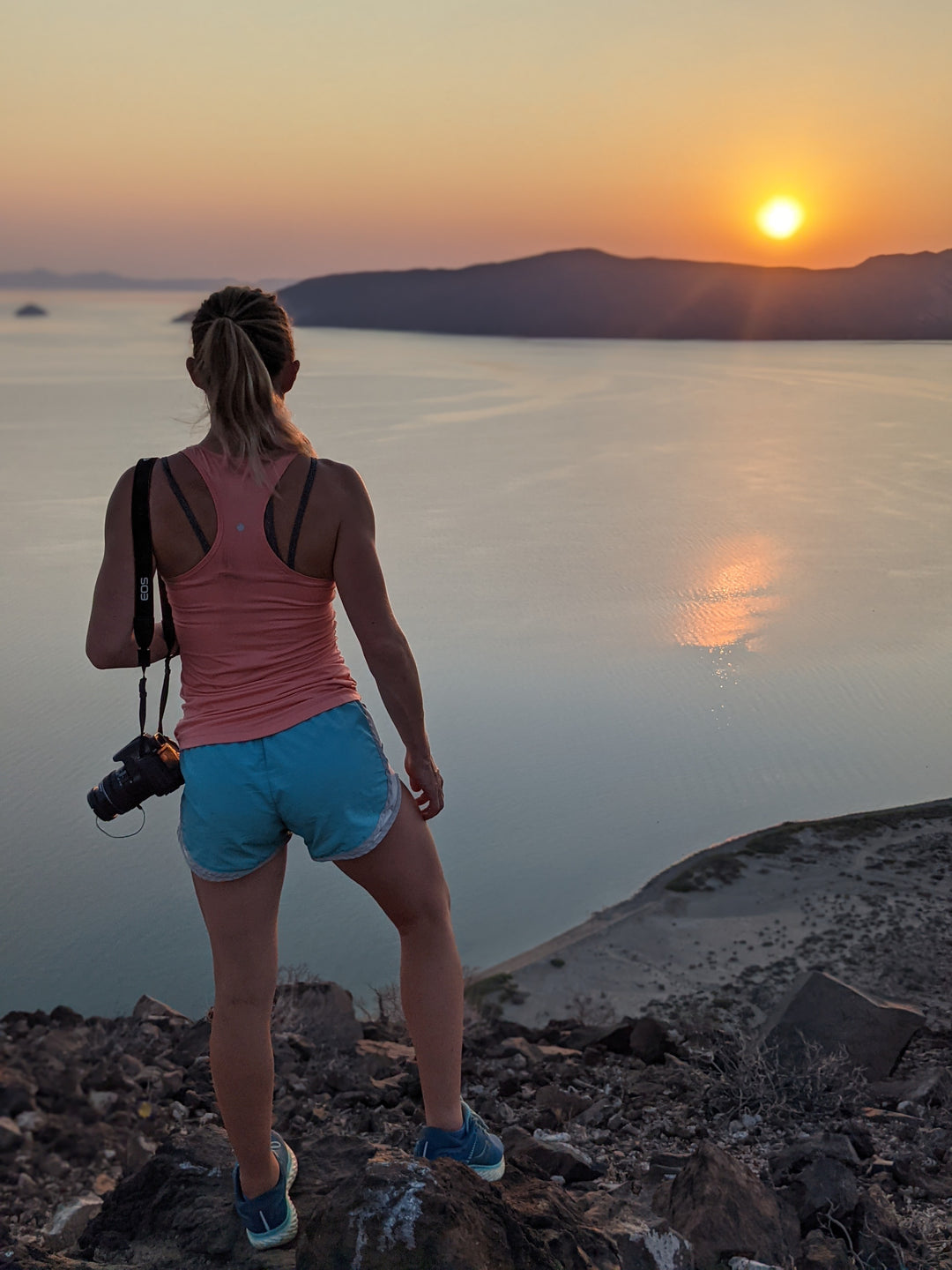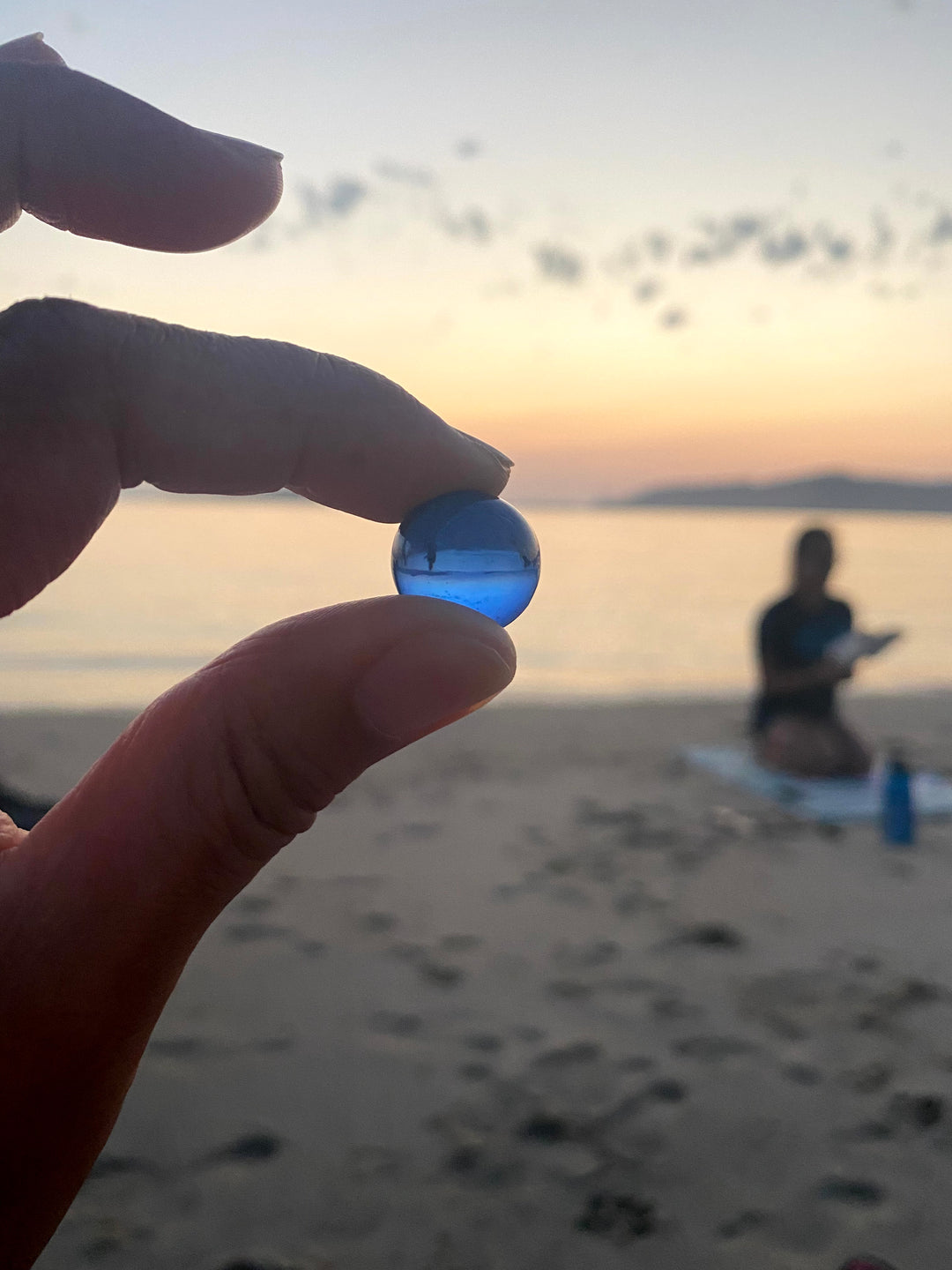 Community is everything
Find Connection
With the sea. With each other. With yourself.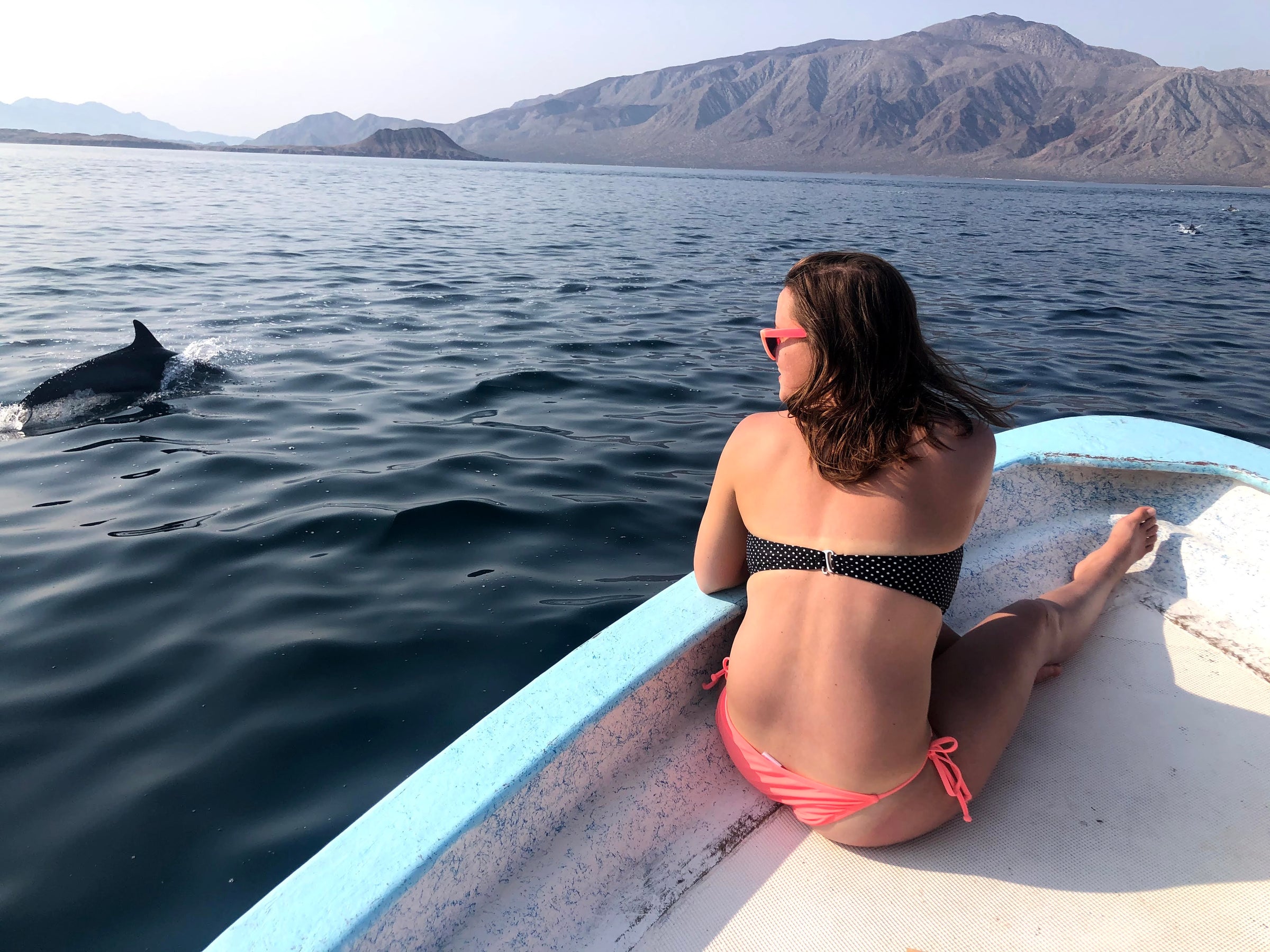 The adventure begins
Sept 5-10, 2024
Vermilion Sea Field Station
Baja California, Mexico
say no more - I'm in
The experience was perfect. Such a beautiful place, beautiful wildlife, I loved swimming with whale sharks, snorkeling, being on boats, exploring islands, sleeping under the stars. This is a wonderful opportunity to learn, explore, and experience a beautiful place while knowing we are working with a responsible ecotourism organization that is a force for good.

Christina C.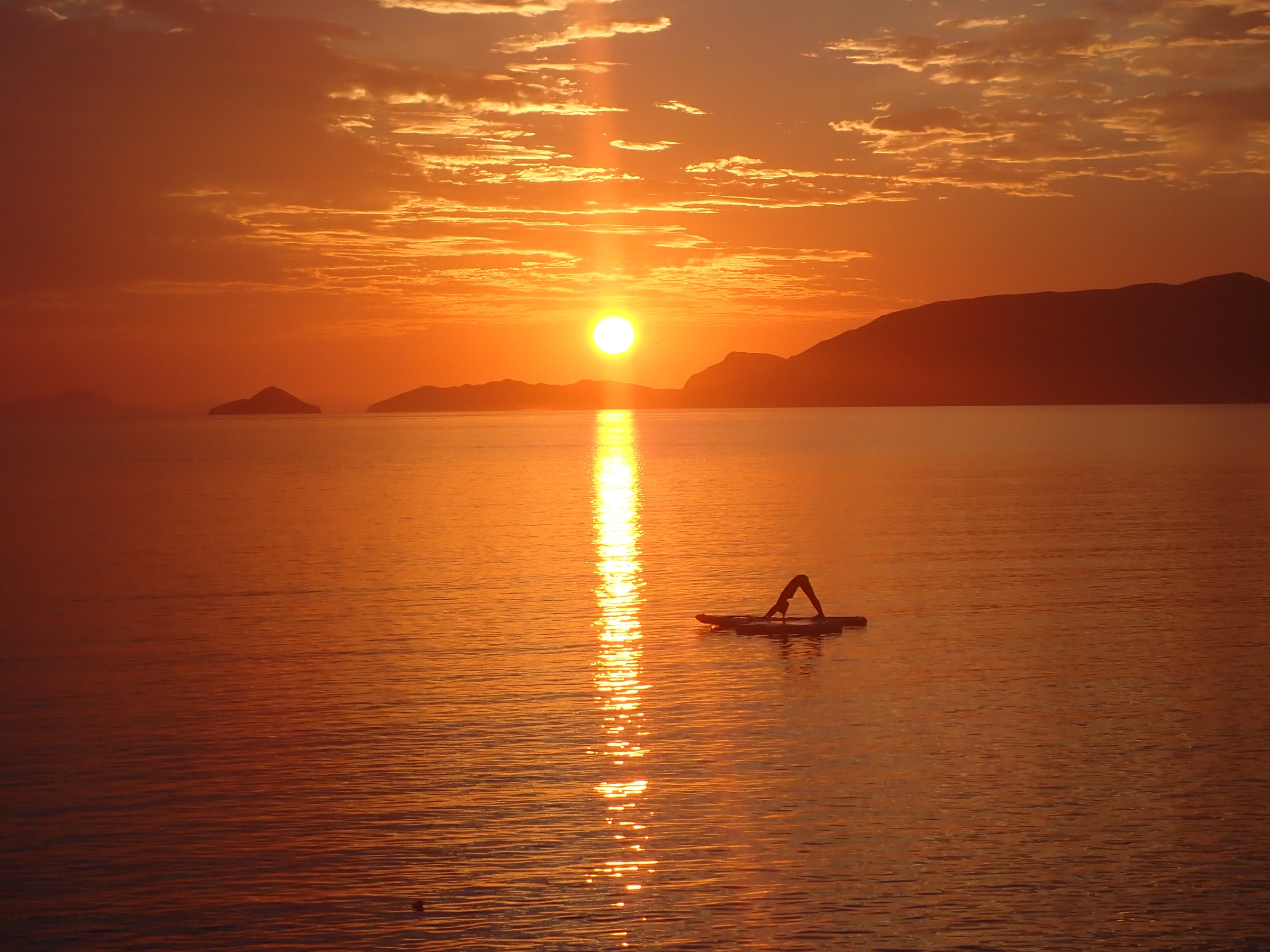 a peek at our days on the sea
What's on the agenda
Each day includes a chef-prepared breakfast, lunch, and dinner.
September 4 // Fly into San Diego and stay overnight in hotel. [not included] 
September 5 // Our adventure begins! Depart for Bahía de los Ángeles from San Diego, crossing the border and stopping for lunch, scenic views, and our first discussion session along the way. Arrive at Bahía de los Ángeles and settle into the Vermilion Sea Field Station.
September 6 // Morning yoga practice. Introduction to the retreat, Bahía de los Ángeles, and the field station. Snorkeling lessons and free exploration. Afternoon discussion session, journal prompts, and evening mindfulness exercise.
September 7 - 9 // Morning yoga practice. Boat trip to unique ecosystem or snorkeling opportunity. Hiking, beach cleanup, massages, free exploration. Afternoon discussion session, journal prompts, and evening mindfulness exercises.
September 10 // Morning yoga practice. Pack and depart for San Diego, stopping for lunch and scenic views along the way. Arrive at hotel in San Diego.
create your own adventure
Take what you need. Leave the rest.
Don't want to join the yoga practice? Want to take a nap instead of go on a hike? All activites are optional, so you can create the retreat you need.
While I have never been against doing things on my own, this was by far the biggest adventure I have done on my own and it was very nerve-wracking but in the end amazing. I loved that it reminded me of all the great parts of church camp growing up, the community, sharing spaces, sharing new experiences, deep discussions, but without the guilt trips, or being forced to do activities we did not want to to. I appreciated being encouraged to step out of our comfort zone to new activities, but to listen to ourselves if it was too far out of our zone.

Sarah T.
What's Included
All transportation from the moment we depart San Diego.
All accommodations during time at the Vermilion Sea Field Station.
Three chef-prepared meals each day, water, coffee, tea, and snacks.
Daily yoga class with certified instructor.
All snorkel gear (fins, snorkel, wetsuit).
Unlimited use of kayaks and stand-up paddle boards.
Access to library of ecological and environmental advocacy readings.
Mexican visa and island permits.
Boat rental with trusted and experienced captains.
Emergency medical insurance.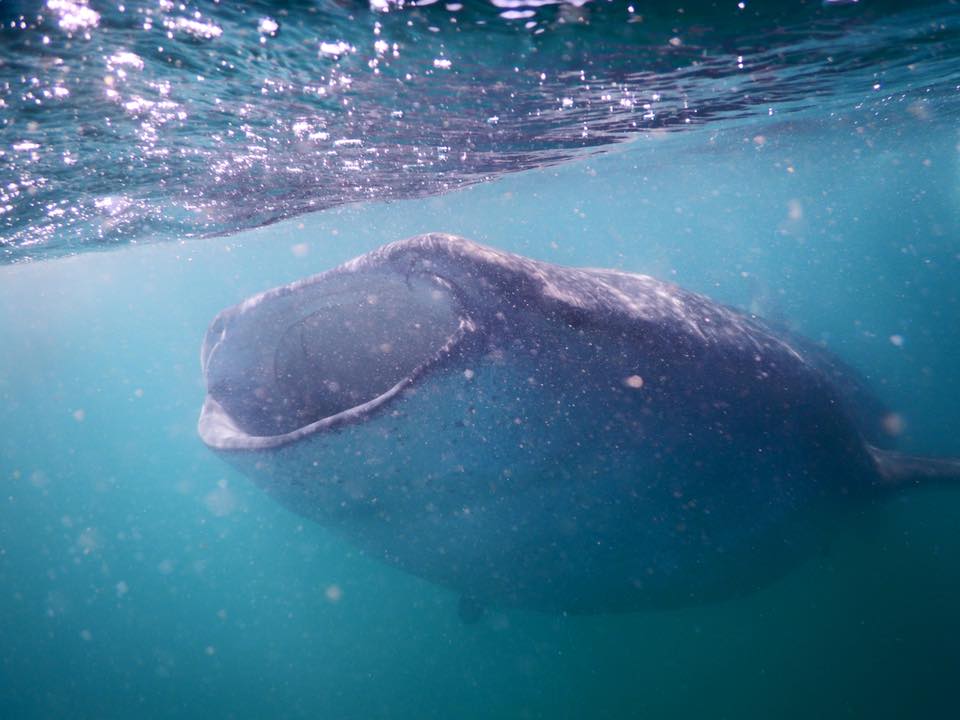 What's Not Included
Flights to and from San Diego.
Hotel stays in San Diego. (We will have a block of rooms reserved at our partner hotel.)
Additional snacks and alcoholic beverages outside of included water, meals, and snacks.
Massages, souvenirs, and other optional activities.
Scuba diving can be added during secondary registration for an additional $250.
get to know your retreat leader
Krystina Jarvis
In 2017, Krystina fell head-over-heels in love with the sea. Although her trip to the Vermilion Sea Field Station was just a few short days, the time spent in Bahía de los Ángeles changed the course of her life, and ultimately led her down the path of creating what is now A Drop in the Ocean.
Sharing actionable ways for everyday humans to engage with sustainability and conservation absolutely lights her up. And being able to walk side-by-side with EcoWarriors on this retreat, helping them tap into their inner mission, discover their core values, and find their voice for the planet, all while sharing this space that's changed so many lives? There's nothing better.
Krystina believes that there is no such thing as a black-and-white solution in sustainability, and that finding those little ways we can all live lighter on the planet should bring you joy.
Creativity, curiosity, inquiry, exploration, and laughter are at her core, and her mission on this retreat is to bring those to the forefront in each of us so that we may thrive in this space together.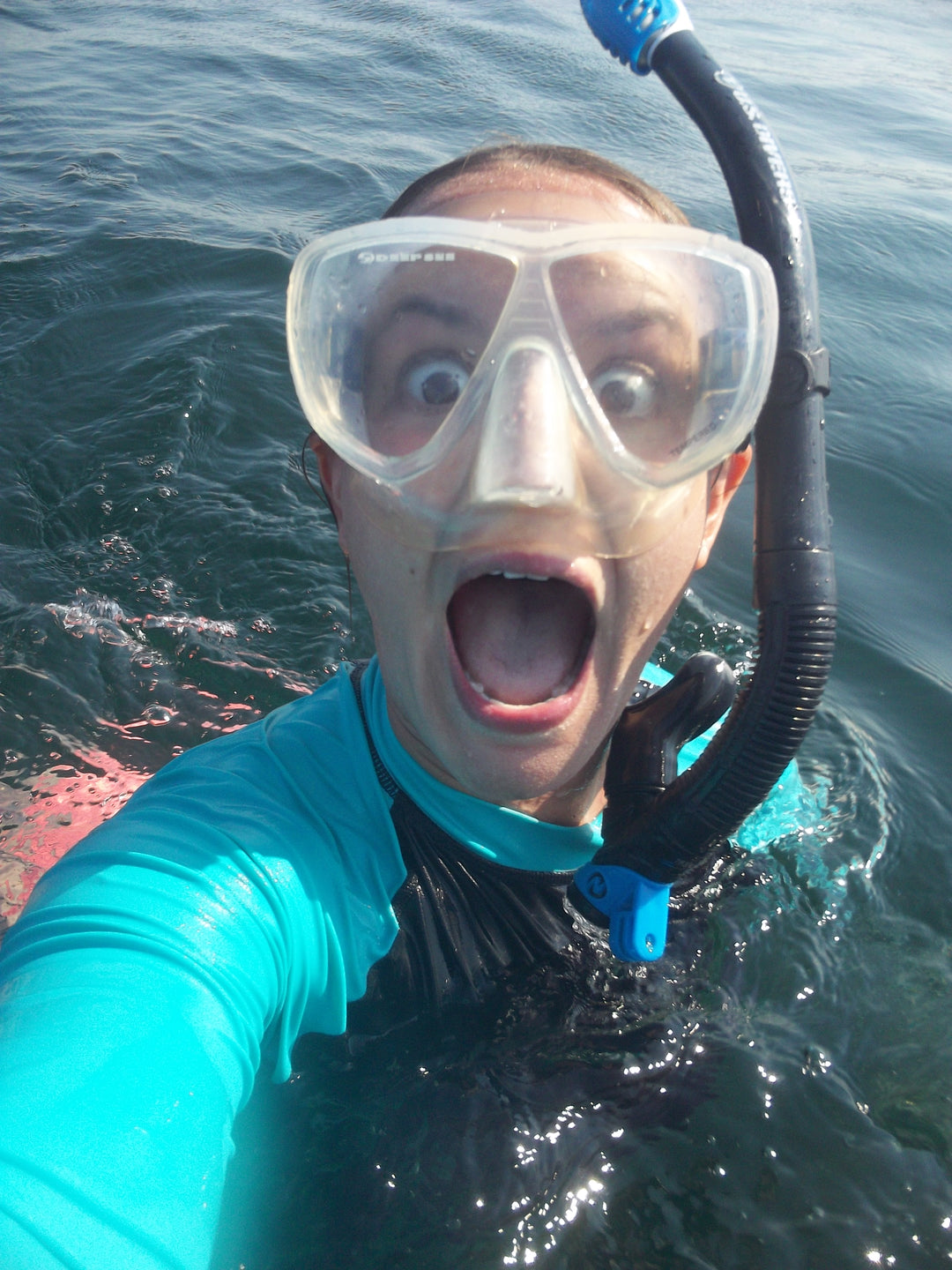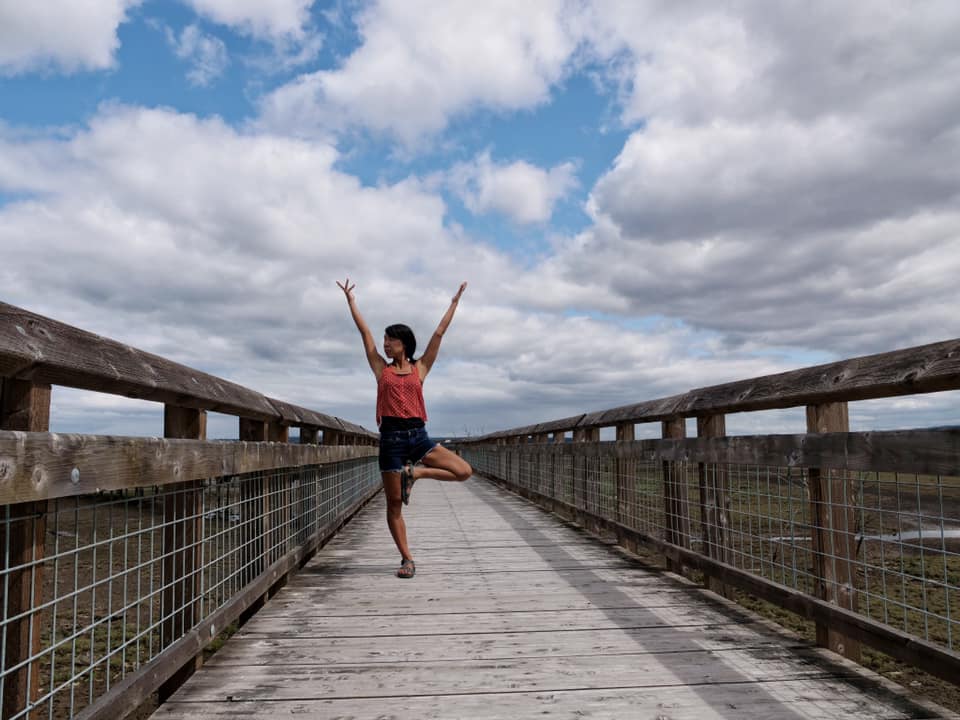 get to know your yoga leader
Erica Chang
Erica has practiced yoga since 2010 and completed her 200 hour yoga teacher certification with Pamela Higley at Samdhana Karana Yoga. She has also completed the Yoga Behind Bars training and Street Yoga training.

With yoga, she has found a melding of the best things in her life: spirit, athleticism, sweat, breath, laughter, community, and rhythm.

Her goal as an instructor is to offer a space to explore, allowing others to become curious about what they are capable of as they leave a little stronger, a little softer and a lot more balanced. Outside of yoga, you will find her out and about exploring new trails, paddleboarding, and trying on new adventures.

Erica designs her classes for the EcoWarriors on this trip. So if you've never practiced before, or have only practiced a few times before, you won't be out of place.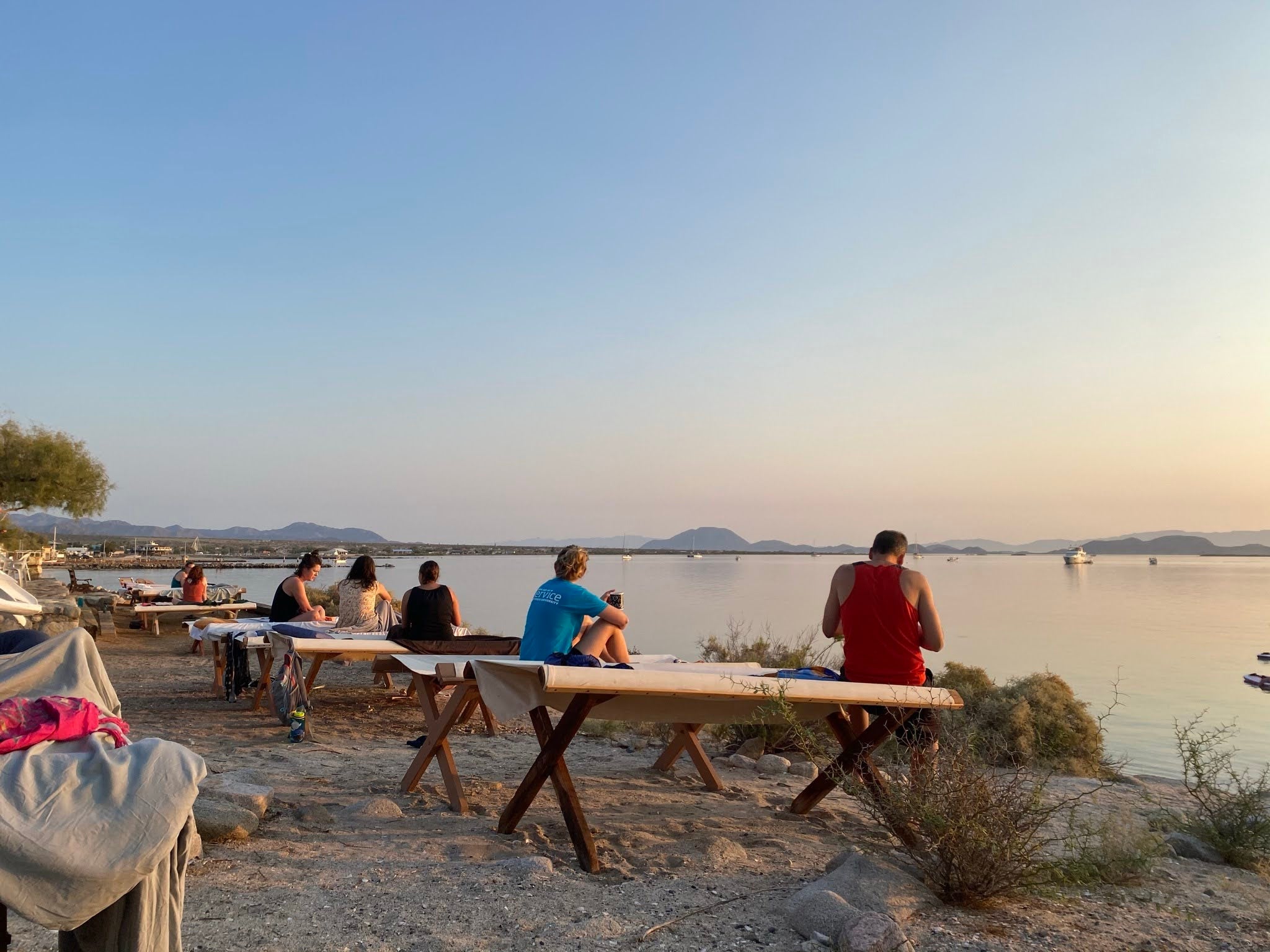 Investment
For this all-inclusive, 6-day trip, total investment is $2,500 per person, or just $416 a day.
You will need a valid passport for all members of your party with six (6) months remaining before expiration at time of travel.
show me where to register
Cancellation Policy
The $1,450 deposit is non-refundable. Cancellations before June 1, 2024 will receive a full refund minus the $1,450 deposit or deposit equivalent if registration was paid in full. Cancellations after June 1, 2024 will not receive a refund. All payments made with a payment plan are non-refundable, regardless of cancellation date.
Registration for this year's retreat will be open until all spots are filled. There are only 8 spots available.
If we do not have 7 registered attendees by June 1, 2024, the retreat will be canceled and all registered attendees will be refunded.
While whale sharks have typically visited the waters off Bahía de los Ángeles each summer, we can not predict that the sharks will be present during this retreat. Therefore, there is no guarantee that attendees will see or swim with a whale shark.
YES. Absolutely there will be.

When you complete your secondary registration for the retreat, we will ask you for any allergies, food preferences, and dietary restrictions you have.

Then our amazing chef, Brent, will make sure that for every meal there's always an option for you - and it's always delicious.

The more specific you are during the registration process, the better we can serve you.
All participants will need to provide proof of vaccination or proof of a negative COVID-19 test within 72 hours of the start of the retreat. We appreciate your cooperation and understanding in helping us create a safe environment for all.
The Vermilion Sea Field Station is home base for our ocean conservation partner, Vermilion Sea Institute. It is first and foremost a field facility for researchers and educators in the environmental sciences with rustic yet enjoyable accommodations.
The field station is comprised of a central two story adobe and stone facility with 12 multi-purpose rooms, a large kitchen, indoor shower and changing room, outdoor bucket-flush bathrooms and an additional family house.
This retreat is a great way to see the work your dollars are supporting when you shop with us here at A Drop in the Ocean!
We encourage you to take the rare and special opportunity to embrace being "unplugged." Most visitors to the field station find they connect more deeply with the incredible local environment because of it.
However, if totally disconnecting isn't possible, there are a handful of internet cafes in town. There is no cell service in town, but there are usually pay phones available at the internet cafes.
Head over to our contact page or shoot Krystina an email directly (krystina@adropintheoceanshop.com).
The Baja Archives
Want more details, photos, and behind-the-scenes looks at what it's like to be on our Baja EcoWarrior Retreat?
Check out our newsletter archives for all of that and more.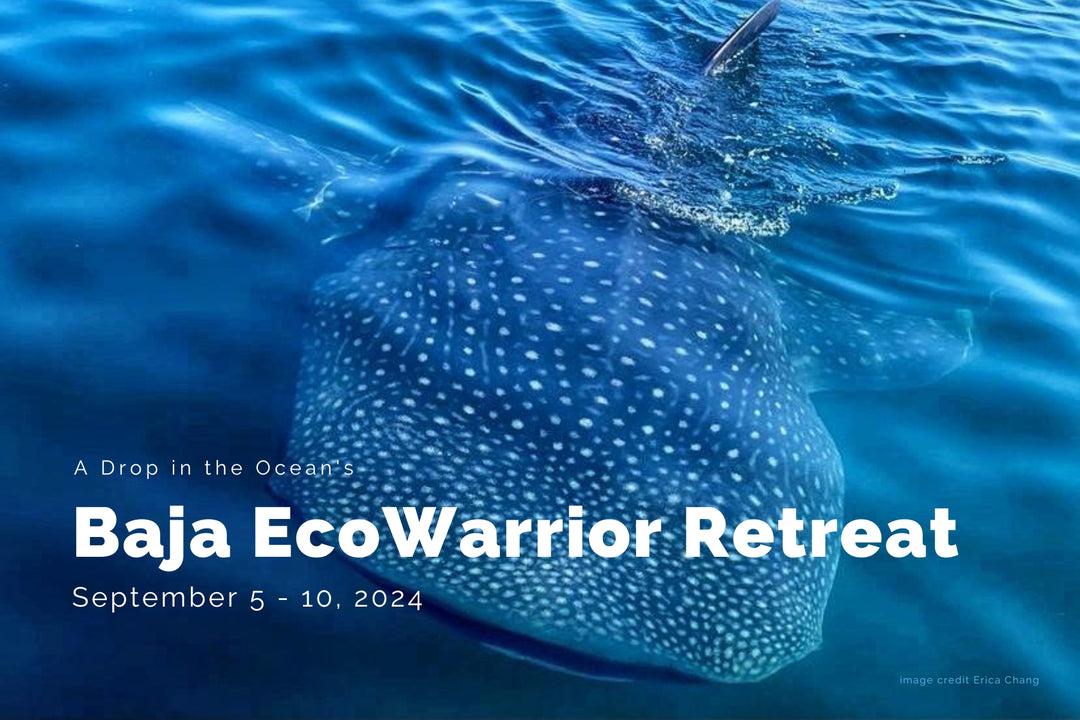 Image credits: Anne M., Autumn E., Christina C., Erica C., Jen S., Kate K., Katrin K., Meghann M., MJ M., Robin S., Vanessa B.
Customer Reviews
100
reviewers would recommend this product
Write a Review
02/26/2023
Danielle M.

United States
I recommend this product
I hope to go again
While our trip to Baja didn't end up going as planned last year because of a hurricane, I still had a great time and hope to go on the retreat in the future. I enjoyed the unique experience that I had because I actually learned a lot about my relationship with water, I saw microplastics on the beach for the first time, and I started gathering an idea of my role in a solution to the climate crisis.
02/25/2023
Vanessa B.

United States
I recommend this product
Amazing Trip!
This was the best trip and has a little bit of everything! Adventure, nature, education, community, giving back and more! The trip was organized in a way where you could "choose your own adventure" which gave me flexibility to focus on what I wanted out of it. Whether you sign up with a friend or on your own, there a many like minded folks to connect with. My favorite parts of this trip were: swimming with whale sharks, learning about the different species native to the area, learning to paddle board, waking up to gorgeous sunrises and seeing the sunsets, group discussions, learning about the impact VSI has in the community and the research they're doing, and the food!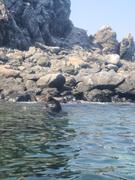 02/25/2023
Sarah T.

United States
I recommend this product
10 out of 10
I can only give this trip 5 stars, but it's worth so much more. I met some absolutely amazing people, yoga on the beach, sleeping under the stars, *swimming with whale sharks*. It sounds like a dream, but it's real!!! I wish I could go every year!!!