Meet our Ocean Conservation Partner: Vermilion Sea Institute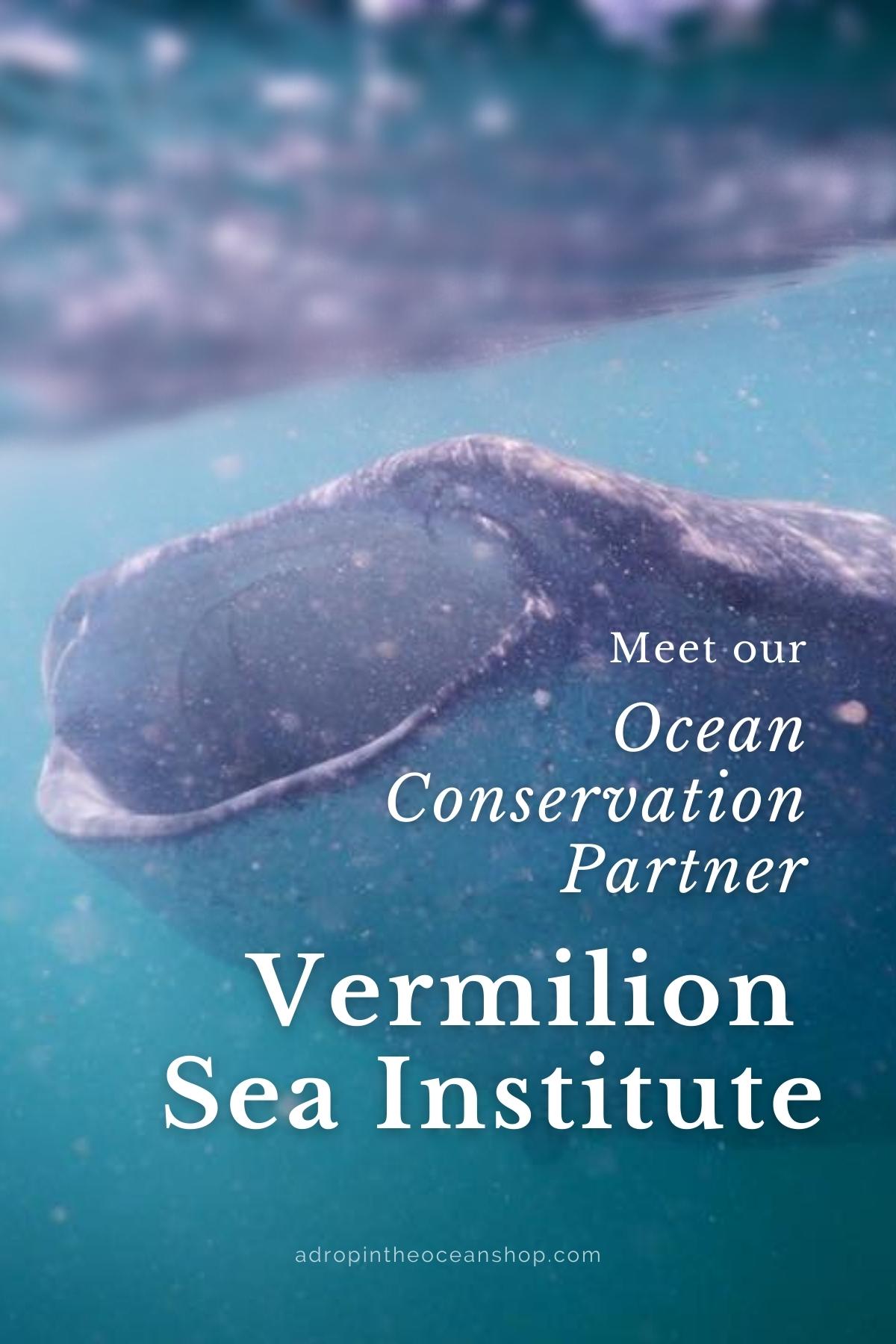 Listen to the audio of this post here:

This post first appeared in our weekly Make Waves Mondays email series on January 17, 2022.
---
Okay, friend, so you know how at least 1% of our sales are donated to our ocean conservation partner, Vermilion Sea Institute? Have you ever wondered, "Why VSI? Who is Vermilion Sea Institute? Why did we choose them to be our ocean conservation partner??"
Well, my friend, I wanna tell you allll about it. 
Because if your dollars are going to support an organization like VSI, you should know what your money is supporting, amiright?
So today, Imma take you on a deep dive into the world of Vermilion Sea Institute and why they're so special to A Drop in the Ocean.
Ya ready? Let's gooooo 🌊
Who is Vermilion Sea Institute?
Vermilion Sea Institute, or VSI, is a 501(c)3 nonprofit organization based out of Baja California, Mexico on a mission to foster sustainable and enriching relationships between human societies and the ecosystems that support them.
Conservation work is so complex. Back in the day, "conservation" essentially meant fencing off an area of land, keeping humans out of that area completely, and calling it a day. Okay, it was a bit more complex than that, but that's the gist of it.
Now, we know that conservation needs people.
We can't help animals without helping people.
And VSI is the absolute embodiment of this.
Deeply connected to the local community, VSI's approach to conservation is more than just ecological. It's sociological, economical, and cultural.
Since the 1970s, the Vermilion Sea Field Station (VSFS) has hosted researchers, students, yoga retreats (*wink wink*), and more. The adobe building was one of the first in Bahía de los Ángeles, a UNESCO World Heritage Site, tucked along the shore of the Gulf of California.
Morning yoga on the sand, from our 2021 Baja EcoWarrior Retreat.
Vermilion Sea Institute is…
…Community.
VSI is a team of people who care an awful, awful lot. It's people who have visited the station, fallen in love with the mission, the place, and the people, and become part of the team. I'm not sure you'll find a group of people more dedicated and passionate about an organization than you will with the VSI team.
And that sense of community and belonging extends far beyond the team itself.
When you visit the Vermilion Sea Field Station, you become part of that community. You're home.
Every program is a reflection of this community.
The first ever group of EcoWarriors to visit the field station. 2021 Baja EcoWarrior Retreat
The Aventureros program is one of the newest - and coolest - programs VSI has to offer. The program brings together students from the Bahia community, who have grown up in this area their entire lives - in a World Heritage Site - and have likely never been on the water. Never seen a whale shark. Never been snorkeling. Some of the students didn't even know how to swim.
Through the program, these local students are getting to see their backyards in new and immersive ways. They're seeing the impact individuals can have on the community and on the planet. They're getting involved in conservation work. They're talking to their families about it. They're creating new initiatives to build a more sustainable future. They're supporting, teaching, and learning from each other.
In 2021, there were 52 participants in the Aventureros program, between the ages of 7 and 17. These are the conservation leaders of tomorrow, and VSI is helping them get there.
…Science.
On top of building such a strong community, VSI is also contributing to critical scientific research in the sustainability and conservation worlds.
Stars to Sea, VSI's flagship program, brings together everyday people from all over to collect data on whale sharks, the world's biggest fish. 
This citizen science program teaches participants how to collect data, such as images that identify individual sharks, length, sex, and location, which is then uploaded into a global database, accessible by researchers across the globe.
From this data, critical information can be collected and analyzed to determine whale shark habits, migration patterns, and behaviors.
Meghann, VSI Executive Director, showing the 2021 Baja EcoWarrior Retreat group how VSI collects whale shark data and what happens with all that data.
Similarly, Camp Oceano brings families together to explore nature, together. Fostering a love and curiosity for the natural world early from childhood can have long-lasting effects for both individuals and the planet. Camp Oceano gives families and kids that opportunity.
And, of course, the Aventureros. These kids are doing great things. They're helping with sea turtle research, collecting data through beach cleanups for The Big Microplastic Survey, and more. They're sciencing all over the place! 
And in many cases, these projects are initiated by the kids themselves.
In 2021, the Aventureros came together for six beach cleanups with 136 participants in total. They collected the trash, analyzed it, and reported their findings like the scientists they are.
20% of the plastics collected in 2021 were from ropes or netting, and about 65% were food wrappers, utensils, and to-go containers. Of all the waste collected during these cleanups, only 3% wasn't plastic.
Vermilion Sea Institute and the entire VSI team have created a beautiful space for inquiry. For asking questions, seeking answers, and exploration.
EcoWarriors Jordyn and Taylor watching the pod of dolphins surrounding our boats on the 2021 Baja EcoWarrior Retreat. Image credit Meghann McDonald.
…Connection.
But above all else, when I think of Vermilion Sea Institute, I think of connection.
Connection to the sea.
Connection to each other.
Connection to ourselves.
Something about being at the station is magical.
Being at the Vermilion Sea Field Station, you're constantly reminded that growth happens outside our comfort zone. The adventures you take in Bahia will keep you present with yourself, and encourage you to ride that line of being comfortably uncomfortable.
Once upon a time, I was just a girl from Ohio who was terrified of swimming in open water. When I first received the news I'd be traveling to the field station for my Master's program back in 2017, I was simultaneously ecstatic and hyperventilating at the thought of putting on a mask and snorkel.
I knew nothing of the underwater world, and honestly didn't care much to know of it.
But after four days at the Vermilion Sea Field Station, I didn't want to leave. I loved being in the water. I was enthralled by the littlest life in the sea, and even swam with whale sharks and sea lions - something I never in my life imagined I could do.
My journal from that trip is full of realizations that I wasn't happy with my career, or even where I was living. I left that trip with a promise to myself that I would no longer be afraid of trying new things.
That trip was the very beginning of what is now A Drop in the Ocean.
That connection to the sea, to myself, to the incredible people moving the VSI mission forward, to the friends I made on that trip…it made all the difference.
Krystina getting comfy on the water on her first trip to the Vermilion Sea Field Station in 2017. Image credit Katie Dell.
And that's why we give back to Vermilion Sea Institute with each and every purchase at A Drop in the Ocean, and why we host an annual retreat to the field station. To help VSI continue their work, so others may have the chance to experience the magic that is Bahia.
How your purchases help Vermilion Sea Institute
Every time you make a purchase at A Drop in the Ocean, at least 1% of your total is donated directly to VSI.
(We say "at least" because several times a year, and with a few special products, we donate anywhere from 5% to 25% of your total to VSI.)
In 2021 alone, we donated $1,304 to VSI and the work they're doing for the sea - not including the registration fees for the 2021 Baja EcoWarrior Retreat.
But what does that $1,304 actually mean? How does that money support VSI?
A $25 donation provides a healthy meal for the Aventureros OR a snorkeling set

$50 pays for an overnight educational campout for the Aventureros

$100 helps purchase research equipment

$200 funds one local student's participation in research at the field station

$1,000 pays for three local boat captains to ferry every Aventurero into the marine reserve
That means that your support of A Drop in the Ocean last year essentially sponsored a day trip for all of the Aventureros to get out onto the water and have their own magical day of exploration.
That is huge. And you did that.
And not only that, but since we opened our virtual shop doors in 2019, we've donated a total of $3,790 to VSI. In less than three years we've donated nearly $4,000! And in just one year we've brought 17 EcoWarriors like you to the field station to experience this work firsthand.
I'm so excited to continue this relationship with VSI and bring another group of EcoWarriors to the station this summer. So mark your calendars for February 1st! Registration for the 2022 Baja EcoWarrior Retreat opens in just two weeks! To be the first to know, sign up for our Make Waves Monday email series.
Inspired by the Vermilion Sea Field Station...
Check out our Baja-inspired Swedish dishcloths! Each design was inspired by murals painted on the walls of the Vermilion Sea Field Station.
---