#EcoWarriorChallenge - DAY 5 - Children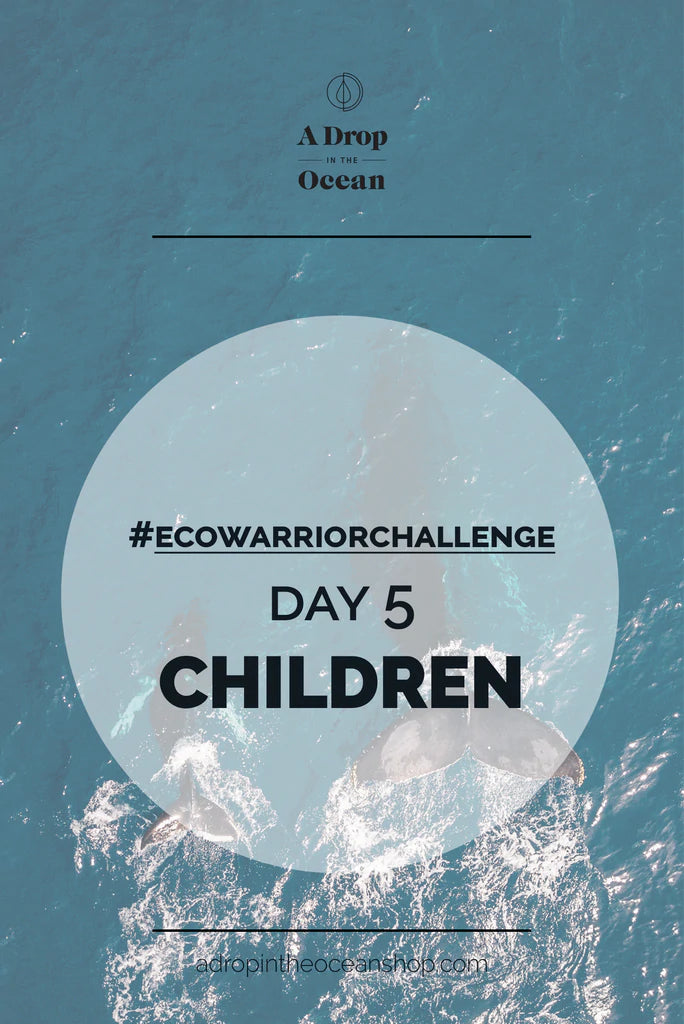 Hey friends!  It's Day 5 of our #EcoWarriorChallenge - World Oceans Day Edition!
When I tell people that I'm a zero waste wannabe or that I try to live a plastic-free life, I often get asked if I have children, or how to go plastic free with children.  I do not have children, so I have not done much investigating into how this lifestyle looks when you do. Luckily, I made an amazing friend this summer in Stephanie who is also on a zero waste and plastic free journey, and has a young son embarking on this journey with her.  I invited her to join the #EcoWarriorChallenge to shed some light on how we can engage the next generation in protecting our planet. They are the future, after all!
So if you have children, this is your #EcoWarriorChallenge for today - encourage your young ones to join you on your journey.  It's pretty incredible to hear stories of friends' and coworkers' children saying "No straw, please" at restaurants.  Let's show our children the power of our actions.
---
For the past few years, I have been on a journey to reduce the amount of plastic waste that I produce. More recently it is a journey that I am able to embark on with my 6-year-old son. Here are my tips for reducing plastic when you have kids.
Tip 1: Educate your kids
For years, my son and I have had conversations about plastic and why it is important to reduce our plastic usage. When visiting the local zoo or aquarium, we talk about how plastics can negatively affect wildlife. On visits to the beach, we discuss plastic pollution, littering and marine organisms. As an animal lover, it is easy for my son to understand why it is important to reduce plastic usage. Now that he is armed with knowledge, he is able to make better decisions as he continues this journey. He can also use this knowledge to explain the choices he makes to friends and family.
Tip 2: Invest in a reusable water bottle
My son loves reusable water bottles. He takes his bottle everywhere – school, the park, soccer practice, swim lessons, the movies, hikes and so forth. We recently upgraded him to a larger bottle and he loved going to the store to pick out his own bottle. Let your kids select their own reusable water bottle to involve them in the process. They are more likely to carry their bottle around when they pick it themselves versus you forcing one on them. Consider letting them personalize their bottle with stickers.
Tip 3: Plastic-free lunch
Instead of using brown paper sacks and plastic sandwich bags, consider using reusable alternatives. There are many great metal, glass and cloth alternatives out there. The 6-year-old isn't quite ready for glass containers yet, so years ago I invested in metal containers for his lunch. I stick these containers in his reusable lunch box with utensils and a cloth napkin and he is ready for school. Before you go out and purchase new containers, check your cupboards and use what you already own. Old yogurt containers and glass jars work for storing salads, leftovers and snacks. We use metal utensils and dish towels from the house when packing lunches.
Tip 4: Say no to straws and plastic utensils
Saying no to straws and plastic utensils is difficult when so many restaurants make the decision for you. We have gotten in the habit of asking for no straw when at restaurants. We bring reusable straws for my son to use when we are eating out. We even bring our own cups and straws when we go to the movies. Bringing your own utensils or stashing an extra set in the car can help avoid using plastic spoons and forks when grabbing food on the go.
Tip 5: Set a good example
Make sure you are practicing what you preach. When your kids have a good plastic-free role model, they are more likely to continue living the plastic-free lifestyle. When you embark on this journey together, you can support each other when making decisions and trying out alternatives.
Tip 6: Try new things
Finding reusables for lunch was easy for my family. Now that we are comfortable using reusable alternatives for food and beverages, we are starting to expand into other parts of our life – the bathroom. Over the past year we have been experimenting on ways to reduce the plastic waste produced in the bathroom. We love shampoo bars but are not a fan of the conditioner bars. So instead we found a company that sells refillable shampoo, conditioner and body wash. We invested in a water flosser and bamboo toothbrushes. We continue to experiment and find new ways to eliminate plastic from our lives.
I hope you found these tips for reducing plastics when you have kids helpful. Good luck on your plastic-free journey.

Find Stephanie over at Rethinking Single-Use Plastic.
Photo 1 | guille pozzi on Unsplash
Photo 2 | Stephanie Quihuiz
Photo 3 | Peter Fogden on Unsplash
---