For the doers who don't have time for a cold. Our zero waste shower steamers are the most relaxing solution to the common cold. Menthol soothes irritated airways and alleviates the worst congestion, while eucalyptus controls coughing and relaxes body aches and pains.
Great for when you're feeling a little down, whether you're actually sick or not. Take a spa day break in your daily shower routine.
Choose either rejuvenating spearmint scent for an added boost to clearing your airways and your mind or relaxing lavender scent for soothing and calming.
Ingredients
Baking Soda, Citric Acid, Corn Starch, Epsom Salts, Sunflower Oil, Menthol, Eucalyptus Essential Oil, Spearmint Essential Oil or Lavender Essential Oil
To Use
Place steamer in the shower but out of direct line of water. The steamer will slowly dissipate, releasing its soothing vapors and easing your body and mind.
We do not recommend using in the bathtub. You'll lose the steam effects and menthol can be a bit irritating.
Packaging + End of Life
These steamers will either be completely naked, or wrapped in reused kraft paper, which can be home composted.
Origin
Handmade right here in Tacoma, Washington. Get to know the face behind this product: Soap & Clay.
Ethical Guarantees
Give-Back Program
Made in the USA
Palm Oil Free
Vegan
Washington Local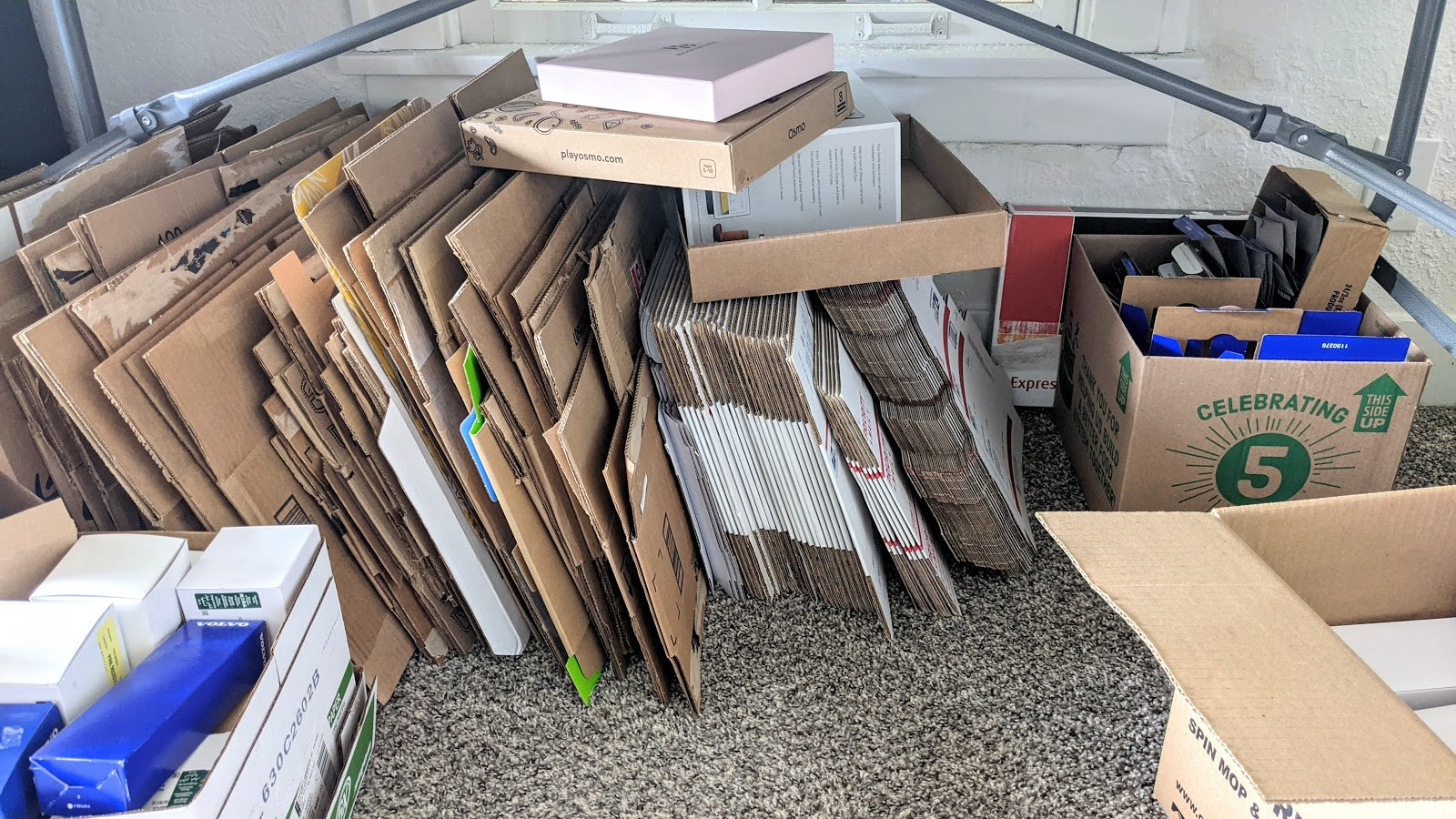 sustainable packaging
We ship ugly boxes
Our commitment to sustainability doesn't end when you press that checkout button.
We pack all of our orders in reused boxes and envelopes, with reused paper packaging, post-consumer recycled paper labels, and even paper tape.
You may not get an IG-worthy unboxing, but you will get the most sustainable packaging we can possibly find.
Oh and did we mention our shipping is always carbon negative?
Let's go to the real winner in my eyes. Honestly, I could have purchased this exact product many other places, but the packaging A Drop in the Ocean uses to ship will have me coming back time and time gain.

My first purchase from them was some floss a while ago and it arrived in a reused tea box with a hand written note that was written on scrap paper. I was blown away.

I had never seen a company who claimed to be sustainable ACTUALLY prove to be sustainable through and through. The fact that every piece of the packaging was reused and minimal will have me come back over and over again. If I can purchase it here, I will purchase it here.

Samantha
Customer Reviews
10/23/2023
Anna

United States
I recommend this product
Eh, it's ok
I was really excited about these. I'm sick, so I was like SWEET these are perfect! But then when I used them in the shower, the dissolved in like one minute and they didn't even have any smell to it. I'm really disappointed because I was really excited about them
10/24/2023
A Drop in the Ocean
I'm so sorry to hear that our shower steamers didn't work for you, Anna - and when you're sick, too! May I ask where you placed them in your shower in relation to the water stream? If you put them directly in the stream of water, they will dissolve quickly, but if you put them just outside of the stream, they'll dissolve more slowly and release more of the eucalyptus and menthol vapors over time!
03/09/2023
Kayla H.

United States
Love these!
Makes showers refreshing and energizing!
02/24/2023
Emily H.

United States
I recommend this product
Great pick-me-up
These are my go-to when I need help to get going in the morning or when I need to feel better at the end of the day. I usually use two in my shower because mine is small and they can't avoid the shower spray, but they still last a long time.
05/28/2022
Megan R.

United States
Amazing
These smell amazing!
10/19/2021
Anonymous

United States
Just ok
These were not what I imagined. They are way bigger and dissolved faster than I thought. They did smell and strong, but didn't last for a full 5 minute shower. Also, they were messy. I had to put them in a silicone bag.
10/20/2021
A Drop in the Ocean
I'm sorry to hear these steamers didn't last long for you. Where are you placing them in your shower? You don't want them to be directly in the stream of water, as that will cause them to dissolve faster. I keep mine close to the shower drain, out of the direct stream and one will often last me two showers (and I take embarassingly long showers...). Maybe try placing them somewhere else in the shower and see if that helps?
Our EcoWarriors also love...