5 Tips for Hosting a Zero Waste Party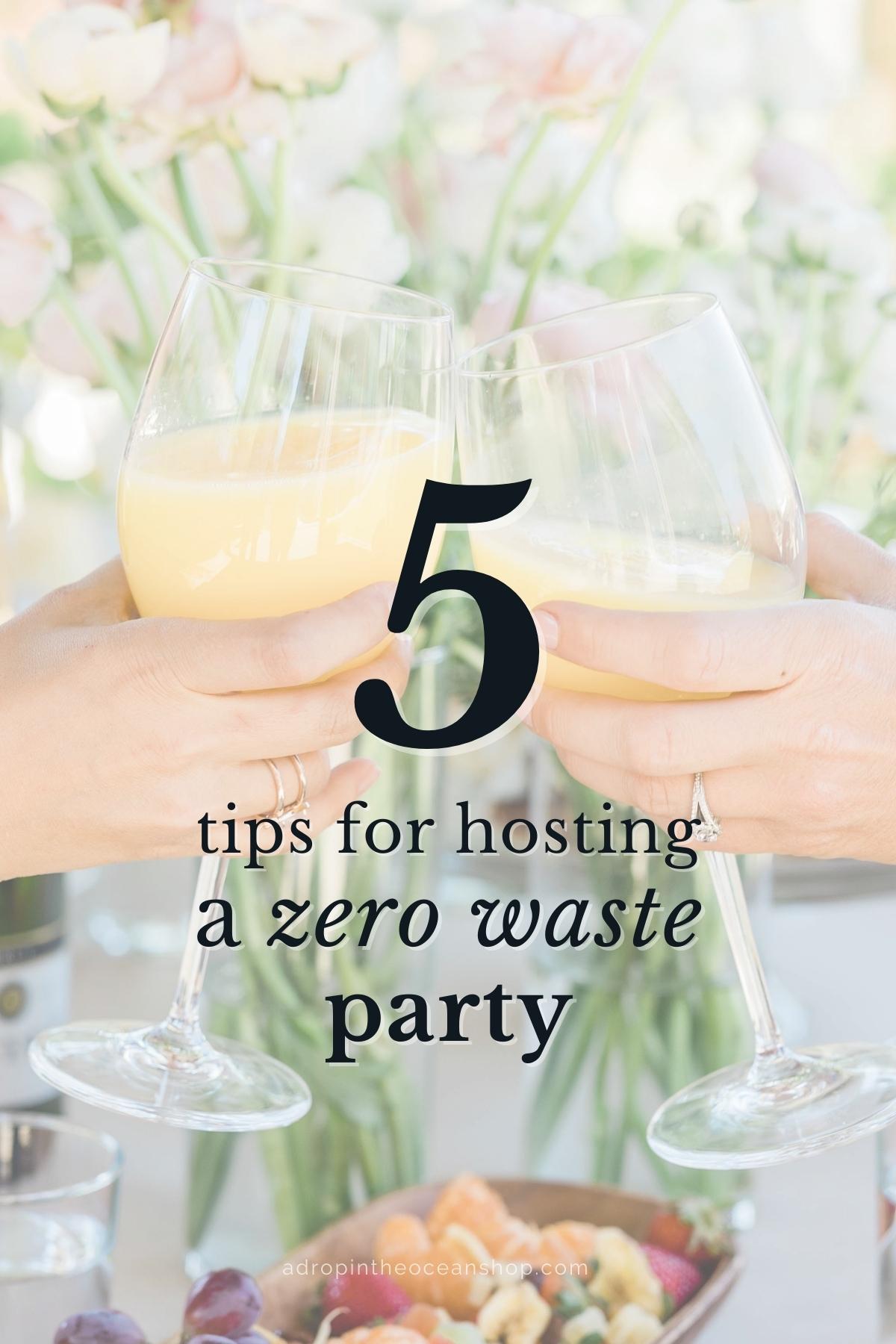 Listen to the audio of this post here:
This post first appeared in our weekly Make Waves Mondays email series on October 4, 2021.
---

Hey there friend! I hope your October is off to a great start and you're enjoying the official start of spooky season 🎃
Fall has never been my favorite season, but the last couple years I've really been trying to lean more into the season changes and appreciate them. This year, I've already started lighting more candles, embracing the crisp autumn air, and making more cozy soups. How are you celebrating the changing of the seasons?
The arrival of fall brings shortly behind it the holiday season, [hopefully this year] full of gatherings with family and friends. 
And with those gatherings typically comes a bit of waste. But does it have to?
Here are five of my favorite tips for keeping parties low waste 🥳
1. Use real plates, utensils, and glassware.
This one's pretty straightforward if we're thinking about low or zero waste parties. By avoiding disposables, we're gonna keep our waste way down.
Because remember - even compostable options are typically only compostable in an industrial composting facility that accepts those items. For example, here in Tacoma, no compostable option would actually be accepted in our municipal compost. 
And none of those options would ever actually be recyclable, either, because they'd all have food on them.
So don't even put out the disposables. Because unless all of your guests are also trying to be low waste, they'll probably reach for the disposables first, thinking they're doing you a favor.
But you wanna know a secret?
Cleanup from a disposable-free party is way easier than one with disposables. 
Like, way, WAY easier.
Think about it. When your party is full of disposable plates, cups, utensils, and napkins, where do those all end up when everyone leaves? Sure, some of them (maybe most if you've got great friends) will end up straight in the trash bin. But others will end up all over your home for you to pick up later. And then you still gotta take out all that trash.
But when you use real dining ware, your guests are much more aware of their dishes. They'll bring them back to the kitchen, they'll ask where you want them, and depending on the friend they may even offer to help with the dishes at the end of the party. Everything will be in one place!
And if you've got a dishwasher, just make sure that sucker is empty before the party starts and you'll be done with cleanup before the party is even over.
Easy. Freaking. Peasy.
But, Krystina, I don't have enough real dinnerware for a party!
Have no fear, my friend. Here's some ideas for ya:
Invite your guests to bring some! Make it a BYOCup party. Maybe even have a friendly holiday contest to see who has the most extravagant drinking vessel. Winner gets a gift card to

A Drop in the Ocean

😉

Ask friends ahead of time if you can borrow what you need. A few years ago I was hosting a housewarming brunch, complete with mimosa bar, and owned exactly zero champagne flutes. I mentioned this to some friends and they HAPPILY let me borrow two dozen flutes from their wedding that were just sitting in boxes in their garage.
Ask your local Buy Nothing Group. Maybe a neighbor even has a full party set sitting in storage waiting for its time to shine.
Check out local secondhand shops. There are always dish sets in secondhand shops, and even more utensils and glassware. Find some coordinating (or not) dishes and you're always ready for Friendsgiving.
2. Use cloth napkins.
Okay so this is basically the same as everything I just said about real plates, cups, and utensils, but it's still worth repeating. Cloth napkins are the bomb dot comb. Find them at secondhand shops, use kitchen towels, unpaper towels, Swedish dishcloths - whatever ya got. Have a small basket in the kitchen and for used ones and when everyone leaves toss 'em all in the laundry with your regular towels. Mischief managed.
3. Growlers > Cans > Bottles > Plastic
Instead of individual bottles or cans of your beverages of choice, fill up some growlers at a local brewery!
I even filled growlers with fresh orange juice at a local grocery store for that housewarming brunch I mentioned earlier.
You'll usually save money, and you'll save a ton of waste in the process.
Because, remember, recycling uses energy and resources, too. It should always be a last resort, never a final solution.
And if you need individual drinks for any reason, opt for cans when possible instead of bottles.
Although glass is highly recyclable, it's very energy intensive to recycle, and many municipalities don't even offer glass recycling. Aluminum is the most energy efficient material to recycle - it's the only material that's actually cheaper to recycle than to produce new too - so choose aluminum when you can! And of course make sure those cans are rinsed and dry before they go in the bin.
4. Fight food waste!
If food waste were a country, it would be the third-highest greenhouse gas emitter, behind China and the United States.
I hate food waste. The amount of resources, hours, and energy that go into producing our food is so immense, and when we couple that with how many families are food insecure in the world… I just hate it.
So here are some tips for fighting food waste:
Potluck it! Ask guests to bring a dish of choice. They'll usually bring one of their favorite meals, so they're probably more likely to eat any leftovers after the party, too.
Buy less. A good rule of thumb is about 25% less food than you think you need. I know...crazy right?
Encourage your guests to take leftovers home. Before your soiree, save up old takeout containers, or ask your Buy Nothing Group for theirs! You could even use thrifted mason jars or let your guests borrow your own containers. If you BYO'd your party and guests brought plates, even better 😄

Photo credit: Katrin; taken on the 2021 Baja EcoWarrior Retreat
5. Shop local.
It's so much easier to reduce waste when you shop local. Visit your neighborhood farmer's markets, check out local butcher shops, and support local bulk stores. Bonus, these local options are more likely to let you bring your own jars and containers, too, for those things that just need a bit of packaging.
And if you need a few more tips for low waste grocery shopping, check out these blogs and videos too!
Whaddaya think? Did I miss anything? Does this feel do-able for your gatherings? I'd love to hear any additional tips you have, too! Just comment below and share them with me.
Happy partying! 
---