What is a Buy Nothing Group and why should you join one?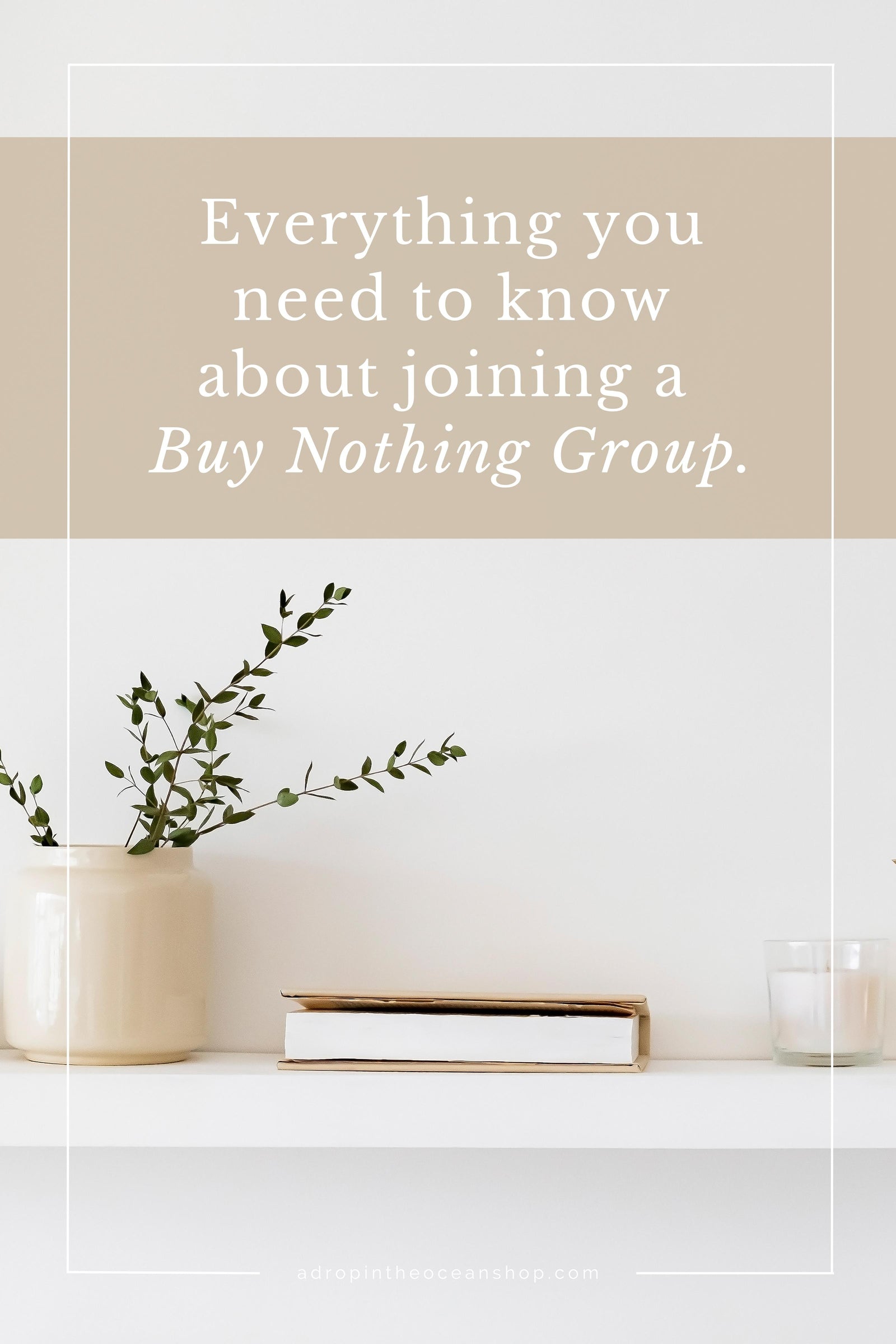 Listen to the audio of this post here:
This post first appeared in our weekly Make Waves Mondays email series on May 15, 2023.
---

My friend, it is TIME for the blog post that I should have written literal years ago and for some unknown reason just haven't.
It's time to talk about one of my FAVORITE things in the world - Buy Nothing groups.
And, friend, I gotta tell ya…doing the research for this post was a WILD ride. I had NO idea there was so much ✨ drama ✨ happening in the world of Buy Nothing 👀 But don't you worry, I'm gonna spill allll the tea.
But before we get into that, let's start at the top…
What is Buy Nothing?
Buy Nothing groups are hyper-local virtual communities where neighbors can give and receive, well, basically anything, for free.
Their intention is to create and nurture a sharing and gifting economy. Basically the antithesis of capitalism, and everything society tells us we shouldn't do ✌️😎
Gifting economies are not new, by any means. But bringing them into the forefront of our lives in the midst of a capitalistic society is.
The first official "Buy Nothing Project" community was actually founded just a few hours from here on Bainbridge Island by two women who wanted to (A) fight back against plastic pollution and (B) elevate their community.
The basic philosophy of their new project was, "Buy less, and share what you no longer need."
Now, there are groups all over the world and millions of members.
How does a Buy Nothing group work?
The core basics of a Buy Nothing group are super simple:
Find a group, join it, and post in the group an ask, a give, or some gratitude.
If you're ASKING for something, and someone (or multiple people) have that thing you're asking for, they'll comment on your post and let you know. Sometimes people will ask clarifying questions, or share photos of the thing they have to give to make sure it's actually what you're looking for.
Then, you'll typically send that person a private message, get their address, and set expectations for when you'll pick the thing up. Most often, the gifter will leave the item on their porch so you can just swing by and grab it. #IntrovertHeaven
If you're GIVING something, it's the same thing. You'll post a picture of the thing you're gifting, let people know what it is and any details they might need or want, and people will comment on the post letting you know they're interested.
The groups encourage you to let the post "simmer," rather than give the item to the first person that comments.
It's not about getting rid of stuff as fast as possible (usually), it's about helping our community.
Having said that, there are definitely times when you'll see posts that specifically say, "I need this thing gone, the first person to comment gets it." 
But you'll also see posts that everyone just KNOWS are gonna be hot ticket items and the poster will say something like, "I'll let this sit until tomorrow at 3pm, then I'll choose a random name from the comments." 
That's actually how I got my monstera plant back in the day ✌️
You don't always get the thing, and that's okay.
And honestly, you don't even have to actively post in the group. Sometimes you'll just see someone gifting something and you're like, "Oh damn that would be perfect for this problem I have!" and comment on the post that you're interested in it. 
That's how I got my mug tree for all of my mermaid-themed coffee mugs. My cabinets were crowded and I wanted to show off my mugs, but didn't actively think about it until someone posted their mug tree in my Buy Nothing group.
And then there's the gratitude posts 💙
Truth be told, I'm not the best at posting these, but they always make me so happy to read them. Just people expressing their genuine gratitude for things that have added value to their life that were gifted without strings from their neighbors… ugh it's just the best.
Is Buy Nothing only for unwanted stuff?
Buy Nothing groups are most definitely not just for unwanted things. You can also give or receive information, skills, or services, and if you don't need something permanently, you can ask to borrow it instead.
There's actually someone in my Buy Nothing group whose hobby is restoring cast iron cookware. I regularly see posts from him asking if anyone has any cast iron cookware sitting around that they'd like restored and re-seasoned, or even if anyone has one they don't want anymore. He'll take them in, make them look brand new, and then regift them back into the group.
And just today someone gifted two nights of camping on the coast because they could no longer go! Such a great give…
So, yeah, there is a lot of "unwanted" stuff (only unwanted by the giver; cherished by the receiver), but there's also a whole lot of other goodness happening in Buy Nothing groups.
What are the rules of Buy Nothing?
I won't lie to you, when you first join a Buy Nothing group, you may be a bit surprised by some of the rules. 
But the main rule here is zero money exchanged.
And when we think of everything in that context, it makes a lot more sense.
These rules are pulled directly from my local Buy Nothing group:
Participate As Yourself
Each group is open to all adults living within that group's boundaries, and each member may only join one group in the network.
Give Freely
All gifts must be given without any strings attached and without any expectation of reward other than the joy of giving. No buying, selling, bartering, or trading.
Give From Your Own Abundance
Resist the urge to post referrals/recommendations to outside organizations (even charitable ones), local businesses or service providers, or suggestions of where a neighbor can buy or find something.
We Are a Gift Economy
Market economy related posts e.g. offers/asks for items for sale/rent/barter/trade or job/real estate posts may be deleted. Ask your local group Admin for the voucher/coupon/gift card policy.
Ask, Give, and Share Creatively
Our focus is on freely gifted goods and services. This precludes requests or offers for funding or cash donations, monetary assistance, or loans. We believe in abundance, simply ask for what you need.
Why is a Buy Nothing group better than donating to a thrift shop?
Oh man, this is such a great question, friend, and I am SO glad you asked! 😁
It's super easy to just load up your car with the clothes that don't fit anymore, the puzzles you put together once and will never do again, and the books collecting dust, drive them over to your nearest Goodwill, drop 'em off and leave with an empty car and a clean conscience.
But in reality, only a small portion of the things dropped off at Goodwill's doorstep are actually sold in their retail stores.
It's a whole topic for another day, but there's a whole heck of a lot that's donated and never makes it to the sales floor.
They're often sent straight to landfills, sent to recycling facilities(*), or even baled up and shipped to developing nations who have outright said they don't want our cast-offs anymore. 
* An important note here is that these recycling facilities are often not recycling on a 1:1 scale, or "closed-loop recycling." For example, textile recycling isn't taking an old t-shirt, pulling it apart, and making a new t-shirt. The t-shirt is instead being made into something like insulation or rags. This "open-loop recycling" system is a big part of why we need to reduce our consumption and care for our belongings as long as possible.
So instead of relying on organizations like Goodwill to do ~something~ with our ~stuff~, by participating in a local Buy Nothing group, our unwanted things can go directly to our neighbors who are actually putting their hands up and saying, "Yes! I would LOVE that broken toaster because I can fix it up and make use of it in my home!" 🙌
If we had taken that broken toaster to Goodwill, on the other hand, it would probably end up in a landfill, wasting everyone's time, energy, and money.
What's the difference between a "Buy Nothing" Group and a "Gifting With Integrity" Group?
Ohhhhh, friend, it's time to spill the TEA ☕🤭
So last week while I was mentally writing the outline for this blog, I took to the EcoWarrior Pod to get a feel for how many of our EcoWarriors are actively participating in their local Buy Nothing groups.
One of our EcoWarriors commented that her Buy Nothing group switched to a "gifting with integrity" group.
I asked her what the difference was between the two, and she said, "I'm not really sure…"
I laughed it off and didn't think anything more of it.
I'm sure you're getting the sense that that was, in fact, not the end of it.
As you probably know, there's a lot of time and effort that goes into these blogs. Sure, there's a lot of information that just lives in my head, but I always gotta do the research to back up what I'm saying.
So when I sat down to actually start putting words to the page, I typed a quick, "buy nothing groups" into the Google search bar.
"There's a War Going on in Your Local Buy Nothing Group"
"The Battle for the Soul of Buy Nothing"
"The Buy Nothing groups are beefing"
👆 3 of the top 7 results.
As it turns out, there's a lot happening, and none of it is really black-and-white.
But essentially, the two women who founded the Buy Nothing Project have been trying to take steps to move Buy Nothing groups off of Facebook and on to an independent platform.
Which sounds like a great idea, right?
But to do so, they had to raise money. And they had to create a legal corporation. And when the entire premise and one core rule of Buy Nothing is no money exchanged, you can see how this isn't going over well with the existing Buy Nothing group admins.
Through this process, the founders also trademarked the phrases "buy nothing" and "buy nothing project," meaning that a few groups who had already made moves to split from the Buy Nothing Project umbrella, were deleted, and even the admins of those groups discovered their own Facebook profiles had been deleted.
From the Buy Nothing Project founders' perspective, the "gifting with integrity" groups were essentially taking all of the tools, resources, and reach that the Buy Nothing Project had created and using them under a different name, which, legal or not, is just not cool.
And through all of this, the founders have been working on the Buy Nothing Project in a full-time capacity, without being paid at all. Again, it is called "Buy Nothing" after, all.
And, yes, people should be compensated for their time.
These women created a resource and platform ten years ago that has grown to include 7.5 million people around the world. And that's something to celebrate and honor, without a shred of doubt.
But how that looks in a space specifically dedicated to not exchanging money, even in the form of bartering and trading, is tricky, to say the least.
"In some ways, [the founders] Rockefeller and Clark's loss of control made me think of women inventors who hadn't gotten credit for their products: Rosalind Franklin, the scientist who helped discover the double helix; Lizzie Magie, the gamemaker who invented Monopoly. But then, Rockefeller and Clark had started Buy Nothing as a counteragent to the capitalist ethic that concentrates wealth and power in the hands of the few while ruining lives, communities, and the environment. The project had been a success, owing to their efforts, certainly, and also to those of the thousands of volunteers who made Buy Nothing their own. If the movement ended up splintering into an unaccountable mess of local variations—and Rockefeller and Clark didn't make a cent in the process—maybe that was the most fitting ending possible."

 

- The Battle for the Soul of Buy Nothing, Vauhini Vara, WIRED
Reading all of these articles, I'm honestly not sure where I stand.
It's an intriguing case study in how capitalism shapes everything we do, even when we're actively trying to build a world where it doesn't, and I think it'll be interesting to see how it all shakes out over time.
But in the meantime, if your local Buy Nothing group changes its name to "Gifting with Integrity," know that it's the same core values. From everything I've read, and from our EcoWarrior's comment, to the members within the group, nothing has changed.
What kinds of things can you get in a Buy Nothing group?
Every Buy Nothing group is gonna be different, and every person's experience with their local Buy Nothing group is gonna be different.
Personally, my local Buy Nothing group is da bomb dot com.
My neighbors are amazing, and the gifts and community that is built through the Facebook group are incredible.
From my Buy Nothing group over the last four years, I've gotten:
🪴 Houseplants (so freaking many) 
Hangers to match the ones already in my closet
A puzzle, which was then re-gifted after I finished it
Twilight Scene-It

, which was also re-gifted after a couple of playthroughs

A water dispenser to borrow for A Drop in the Ocean's 4-year anniversary party

Half a stack of blue Post-It Notes for our 4-year anniversary party

📦 Small shipping boxes (always my go-to spot for boxes when I'm running low) 

A bar cart that was the perfect size and style for my kitchen

A pet stain carpet cleaner

A mug tree for all my mermaid-themed coffee mugs

A large whiteboard

A reusable metal water bottle

🌊 An underwater camera to borrow for one of our

Baja EcoWarrior Retreats

A small decorative basket

One of those outlet splitter things that turned one outlet into four

An office printer (the same one I use to print your shipping labels)

Printer paper

A little glass bowl for product photos

Cinder blocks to use as market tent weights

🌮 About a dozen vegan cookbooks
I am definitely not active in my group every day, but any time I'm looking for something specific, I'll go to Buy Nothing first - no matter how big or small. And sometimes it's just a treat to see that PERFECT THING posted as a give when you're just scrollin' Facebook 😄
Two plant babies that were gifted from my Buy Nothing group
How do you find your Buy Nothing group?
There are two ways to find your local Buy Nothing group:
Search "Buy Nothing [your city]" on Facebook. If there's one in your area, it should pop up. There may be a few if you live in a bigger city, so you might have to look for the one that covers your address specifically. The groups are meant to be hyper-local, so typically no more than about 1,000 members before they split (or "sprout") into multiple groups.
Check the Buy Nothing Project website. The Buy Nothing Project website has a whole database of Buy Nothing groups all over the world. You can either use the "Find" tool to search for your city, or click on your country or continent from the list. It'll either take you directly to a list of groups in that country or it'll take you to another clickable list to narrow down into states/provinces/regions. The list includes both Facebook groups and Buy Nothing Project app groups.
What if I don't have a local Buy Nothing group near me?
If nothing is popping up for you when you search Facebook and the Buy Nothing website, try searching for a "gifting with integrity" group in your area on Facebook! They won't pop up when you search "buy nothing," but there are a ton of them out there!
And if you're still coming up short, you can start your own group! Buy Nothing Project has a whole resource section on their website to help you get started.
There's also Freecycle, which I've never used personally, but is the same kind of idea. People post things for free, you claim them. My understanding is it's much more focused on giving away unwanted things than the community aspect of Buy Nothing groups, but you can still find some great stuff on there!
—
So, friend, you know how this goes. I gotta know - do you participate in a Buy Nothing group? And if you do, what's your experience been like?
If you're on Facebook, come join the EcoWarrior Pod and join the conversation! 
If you're not, just comment below and let's chat all about Buy Nothing groups!
---
---