How do we keep our market booth display zero waste?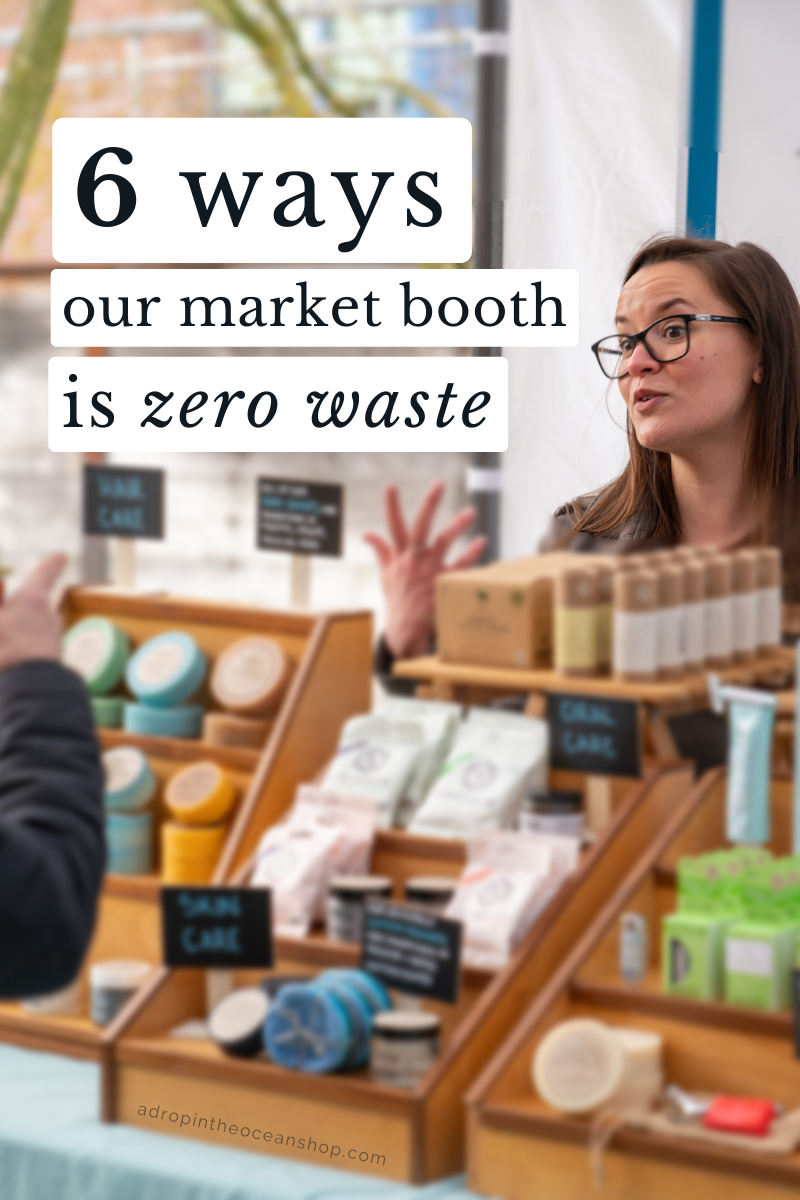 Listen to the audio of this post here:

This post first appeared in our weekly Make Waves Mondays email series on May 2, 2022.
---

Helloooooo, friend! I hope you had a restful and relaxing weekend.
Mine was not so restful, but still so, so incredible.
I spent all weekend at the Tacoma Night Market and Sunday Brunch Market and I gotta say, it felt so good to be back. We used to participate in the Night Markets nearly every other weekend in pre-pandemic days, but haven't been part of the fun in a while.
It was so great to connect with other awesome vendors, meet so many of our EcoWarriors IRL, and be in such a beautiful space.
Sunday afternoon, as I stood behind my display looking out at the view in front of me, I was overcome with gratitude.
This was the freaking dream. I was running a booth for this zero waste store I started building four years ago, on a boardwalk overlooking the water while boats headed out into the Puget Sound for a beautiful day on the water, while drag queens performed inside the maritime museum behind me.
The dream, I tell ya. This is why I moved to Tacoma three years ago.
And while I was having this moment of gratitude, I also realized just how sustainable our booth setup is.
We're committed to zero waste in all ways - and we've got a whole other Make Waves Monday on that topic coming so very soon - but it wasn't until this moment that I fully realized how much our zero waste values are translated into our display.
Technically not from this weekend, but still at a Night Market from last summer.
I shared these on our Instagram stories yesterday, but I wanted to share them here, too. Because it's really freaking cool and I wanna show you all the things.
So without further ado, let's take a look at all the ways our booth setup is just as zero waste as our products 😁
Tiered Display Stands from OfferUp
I found these beautiful tiered display stands on OfferUp last summer. 
I had spent the day by the water brainstorming what my ideal booth would look like, and it included stands like these. I took to Pinterest and tried to find something that fit the vision I had, but nothing was quite right.
I decided to take a peek over at OfferUp just in case there was something over there.
And when I found these stands, I knew this was it.
These stands were custom made for a soapmaker just a few miles away. Her husband made these for her business, but she was closing up her shop and wanted to give these beauties a new home.
Totally one-of-a-kind, and nothing new was purchased to add these to my display.
Baskets from Goodwill
Both of these baskets were found at my local Goodwill. They're the perfect size for displaying our Swedish dishcloths and our Umutima Heart Bags and I'm so happy I found them.
Vintage Camping Chairs as Shelves
Okay these ones are definitely the coolest part of the setup.
These stands are actually vintage camping chairs! I found them in an antique shop in La Conner, Washington three years ago after picking up some product down the street.
They're totally plastic-free and fold flat so they're super easy to transport to and from markets.
I'm so in love with these chairs and couldn't imagine a booth setup without them.
Chalkboard Frame from Goodwill
I found this frame at Goodwill nearly a decade ago.
At that time, it was white, and I fell in love with the design. It was hung in several kitchens as a meal planning board before finding its new home as part of our zero waste display.
It's also undergone a few paint jobs in its day before becoming the beautiful blue it is now, and as it gets towed to and from markets a little more of the previous paint color starts to come out.
I love this frame and no matter where this business takes me, it will always be by my side.
Metal Basket from Second Use Building Materials
This metal basket is another one of my favorite finds. (Have I said that about everything so far?? 😅)
On my quest for a sustainable display, I stopped into Second Use Building Materials in Tacoma three years ago and fell in love with these metal baskets. I had to restrain myself to only get one, but I'm sooo glad I found it. I love the way our wool dryer balls look displayed in this basket.
Plus, they were salvaged locally! And now they're getting another life with A Drop in the Ocean.
Storage Bins, Extension Cords, and Curtain Lights
I don't have photos for these, but I think it's also pretty cool that even some of the storage bins I use to carry our bulk refill jugs and a bunch of our smaller products are also from Goodwill. 
NGL, at one point I was planning to buy new for these things, but decided to stop into my local Goodwill first and see what they had. 
And what they had was perfect. 
Not only did I save a ton of money by getting them at Goodwill, but I also stayed true to our zero waste values.
And lastly, even our extension cord and our curtain lights are reused! Someone had donated them to RE Tacoma, our local free store for small businesses, and I gave them a second life with our display. 
So tell me, friend, which of these is your favorite?
The vintage camping chairs got a whole lot of love over on
Instagram
yesterday, but I wanna know your fave! Comment below and let me know!
---