Top 10 Swaps for Plastic Free July (and all year long)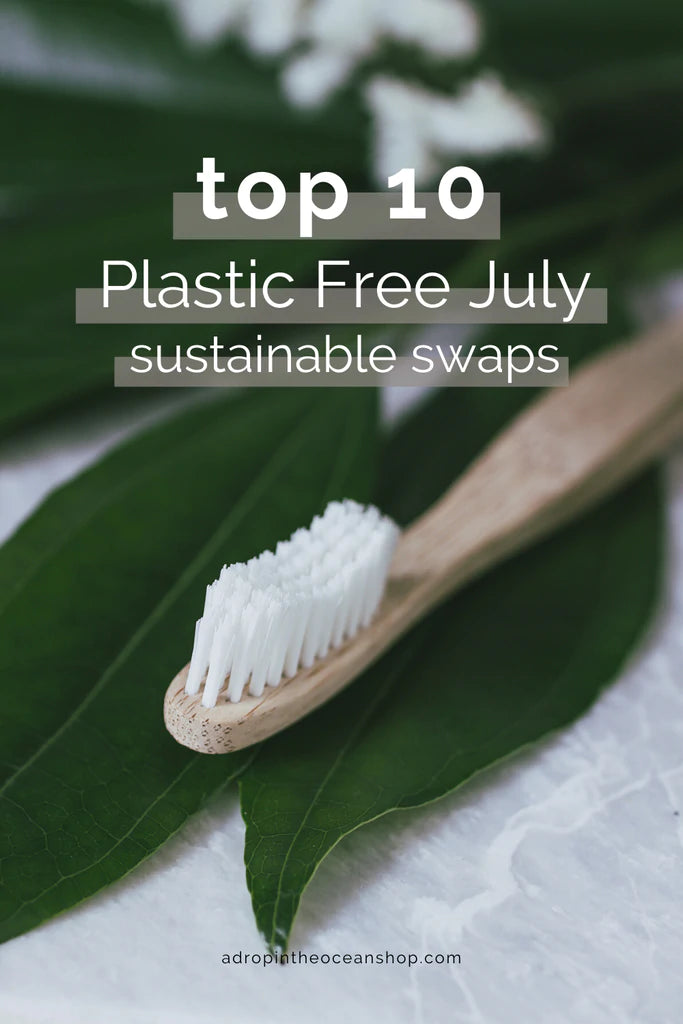 Plastic Free July Week 1 is in the books! How has your month been so far?
In the spirit of Plastic Free July, this week is all about my Top 10 Favorite Plastic Free Swaps. The best thing about all of these swaps is they're mostly swaps you make once and then you're good to go. If you don't know me yet, I'm all about efficiency :)
1. Stainless Steel Safety Razor
If you've met me, like, ever, you know that my all-time, hands-down, no-questions-asked, favorite sustainable swap I've ever made is my stainless steel safety razor. It's 100% plastic-free, the closest shave I've ever had, leaves zero razor burn, and I actually cut myself less than I used to with plastic razors - even the fancy ones with five blades and built-in shaving cream.
Seriously, best swap ever.
2. Reusable Shopping Bags
This is a swap that's been around for what feels like forever, but it's always still worth mentioning. Most of us already have several bags laying around, but if you're looking for a new one, we've added our beautiful compact heart bags to the online shop! These bags are great for keeping in your car or in your purse, and support female survivors of violence in Rwanda. We've got a limited supply right now (just 4 left!), but more are on their way.
3. Shampoo Bar
I've tried a few shampoo bars over the years, but the one we've got in the shop right now is by far my favorite. I love that I'm not throwing away plastic bottles every couple of months, and my hair feels amazing. Oh and did I mention how amazing they are for travel? No more tiny bottles exploding in your suitcase!
4. Face Bar
I've struggled with my skin basically my whole life. Even Proactiv didn't work for me. But switching to a charcoal face bar...helllloooooo to the skin I used to dream of! Oh yeah, and no plastic 😉
Be sure to check out our full guide for how to care for your face bar to make it last longer!
5. Reusable Utensils
I never go anywhere without a fork. You never know where you're gonna end up! Grab one from your kitchen and roll it up in a napkin. Nothing fancy needed!
6. Plastic-Free Deodorant
I was on the hunt for a plastic-free, baking soda-free deodorant that actually worked for three years. Did you know that aluminum in antiperspirants has been known to cause breast cancer? Thank you, next.
Baking soda always worked for me, but so many people have baking soda sensitivities that I knew I needed to find a baking soda-free option. Our Bai-Li natural deodorant was the solution! I tested the lemon+bergamot scent during a super busy, super stressful week (#stresssweatsucks) and it held up like a champ. No plastic, no aluminum, no baking soda.
7. Bamboo Toothbrush
Bamboo toothbrushes are becoming more mainstream, but when I first started my plastic-free journey this one was completely new to me. I made the switch to a Brush with Bamboo toothbrush, and was hooked. Now, BWB has created the first 100% biodegradable vegan toothbrush. When we're supposed to be swapping out our toothbrushes every three months, it's great to know that they won't end up as a statistic after an ocean cleanup. Plus once you retire them from toothbrushing, we've got 7 ways to repurpose them!
8. Reusable Travel Mug / Water Bottle
This is another one that most of us probably already have around the house. It's an easy one for organizations and companies to get on board with as "sustainable swag." While I'm always an advocate for using what you already have, this is one swap that I know sometimes is hard to do unless you really love your mug or water bottle. Personally, I'm a huge fan of mason jars with a koozie, but I've also got a few reusable mugs that I've collected over the years that I also love.
If you're not already in love with any mugs or bottles you have at home, check out your local resale or consignment shops to scout out some options before buying new. Or ask your local Buy Nothing group!
9. Refillable All-Purpose Cleaner
Wanna know a secret? I really hate cleaning. I may or may not have actually looked into how much it would cost to have someone else clean my bathroom for me. Just my bathroom. (Spoiler: It's much more than I'd hoped.) But, when I do clean the apartment, I love using our all-purpose cleaner. It works for everything, and the scent is a lovely citrus but not overpowering. I've really come to hate the artificial fragrances in conventional cleaners, so the light essential oils in this are just what I need.
10. Reusable Straws
Straws are intentionally last on my list of swaps, because while I do truly love my glass straw for my summer frappuccino fix, they've become such a focal point of reducing plastics that sometimes I worry we've lost sight of the bigger picture. If you don't typically use a straw, there's no need to jump on the reusable straw bandwagon. But if you prefer drinking with a straw, or need one for any reason, or if you're like me and have an unhealthy obsession with frappuccinos the second the sun comes out each spring, reusable straws are a great alternative to plastic ones. Did you know plastic straws and stirrers are the fourth-most common item picked up during beach cleanups? Yikes…
What are your favorite plastic-free swaps, friend?
P.S. Shop our full collection of my favorite Plastic Free July swaps all month long!
---