7 Reasons to Switch to Shampoo + Conditioner Bars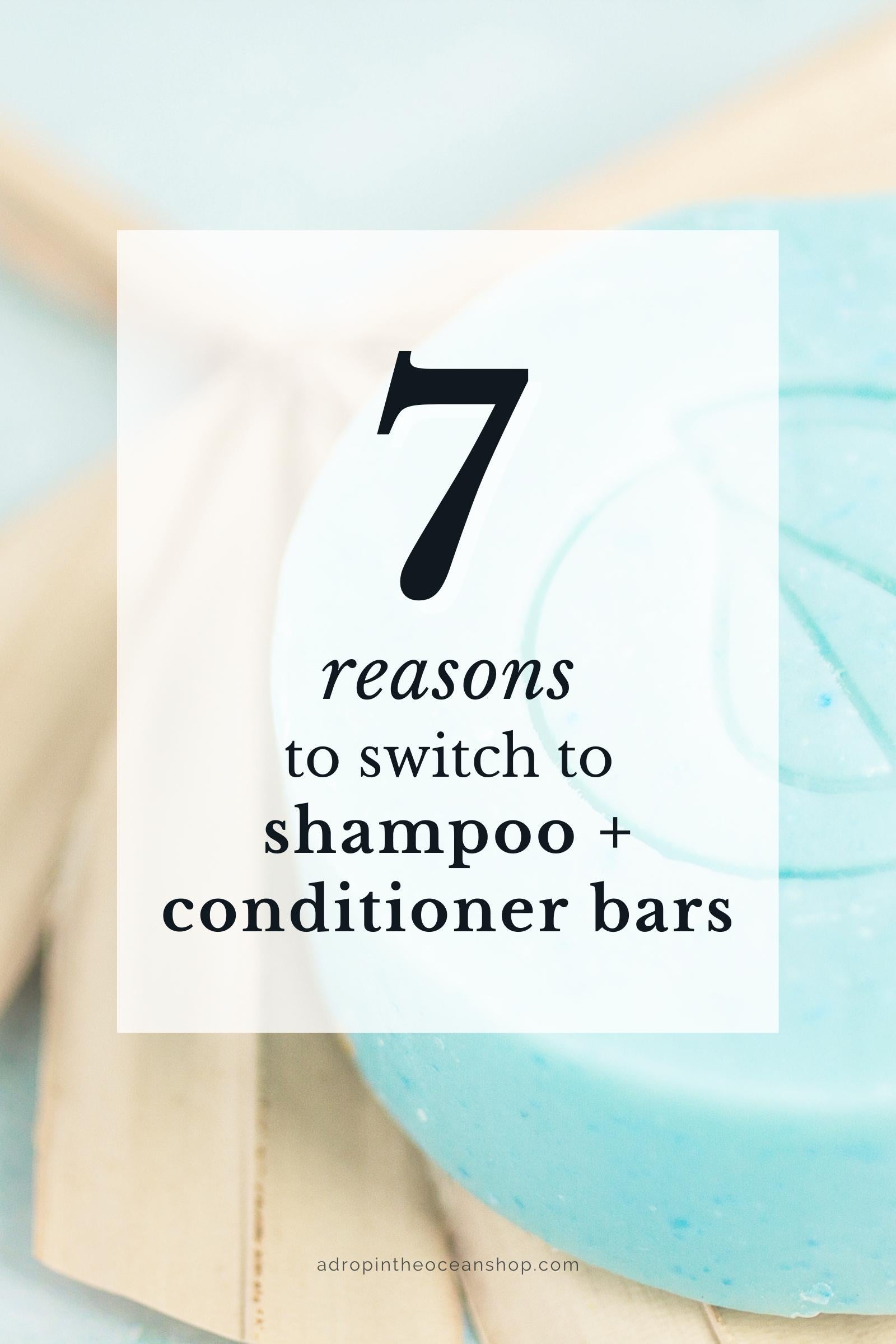 Listen to the audio of this post here:
This post first appeared in our weekly Make Waves Mondays email series on August 8, 2022.
---

Hey friend! 
If you're anything like me, when you first started learning about zero waste and plastic-free living, one of the first swaps you heard of was shampoo and conditioner bars. 
Now, when I started my zero waste journey, there weren't all that many options out there. Today, there are countless shampoo and conditioner bars on the market, although I'm definitely a bit biased towards the ones in our shop 😉
But sometimes the idea of switching from a liquid bottle of shampoo from Target to a sustainable, zero waste shampoo bar can be a bit uncomfy.
So today, I sat down and made a list of seven reasons I love shampoo and conditioner bars, and why they're such a great swap to keep your bathroom waste free ✌️
Shampoo and conditioner bars save you money.
At first glance, you may look at our shampoo and conditioner bars and ask yourself why you'd spend $10 on a bar of shampoo when you can get a full bottle for $5 at Target? I get it! 
But here's the great thing about shampoo and conditioner bars: they're ultra-concentrated.
Go take a peek at the ingredients list on your favorite bottle of shampoo. I'm willing to bet the first ingredient is water.
Shampoo and conditioner bars don't contain any water, so all you're getting is the good stuff. The natural oils, clays, and extracts that are actually doing the work. That means that one shampoo bar is going to last so much longer than a bottle of generic shampoo, because you need less of it to work effectively.
---

Related: Palm Oil: What is it, why is it a problem, and can it be sustainable?
---
On average, one shampoo and conditioner bar is the equivalent of about three bottles of liquid generic shampoo and conditioner.
Personally, I wash my hair every day (don't come for me), and one shampoo bar will last me about four to six months and one conditioner bar will last about six to eight months. I'm saving a ton of money with bars.
Shampoo and conditioner bars create less emissions.
Shampoo and conditioner bars are lightweight and take up less space than bottled shampoo and conditioner. Especially when we remember the fact that most of our bottled shampoo and conditioner is water, how is that an efficient use of resources to ship water all across the country in our hair care??
By opting for solid shampoo and conditioner, you're cutting down on a ton of shipping emissions that would be emitted from shipping bottles of liquid because of (A) less space (aka less trucks) needed to ship the same amount of products, and (B) less emissions from transporting heavier bottles.
Plus, our shampoo and conditioner bars are made right here in our hometown, so there's no more than a few miles of driving at any given time to pick them up for the shop. And all of those emissions are offset, too, so our bars are even more emissions-friendly.
Our shampoo and conditioner bars support small businesses at multiple levels.
At A Drop in the Ocean, our shampoo and conditioner bars are made locally to us by another small, woman-owned business. When you buy a shampoo or conditioner bar from us, you're not only supporting this small biz, but another local small biz that's focused on community and giving back.
When you support small businesses, 68% of your dollar stays in your community, but when you shop at big box stores, only 43% stays in your community. Small businesses are responsible for nearly 42% of the workforce in the United States, and they are doing the most to make sure that their products are the best they can possibly be, give back to their communities and the planet, and make products more sustainable than the big guys could ever even hope.
Solid shampoo and conditioner are great for travel.
Whether you're driving, taking a train, or traveling by air, traveling with shampoo and conditioner bars is a million times easier than with liquid. When there's no liquids involved, there's no 3oz rule to follow, and you can always bring the full size so you know you won't run out on a longer trip. And you'll never again worry about a Ross Geller-approved major shampoo explosion.
Shampoo and conditioner bars can be multi-purpose.
Another reason I loveee shampoo and conditioner bars for travel is that I can use one bar for multiple purposes. A shampoo bar can double as body wash, and a conditioner bar can be used as a shaving cream. 
Plus, no matter how you're getting to your destination, the heavier your bags, the more fuel it'll take to get them there. So by opting for lightweight products that can serve several purposes, you're gonna cut down on your emissions even more.
Our solid shampoo and conditioner bars are totally package-free.
Because we get our shampoo and conditioner bars made locally, we're able to keep them completely unpackaged. Many of the bigger, more common brands have to pack their bars in boxes for shipping purposes, but ours come to us totally naked. 
The boxes we get them in are given right back to our vendor for reuse (we love a solid closed-loop system around here), and the only addition we make is a single kraft paper label directly on the bar so you know what's what when your order arrives. 
And even the "in-between" parts of the label sheet get used to make other product labels, so on our end we're keeping things super zero waste, too.
To date, our shampoo bars alone have saved over 3,600 plastic bottles from entering the waste stream.
Our shampoo and conditioner bars have better ingredients for healthier hair and healthier waterways.
I think we hear a lot in these kinds of lists that shampoo and conditioner bars have better ingredients than the generic liquid options you'd find at Target, and therefore are better for your hair and scalp.
And while that is true, and I'm all for great, healthy hair days, I think the part of this conversation that's missing is that the ingredients are also better for our planet.
When you wash your hair, the shampoo and conditioner doesn't just stay in your hair. It rinses out of your hair and down your shower drain. And often, the chemicals in shampoo and conditioner (and all other shower products) end up in our waterways, harming the ecosystems all around us. 
Our shampoo and conditioner bars are made with nothing more than saponified oils, butters, clays, extracts, and minerals - all ingredients safe for you, your family (yes, even kids!), and our waterways.
So whaddaya think, friend? Ready to make the switch to zero waste shampoo and conditioner bars?
If you're not, that's cool too! We've also got refillable liquid shampoo and conditioner that comes in an aluminum bottle in the shop - also made by hand by a local woman-owned business, and is totally closed-loop.
Head on over to the shop and check out all of our zero waste hair care essentials to find your next perfect swap 💙
And if you'd be interested in a Part 2 with how to use shampoo and conditioner bars and how to care for them properly, comment below and let me know!
See you next week!
---

Related: How to Save Water Without a Shorter Shower & Why You Should Switch to a Natural Laundry Detergent
---
---