Highly requested by our EcoWarrior community, these Dropps natural dishwasher detergent pods double as laundry oxi-booster pods - a natural bleach alternative for even your toughest laundry days. With mineral-based and biodegradable ingredients, these non-toxic dishwasher detergent and oxi-booster pods are safe for babies, sensitive skin, and septic systems - and they'll work just as well (if not better!) than the conventional pods you're already used to, but are so much better for the environment.
As a natural dishwasher detergent, these pods will fight caked-on food residue with no need for a pre-rinse and leave your dishes absolutely ~sparkling~, every time.
As an oxi-booster, these pods will add some extra oomph to your sustainable and eco-friendly laundry routine. Whiten whites, brighten colors, and fight stains, all with just one little oxi-boost pod.
Not a fan of the PVA coating? We get it! Check out our locally-made, natural PVA-free dishwasher detergent tablets instead.
Dropps Natural Dishwasher Detergent + Oxi-Booster Pods Quick Details:
All-natural and biodegradable ingredients
Non-toxic and free of harmful chemicals and dyes
Safe for babies, sensitive skin, and septic systems
Vegan and cruelty-free
Unscented

✨ Round out your sustainable laundry routine with our natural refillable laundry detergent and check out our zero waste solid dish soap bar for all of your hand wash-only dishes!
Ingredients
Sodium Carbonate, Sodium Percarbonate, Poly(itaconic acid-co-AMPS) Sodium Salt , Trisodium Citrate Dihydrate, Alkoxylated Alcohol, Subtilisin, Silicic Acid, Tetraacetylethylenediamine, Alpha Amylase, Polyvinyl Alcohol Film (PVOH / PVA)
What is PVOH / PVA?
Polyvinyl alcohol is a bio-based film. Most evidence to date shows that these film coatings do dissolve in the water system. Is it a perfect solution? No, but we believe it's a step in the right direction. Check out our blog post all about PVA for more info about its sustainability and why we've opted to include these pods in our zero waste product lineup.
Not a fan of the PVA coating? We get it! Check out our locally-made, natural PVA-free dishwasher detergent tablets instead.
To Use
As a dishwasher detergent: With dry hands, add one natural dishwasher pod to the detergent dispenser of your dishwasher. Use all settings as normal.
As a laundry oxi-booster: With dry hands, add one oxi-booster pod to the drum of your washing machine, along with your laundry detergent. Add your laundry and wash as normal. Use any time you need a little extra cleaning power - maybe with some sweaty gym clothes, towels that are looking a little dingy, or messes from babies and pets.
Packaging + End of Life
If your dishwasher detergent + oxi-booster pods are being shipped to you, they'll be shipped without any additional packaging. (In fact, they may actually help us replace some padding to keep other items in your order safe! Now that's zero waste if we've ever heard of it ✌)
If you live locally around Tacoma, we'll pack your pods in a curbside-recyclable cardboard box with minimal paper tape. The box and tape can be placed in curbside paper recycling. (Or return them to us on your next delivery day so they can have even more life!)
We recommend storing your pods in a reusable, airtight container.

Origin
These natural dishwasher detergent + oxi-booster pods are made in the midwest of the United States.
Ethical Guarantees
Give-Back Program
Made in the USA
Sustainably-Sourced Palm Oil
Vegan
🌎 You care about the planet. So do we.
Look. I get it. It's HARD to be an EcoWarrior. Someone who cares about the planet and wants the most sustainable products available - from the ingredients to the packaging to the way that product gets to your hands.

It seems like everywhere we turn, someone, somewhere, is greenwashing us.

But our superpower at A Drop in the Ocean is sorting through the BS, calling it out, and making sure our products are the absolute most sustainable and truly zero waste products we can find.

So on top of all the things we mentioned above about what makes our Dropps dishwasher detergent + oxi-booster pods so sustainable, here's a few other things you should know:

We're actually practicing what we preach behind the scenes. In 2022, we saved all of our trash for four months, and wrote a whole blog post on it. The tl;dr version is this: in four months, we only produced two pounds of trash. Everything from the packaging our products come in down to the Sharpie we use to write "Fragile" on your box is zero waste to its core.
We're an online-only zero waste store - which is highly intentional. It may seem counter-intuitive, but online shopping is actually more sustainable than in-person. I'm a data nerd at heart and I love diving into the research, and there are countless studies that have shown that online shopping is the most sustainable way to get your everyday essentials. Don't believe me? Check out our whole blog post on the sustainability of online shopping.
We ship ugly boxes. Your order from A Drop in the Ocean is not going to arrive in a pretty, branded box. It's gonna show up in a reused tea box, or a donated Amazon box, or maybe even an inside-out Girl Scout Cookies box. All of our shipping materials are always 100% plastic-free and reused as much as possible, with curbside-recyclable paper tape and a post-consumer recycled paper shipping label. It won't be pretty, but it will be zero waste.
Got more questions about our zero waste products or our practices behind the scenes? Just send us an email! I'm always happy to chat all things eco.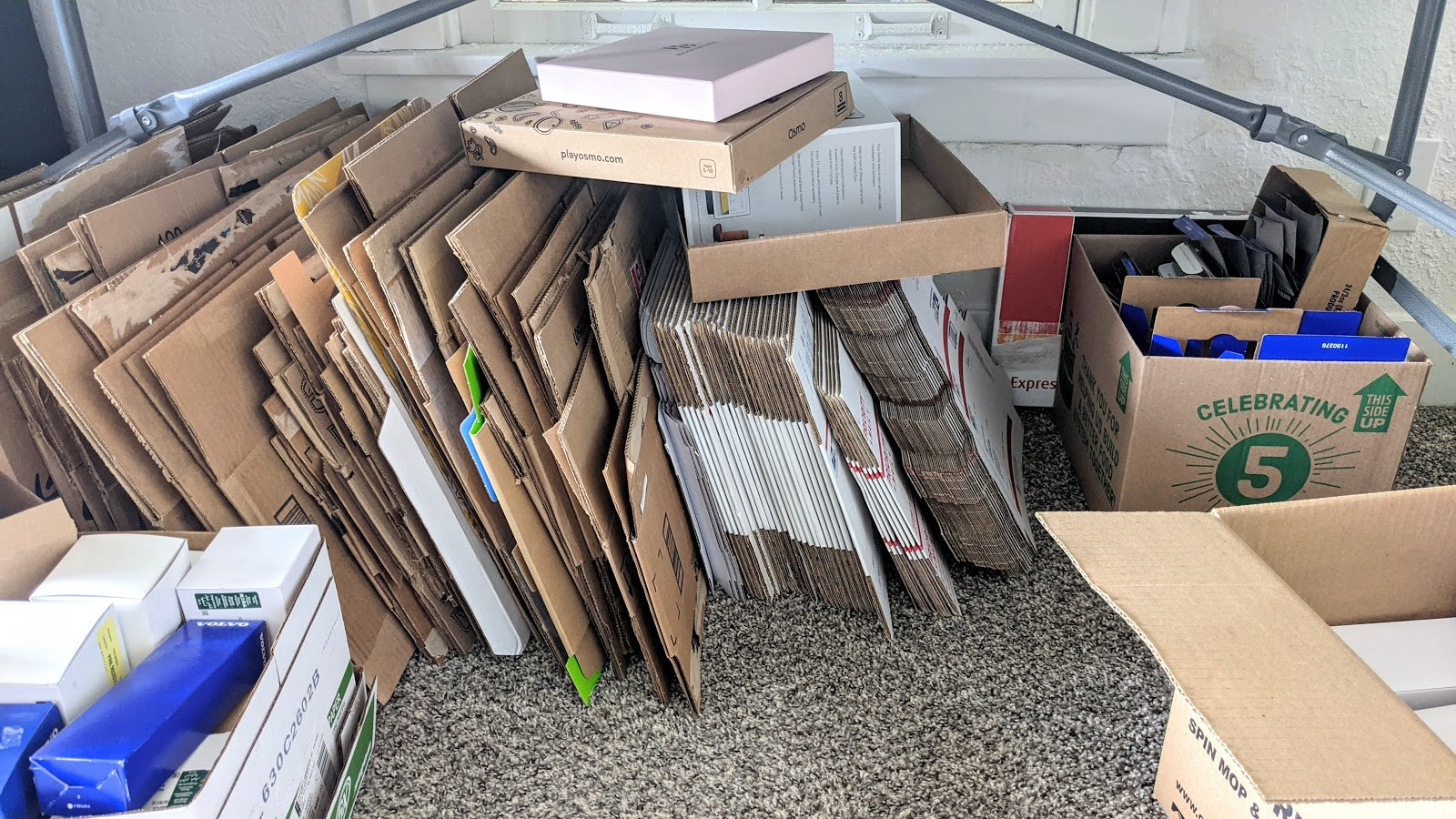 sustainable packaging
We ship ugly boxes
Our commitment to sustainability doesn't end when you press that checkout button.
We pack all of our orders in reused boxes and envelopes, with reused paper packaging, post-consumer recycled paper labels, and even paper tape.
You may not get an IG-worthy unboxing, but you will get the most sustainable packaging we can possibly find.
Oh and did we mention our shipping is always carbon negative?
Let's go to the real winner in my eyes. Honestly, I could have purchased this exact product many other places, but the packaging A Drop in the Ocean uses to ship will have me coming back time and time gain.

My first purchase from them was some floss a while ago and it arrived in a reused tea box with a hand written note that was written on scrap paper. I was blown away.

I had never seen a company who claimed to be sustainable ACTUALLY prove to be sustainable through and through. The fact that every piece of the packaging was reused and minimal will have me come back over and over again. If I can purchase it here, I will purchase it here.

Samantha
Customer Reviews
100
reviewers would recommend this product
Write a Review
Our EcoWarriors also love...