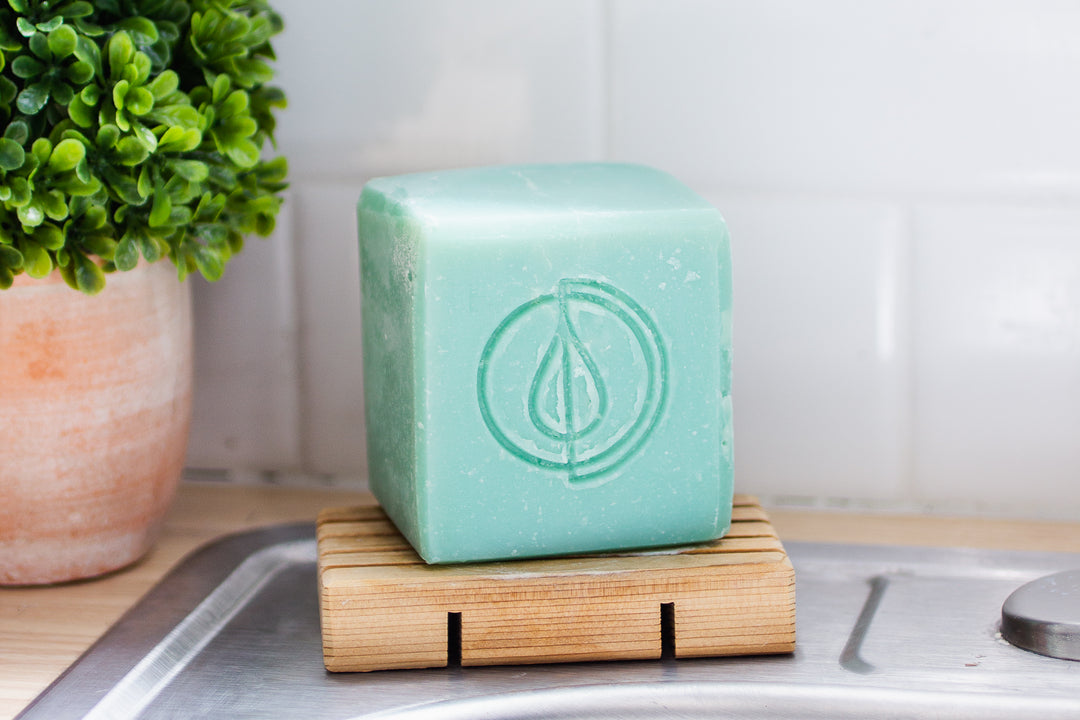 Finally, a natural dish soap that doesn't suck. Our zero waste solid dish soap bar is about to be one of the easiest low waste switches you're ever gonna make. With simple, all-natural ingredients, this dish soap bar is gentle on your hands, but still cuts through grease and grime better than any conventional liquid bottle, all with zero residue left over. While just a fraction of the size of conventional bottles, the ultra-concentrated solid form means one plastic-free dish soap bar is going to last so much longer than those pesky plastic bottles ever could. Plus, it just looks pretty on your counter 😍
Please note that all of our soaps are made by hand and therefore may differ slightly from those pictured.
Solid Dish Soap Bar Quick Details:
All-natural and biodegradable ingredients
Safe for sensitive skin and septic systems
Ultra-concentrated
Package-free and plastic-free
Vegan, cruelty-free, and palm oil free
🫧 Pair your dish soap bar with our plastic-free bamboo dish brush or natural loofah sponges for an extra suds boost!
Size
Our full-size solid dish soap bar weighs approximately 12 ounces.
The trial size bar is one-quarter of a full-size bar, weighing in around 3 ounces.
Ingredients
Coconut Oil, Avocado Oil, Aloe Vera, Distilled Water, Sodium Hydroxide, Glycerin, Saponaria Extract, Citric Acid, Mineral Salt, Baking Soda, Essential Oil Blend for Scent
To Use
✨ Check out our full guide to zero waste dish soap bars over on the blog!
For hand-washing dishes: Grab your favorite dish brush, plastic-free sponge, or Swedish dishcloth, and get it nice and wet with some warm water. Then take the brush/sponge/cloth and rub it on the top of the dish soap bar in a circular motion until you've got a nice, sudsy lather worked up. Hand wash your dishes as normal, and repeat as often as necessary until all the dishes are done.
Pro-tip: The more scrubby the scrubber, the more sudsy the lather will be. (I'm a big fan of our natural loofah sponges for this!)
For cleaning the kitchen: Don't limit our solid dish soap bar to just dishes! Using the same method as for hand-washing dishes above, use this bar to clean your sink, countertop, stovetop, refrigerator - basically whatever you're cleaning in your kitchen can be cleaned with this dish soap bar! For extra shine, wipe clean with a damp Swedish dishcloth.

Care
To help your dish soap bar last as long as humanly possible, be sure to let it dry completely between uses.
Packaging + End of Life
Your solid dish soap bar will either be completely unpackaged or wrapped in reused kraft paper.
If there is soap residue left on the wrapping, the paper can be home composted, but if the wrapping is completely clean, it can be curbside recycled. The small tape pieces should be thrown away.
Origin
Handmade right here in Tacoma, Washington. Get to know the face behind this product: Soap & Clay.
Ethical Guarantees
Give-back Program
Made in the USA
Palm Oil Free
Vegan
Washington Local
Woman-owned
🌎 You care about the planet. So do we.
Look. I get it. It's HARD to be an EcoWarrior. Someone who cares about the planet and wants the most sustainable products available - from the ingredients to the packaging to the way that product gets to your hands.
It seems like everywhere we turn, someone, somewhere, is greenwashing us.
But our superpower at A Drop in the Ocean is sorting through the BS, calling it out, and making sure our products are the absolute most sustainable and truly zero waste products we can find.
So on top of all the things we mentioned above about what makes our solid dish soap bar so sustainable, here's a few other things you should know:
We're actually practicing what we preach behind the scenes. In 2022, we saved all of our trash for four months, and wrote a whole blog post on it. The tl;dr version is this: in four months, we only produced two pounds of trash. Everything from the packaging our products come in down to the Sharpie we use to write "Fragile" on your box is zero waste to its core.
We're an online-only zero waste store - which is highly intentional.

 

It may seem counter-intuitive, but

 

online shopping is actually more sustainable than in-person. I'm a data nerd at heart and I love diving into the research, and there are countless studies that have shown that online shopping is the most sustainable way to get your everyday essentials. Don't believe me?

 

Check out our whole blog post on the sustainability of online shopping.
We ship ugly boxes.

 

Your order from A Drop in the Ocean is not going to arrive in a pretty, branded box. It's gonna show up in a reused tea box, or a donated Amazon box, or maybe even an inside-out Girl Scout Cookies box. All of our shipping materials are always 100% plastic-free and reused as much as possible, with curbside-recyclable paper tape and a post-consumer recycled paper shipping label. It won't be pretty, but it will be zero waste.
Got more questions about our zero waste products or our practices behind the scenes? Just send us an email! I'm always happy to chat all things eco.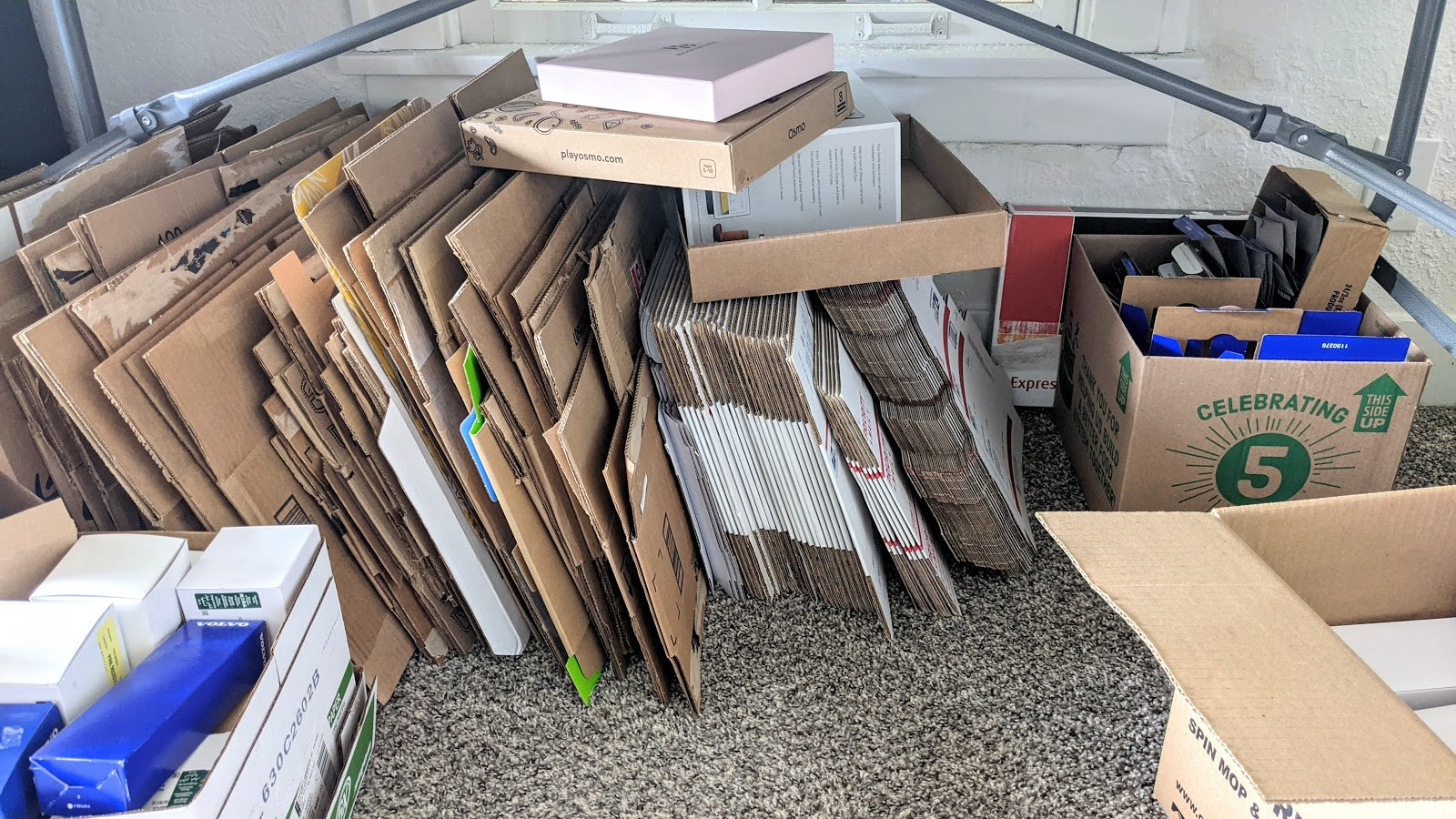 sustainable packaging
We ship ugly boxes
Our commitment to sustainability doesn't end when you press that checkout button.
We pack all of our orders in reused boxes and envelopes, with reused paper packaging, post-consumer recycled paper labels, and even paper tape.
You may not get an IG-worthy unboxing, but you will get the most sustainable packaging we can possibly find.
Oh and did we mention our shipping is always carbon negative?
Let's go to the real winner in my eyes. Honestly, I could have purchased this exact product many other places, but the packaging A Drop in the Ocean uses to ship will have me coming back time and time gain.

My first purchase from them was some floss a while ago and it arrived in a reused tea box with a hand written note that was written on scrap paper. I was blown away.

I had never seen a company who claimed to be sustainable ACTUALLY prove to be sustainable through and through. The fact that every piece of the packaging was reused and minimal will have me come back over and over again. If I can purchase it here, I will purchase it here.

Samantha
Our EcoWarriors also love...