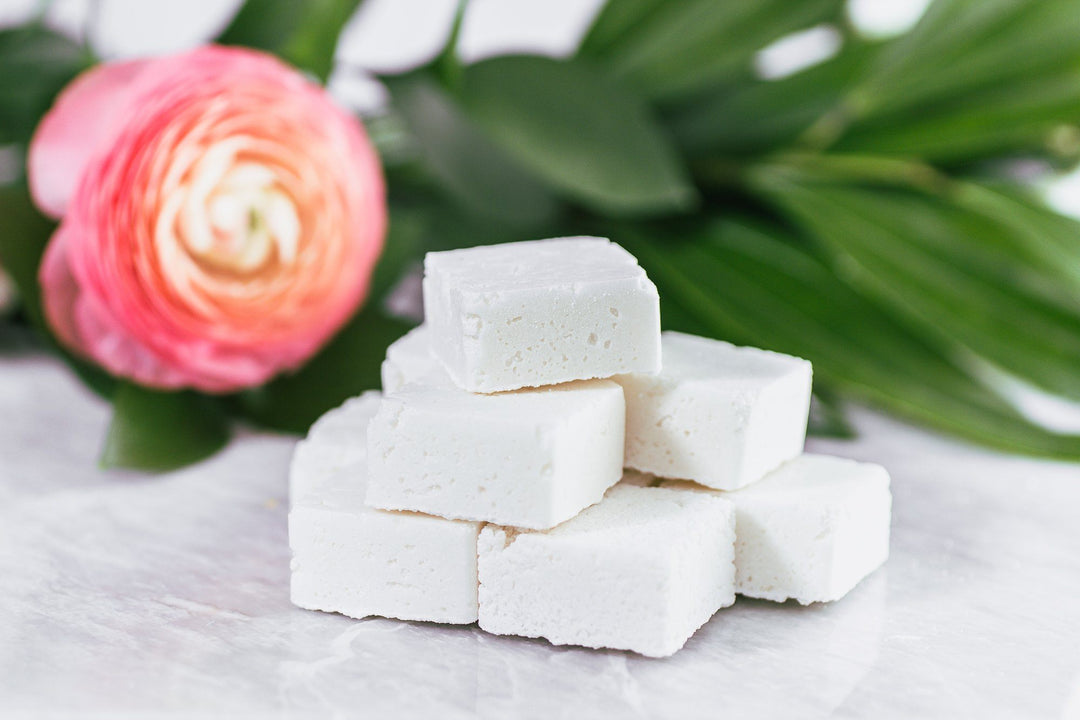 Get your dishes clean, naturally. These non-toxic and natural dishwasher detergent tablets are 100% PVA-free and made by hand with just four easy-to-pronounce, septic-safe ingredients. Totally plastic-free and package-free, you'll get all the sparkle with none of the waste. The light essential oil blend of grapefruit and lemon will bring a citrusy cheer to your kitchen, but will leave zero scent on your freshly-washed dishes.
Pro-Tip: Want extra sparkle? Add some distilled white vinegar to your dishwasher's rinse aid dispenser!
PVA-Free Dishwasher Detergent Tablets Quick Details:
100% plastic-free and PVA-free tablets
All-natural and biodegradable ingredients
Non-toxic and free of harmful chemicals
Safe for septic systems
Vegan, cruelty-free, and palm oil free

🧼 For all of your hand wash-only dishes, check out our best-selling zero waste solid dish soap bar and bamboo dish brushes.
Ingredients
Washing Soda, Dendritic Salt, Grapefruit + Lemon Essential Oil Blend, Distilled Water
To Use
Add one PVA-free dishwasher detergent pod to the detergent dispenser of your dishwasher. Use all settings as normal.
Please note that some of our EcoWarriors with harder water have experienced a white film residue after using these pods. For some, a little white vinegar in the rinse aid clears it right up and makes their dishes sparkle. For others, it's a bit more persistent. While we love these pods and hope you love them as much as we do, if you have hard water, please keep this in mind when making your purchasing decision. In response to this concern, we have a second eco-friendly dishwasher pod option that seems to work better with hard water that may be a better solution for your home.
Packaging + End of Life
These PVA-free dishwasher detergent tablets will be wrapped in minimal reused kraft paper with paper tape.
If there is no residue left on the paper, it can be curbside recycled; if there is residue left on the paper it can be home composted. The small tape pieces should be thrown away.

Origin
Handmade in La Conner, Washington.

Ethical Guarantees
Made in the USA
Palm Oil Free
Vegan
Washington Local
Woman-Owned
🌎 You care about the planet. So do we.
Look. I get it. It's HARD to be an EcoWarrior. Someone who cares about the planet and wants the most sustainable products available - from the ingredients to the packaging to the way that product gets to your hands.
It seems like everywhere we turn, someone, somewhere, is greenwashing us.
But our superpower at A Drop in the Ocean is sorting through the BS, calling it out, and making sure our products are the absolute most sustainable and truly zero waste products we can find.
So on top of all the things we mentioned above about what makes our PVA-free dishwasher tablets so sustainable, here's a few other things you should know:
We're actually practicing what we preach behind the scenes. In 2022, we saved all of our trash for four months, and wrote a whole blog post on it. The tl;dr version is this: in four months, we only produced two pounds of trash. Everything from the packaging our products come in down to the Sharpie we use to write "Fragile" on your box is zero waste to its core.
We're an online-only zero waste store - which is highly intentional. It may seem counter-intuitive, but online shopping is actually more sustainable than in-person. I'm a data nerd at heart and I love diving into the research, and there are countless studies that have shown that online shopping is the most sustainable way to get your everyday essentials. Don't believe me? Check out our whole blog post on the sustainability of online shopping.
We ship ugly boxes. Your order from A Drop in the Ocean is not going to arrive in a pretty, branded box. It's gonna show up in a reused tea box, or a donated Amazon box, or maybe even an inside-out Girl Scout Cookies box. All of our shipping materials are always 100% plastic-free and reused as much as possible, with curbside-recyclable paper tape and a post-consumer recycled paper shipping label. It won't be pretty, but it will be zero waste.
Got more questions about our zero waste products or our practices behind the scenes? Just send us an email! I'm always happy to chat all things eco.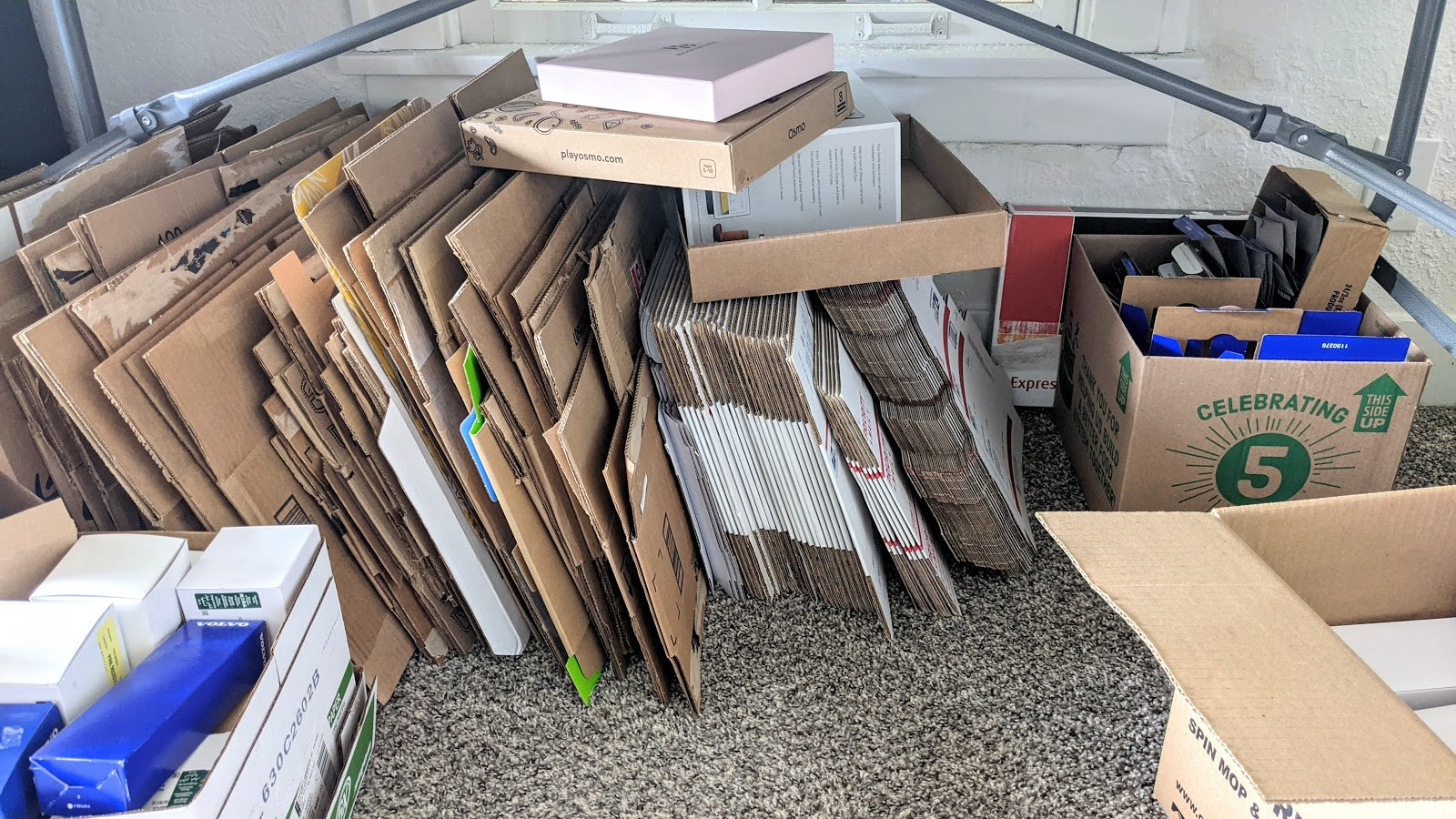 sustainable packaging
We ship ugly boxes
Our commitment to sustainability doesn't end when you press that checkout button.
We pack all of our orders in reused boxes and envelopes, with reused paper packaging, post-consumer recycled paper labels, and even paper tape.
You may not get an IG-worthy unboxing, but you will get the most sustainable packaging we can possibly find.
Oh and did we mention our shipping is always carbon negative?
Let's go to the real winner in my eyes. Honestly, I could have purchased this exact product many other places, but the packaging A Drop in the Ocean uses to ship will have me coming back time and time gain.

My first purchase from them was some floss a while ago and it arrived in a reused tea box with a hand written note that was written on scrap paper. I was blown away.

I had never seen a company who claimed to be sustainable ACTUALLY prove to be sustainable through and through. The fact that every piece of the packaging was reused and minimal will have me come back over and over again. If I can purchase it here, I will purchase it here.

Samantha
Customer Reviews
10/13/2023
Robert J.

United States
I recommend this product
Pods
They Leave a white residue on the glasses.
10/24/2023
A Drop in the Ocean
I'm sorry to hear you're experiencing a white residue on your glasses with these dishwasher pods, Robert! I'd definitely recommend trying some white vinegar as a rinse aid (always leaves my dishes sparkling!), and if that doesn't help, we do have another dishwasher pod option (Dropps) that we brought into the shop specifically in response to the occasional white film review we were seeing. That might be a better option for your home?
10/01/2023
JP K.

United States
I recommend this product
Dishwasher pods
Did the trick as well or better. Nice to not have to measure.
05/03/2023
Anonymous

United States
I recommend this product
Holy grail
Tired of bottles and pods wrapped with PVA. Its so hard to find this and super appreciate they even take an extra step in the their packaging (lack of plastic). Its been working great and doing what it does best in cleaning on top of not creating more micro waste. So happy i found this! Now i wish i could but this local!
11/21/2022
Renee

United States
I recommend this product
Dishes so clean
I love these pods. No residue and the dishes are clean. Easy to use (although I did put them into another container so they would get damp). I will definitely order again. These are a winner in my book.
11/13/2022
Rick

United States
I recommend this product
Best, safest, least toxic way to clean dishes
These amazing pods are not only plastic free (never even use minimal amounts of plastics in your diet), they are also non-toxic. Just compare the ingredient list to any name brand soap you buy almost anywhere. Imagine, the plastic chemicals and toxic chemicals all coating your dishes and being expelled into your drinking water basin. Not good. Thankfully, these are a highly effective (really clean and smell great, naturally) option to clean and keep your family safe, hormones untouched and water supply safer. I use vinegar in the rinse compartment…look at that ingredient list sometime and ask yourself … where does all that go and how does it affect your body. Then switch. You'll love these pods and vinegar rinse.
Our EcoWarriors also love...