Whether you're trying to reduce your waste, eliminate harmful chemicals, avoid fragrances, save time, save money, or just live more sustainably, natural wool dryer balls are about to be your new best friend.
Made completely from domestic ethical sheep wool, these eco-alternatives to dryer sheets tumble around in your dryer with your laundry to eliminate static, soften your clothes without the toxic chemicals of dryer sheets, and even help your clothes dry faster - up to 25% faster!
Your clothes will come out super soft, and because wool is hypoallergenic, these dryer balls are perfect for babies, sensitive skin, and allergies. Intentionally designed not to fall apart after just a few uses, these things are dense - they're gonna last you 1,000+ loads of laundry, easily.
Wool Dryer Balls Quick Details:
100% natural, undyed domestic sheep wool ethically sourced from farmers in Maine
One set saves the average family $150 a year on fabric softener and dryer sheets
Safe for babies, sensitive skin, and allergies
Reusable for 1,000+ loads of laundry
Featured by Oprah...twice
Plastic-free
Unscented

✨ Round out your sustainable laundry routine with our natural refillable laundry detergent.
Dimensions
Each wool dryer ball is about the size of a baseball, or about 10 inches around.
Materials
These dryer balls are 100% made with ethical, domestic sheep wool. The wool is processed in a historic mill in Maine, USA, with strict high standards for animal welfare.
To Use
Toss at least three dryer balls into your dryer with your laundry and dry as usual. The more dryer balls you use at a time, the more of a difference you'll notice both in softness and in drying time.
Pro-tip: Leave your dryer balls in your clothes dryer between loads! Especially if you have pets, this will help you make sure they're always where they need to be and don't become a chew toy.
Check out our blog post all about wool dryer balls and everything you could ever want to know about them for even more tips and tricks!
How many dryer balls should I use?

How many wool dryer balls you use at a time is up to you, but we definitely recommend never using less than three at a time. 
As a general guideline, use 3 dryer balls for small to medium loads, 6 dryer balls for medium to large loads, and 9 to 12 dryer balls for large to extra-large loads.
The more dryer balls you use at a time, the quicker your laundry will dry and the softer it will be.

Help! My laundry still has static!
If your laundry still has static after using our wool dryer balls, that means your laundry is actually too dry. Try one or all of these tricks to help eliminate static once and for all:
Reduce your heat setting and stop your dryer before the cycle ends. If the laundry is already dry, keeping it in the cycle longer will create more static.

Wet 1-2 of your dryer balls and toss them back in for a few minutes.

Add a safety pin to some or all of your dryer balls.
Care
Should your dryer balls need some cleaning, simply toss them in your washing machine on a warm cycle. When cared for properly, these dryer balls should last you 1,000 loads of laundry or more!
Packaging + End of Life
Your wool dryer balls will be shipped to you completely package-free.
If you live locally around Tacoma, we'll put them in a curbside-recyclable cardboard box for your delivery.
Over time, your dryer balls may start to fray, but they'll still work, and you can just pop them in your washing machine to shape them back up. But when they do reach the end of their life they can be backyard composted.
Origin
Handmade in Maine.
Ethical Guarantees
BIPOC-owned
Give-Back Program
Made in the USA
Woman-owned
🌎 You care about the planet. So do we.
Look. I get it. It's HARD to be an EcoWarrior. Someone who cares about the planet and wants the most sustainable products available - from the ingredients to the packaging to the way that product gets to your hands.
It seems like everywhere we turn, someone, somewhere, is greenwashing us.
But our superpower at A Drop in the Ocean is sorting through the BS, calling it out, and making sure our products are the absolute most sustainable and truly zero waste products we can find.
So on top of all the things we mentioned above about what makes our wool dryer balls so sustainable, here's a few other things you should know:
We're actually practicing what we preach behind the scenes. In 2022, we saved all of our trash for four months, and wrote a whole blog post on it. The tl;dr version is this: in four months, we only produced two pounds of trash. Everything from the packaging our products come in down to the Sharpie we use to write "Fragile" on your box is zero waste to its core.
We're an online-only zero waste store - which is highly intentional.

 

It may seem counter-intuitive, but

 

online shopping is actually more sustainable than in-person. I'm a data nerd at heart and I love diving into the research, and there are countless studies that have shown that online shopping is the most sustainable way to get your everyday essentials. Don't believe me?

 

Check out our whole blog post on the sustainability of online shopping.
We ship ugly boxes.

 

Your order from A Drop in the Ocean is not going to arrive in a pretty, branded box. It's gonna show up in a reused tea box, or a donated Amazon box, or maybe even an inside-out Girl Scout Cookies box. All of our shipping materials are always 100% plastic-free and reused as much as possible, with curbside-recyclable paper tape and a post-consumer recycled paper shipping label. It won't be pretty, but it will be zero waste.
Got more questions about our zero waste products or our practices behind the scenes? Just send us an email! I'm always happy to chat all things eco.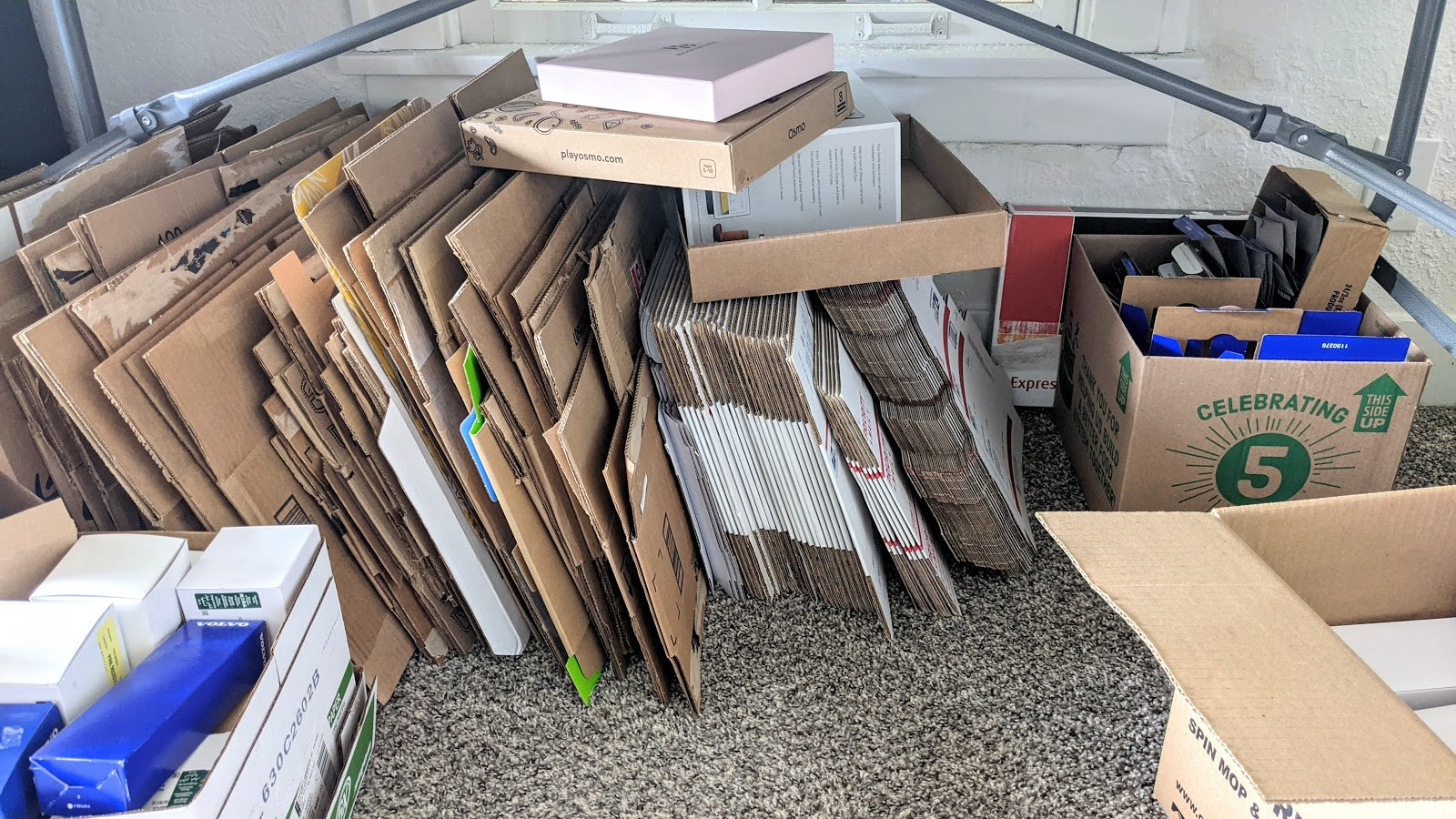 sustainable packaging
We ship ugly boxes
Our commitment to sustainability doesn't end when you press that checkout button.
We pack all of our orders in reused boxes and envelopes, with reused paper packaging, post-consumer recycled paper labels, and even paper tape.
You may not get an IG-worthy unboxing, but you will get the most sustainable packaging we can possibly find.
Oh and did we mention our shipping is always carbon negative?
Let's go to the real winner in my eyes. Honestly, I could have purchased this exact product many other places, but the packaging A Drop in the Ocean uses to ship will have me coming back time and time gain.

My first purchase from them was some floss a while ago and it arrived in a reused tea box with a hand written note that was written on scrap paper. I was blown away.

I had never seen a company who claimed to be sustainable ACTUALLY prove to be sustainable through and through. The fact that every piece of the packaging was reused and minimal will have me come back over and over again. If I can purchase it here, I will purchase it here.

Samantha
Customer Reviews
I recommend this product
Dryer balls
Great purchase really needed& love them
08/02/2023
Theresa W.

United States
I recommend this product
dryer balls
I bought 3 of the dryer balls to eliminate use of Bounce & I really like them. Dryer items come out with fewer wrinkles & feel softer
03/15/2022
Anonymous

United States
I recommend this product
Dryer balls
I was very satisfied with this product. My clothes took less time to dry and they reduced static.
06/22/2021
Natasha A.

United States
I recommend this product
Wool Dryer Balls
I really love the wool dryer balls! My clothes come out so soft every time.
09/11/2020
Anonymous

United States
I recommend this product
Love them!
Super soft and definitely help my clothes dry faster!
Our EcoWarriors also love...