Say hello to your new favorite kitchen accessory. Veggie Saver Bags are uniquely designed to keep your produce fresh, longer. Like, 2-3 weeks longer. The 100% cotton bags keep your produce hydrated while encouraging airflow and slowing ripening.

Veggie Saver Bags...
Keep produce fresh longer
Save you money on your grocery bill by eliminating food waste
Save you time by cutting the number of grocery trips
Cut your trash by eliminating the need for plastic produce bags
Are machine washable and last for years
Work with all produce - from berries to carrots to kale
Are vegan and plastic-free
We're a bit obsessed with Veggie Saver Bags over here, and know you will be too.
Don't just take our word for it. A study conducted by Applied Horticulture Research in 2021 has proven that Veggie Savers keep produce fresh for 2-4 weeks longer than without. #science!
Dimensions
15.5" W x 11" H
Material
100% unbleached and unseeded cotton
To Use

Wash your Veggie Saver. Use a cold setting and a

 

natural laundry detergent. Washing your Veggie Saver before use fluffs up the inner fibers, making it even more effective. Hang dry.
Wash your produce.
Dampen the outer layer of your Veggie Saver. Put it under the faucet just enough to get the outer layer moist, then wring out as much excess water as you can. The inner layer should still be mostly dry. If you are not seeing the results you're expecting from your Swag, it is likely that the bag is too wet.
Add your produce to your Veggie Saver, and store it in the crisper drawer of your fridge. You can either keep leafy greens separate from fruits and vegetables, or put them all together in one bag. You make the rules for your Veggie Saver!
Keep them working hard. If your Veggie Bag feels like it's drying out, add a bit more water to the outer surface. Wash your Veggie Bag inside out every two weeks, or as needed. We recommend keeping them like hand towels - one set in use while another is in the laundry.
Veggie Saver Bags work well for root vegetables like potatoes and onions, too! Just don't wet your Veggie Saver and don't put it in the fridge. Instead, add your root veggies to a dry Veggie Saver Bag and store in your pantry. They'll last longer, too!
Packaging + End of Life
Each Veggie Saver Bag is packaged in a cardboard box. There is a cardboard info sheet inside each Bag. Care for your Veggie Saver Bag and it will last you for many years to come. Veggie Savers are made of 100% cotton, so at the end of their life they can be cut up and composted in your backyard or municipal compost.
The cardboard box and cardboard info sheet can be recycled or composted.
Origin
Veggie Saver bags are made in India by a SEDEX-certified, female-led team. They are an Australian-owned business, but the bags are distributed to us through North Carolina.
Ethical Guarantees
Give-Back Program
Vegan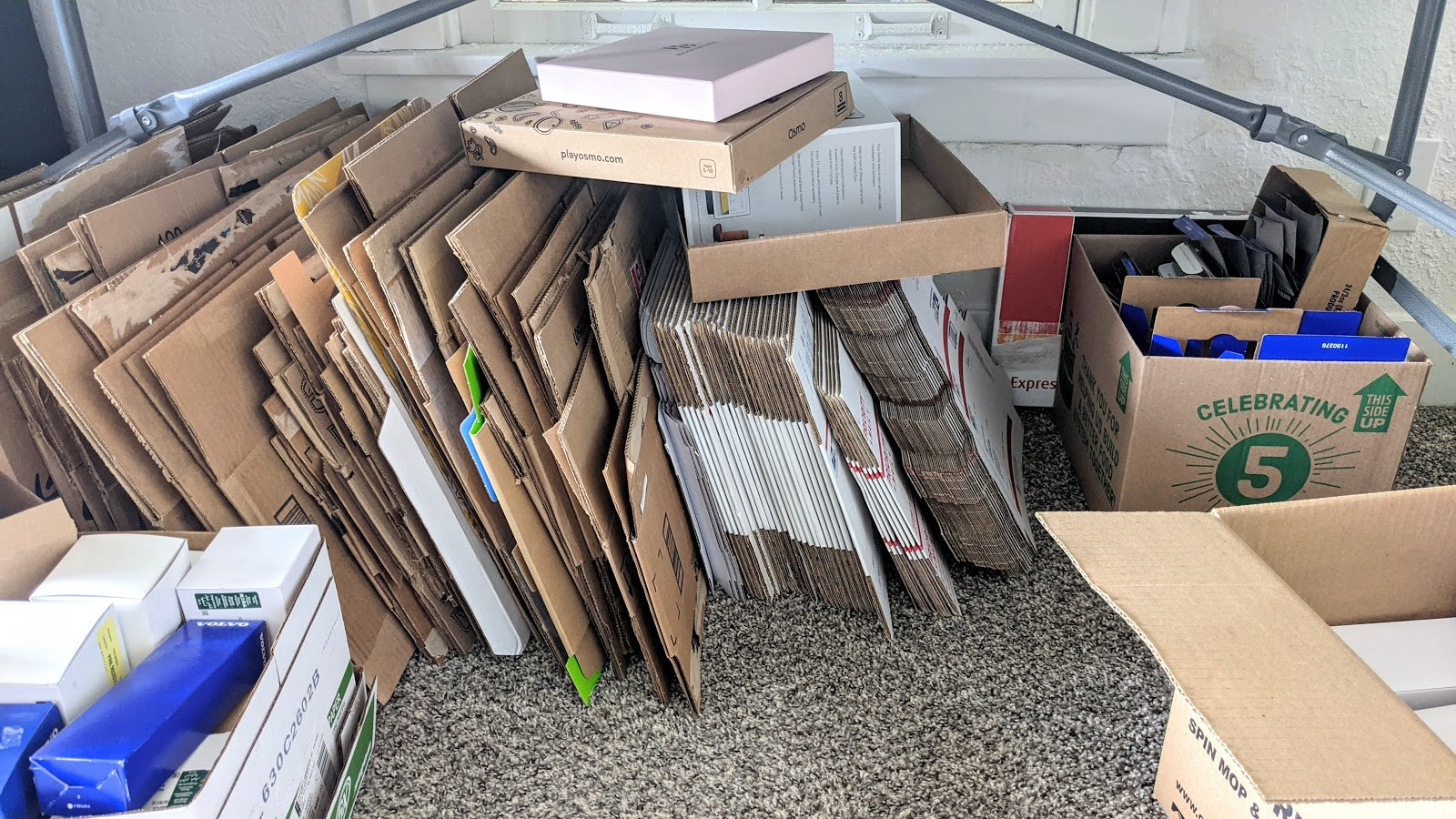 sustainable packaging
We ship ugly boxes
Our commitment to sustainability doesn't end when you press that checkout button.
We pack all of our orders in reused boxes and envelopes, with reused paper packaging, post-consumer recycled paper labels, and even paper tape.
You may not get an IG-worthy unboxing, but you will get the most sustainable packaging we can possibly find.
Oh and did we mention our shipping is always carbon negative?
Let's go to the real winner in my eyes. Honestly, I could have purchased this exact product many other places, but the packaging A Drop in the Ocean uses to ship will have me coming back time and time gain.

My first purchase from them was some floss a while ago and it arrived in a reused tea box with a hand written note that was written on scrap paper. I was blown away.

I had never seen a company who claimed to be sustainable ACTUALLY prove to be sustainable through and through. The fact that every piece of the packaging was reused and minimal will have me come back over and over again. If I can purchase it here, I will purchase it here.

Samantha
Our EcoWarriors also love...