9 Tips for Zero Waste Back to School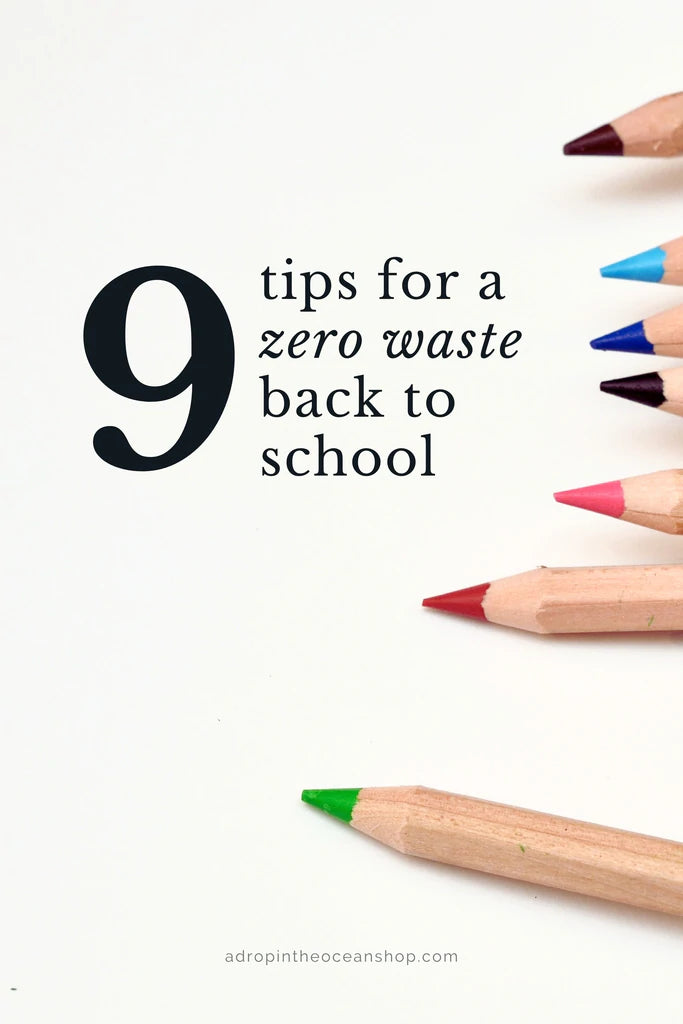 Listen to the audio of this post here:

This post first appeared in our weekly Make Waves Mondays email series on August 16, 2021.
---
Hellooooo friend! I hope you've had a great week and are staying safe and healthy.
Quick update on my life for ya: I started therapyyyyyyyyy! You may recall a few weeks ago I shared my struggles with mental health, trying to break down a bit of the stigma associated with it. Through that process, I started reflecting more, writing regularly, and ultimately finally worked up the courage to ask for help. I hate asking for help - both personally and professionally. But therapy is something I've been wanting to do for literally years. I just couldn't actually get myself to do it. But I finally asked for help and I'm making the changes I need to work on myself. So, in a continued effort to smash the stigma of mental health, I wanted to celebrate this win with you. Thank you for giving me grace and a space to be my whole self with you 💙
NOW. Onto this week's wave-making!
I may be a wee bit late to the party, but back to school is in full swing! Being childless I don't think about back to school until someone posts on FB about their kid's first day of school. But just in case I'm not too late, I've compiled nine of my favorite tips for a zero waste back to school season, just for you.
Or, if you're returning to your office soon and need a revamp, think of this as your guide to a zero waste back to office season 😉
1. Shop your own home.
Okay this one might be obvious, but it's worth repeating. I used to have a horrible addiction to office and school supplies. So every year I'd go out and spend SO MUCH MONEY on school supplies, even though there was always a full bin of leftover supplies from the year before in the basement.
No joke, I once returned a stapler to the store and when the clerk asked if there was a problem with it my response was - verbatim - "No... I just have three more staplers at home. This was an impulse buy and I really don't need four staplers." And don't even get me started on the reams and reams of printer paper that cluttered my closet. Why, Krystina? Why?
So before you go out and buy a fourth stapler (No? Just me?), check the supplies you already have around your home. Check the junk drawer every suburban family has in the kitchen, too. You never know what you'll find in there!
2. Ask your Buy Nothing Group.
Have I convinced you to find a Buy Nothing group in your community yet? It's always my go-to answer when someone asks where to find something. 
But for realz, Buy Nothing groups are the bomb dot com. Everyone's always gifting items or have items lying around their home they wouldn't even have thought to post in the group until you ask for them. Even my printer and printer paper were from my Buy Nothing group. I recently offered up a large bag of office supplies I finally decided to part with and my neighbor was so excited to take them off my hands. It's the joy for me.
3. Host a supplies swap with friends.
Call up your friends and invite them over for a school supplies swap. Bring the kids and make a day of it. Maybe you've got an extra stapler and your friend has an extra notebook. Rather than you buying a notebook and your friend buying a stapler, now you've both saved some cash and made Mama Earth that much happier.
4. RE Tacoma
Calling all Tacoma educators: RE Tacoma (our local free store and collaboration hub) is hosting a Back to School Night next Tuesday, August 24th for teachers, educators, and childcare providers. They'll have a dedicated section of classroom and school supplies for you to shop for free from 6-8pm. And if you find something else in the store you're interested in? You can shop the rest of the store with a day pass for just $10.
Add the event to your calendar!
5. Wisdom Supply Co.
For those supplies you can't find around your home or from your community, check out Wisdom Supply Co. They're a small but incredibly mighty shop run by two women on a mission to tackle plastic pollution by focusing on one incredibly wasteful aspect - school and office supplies. Their products are plastic-free and amazingly high quality.
Some of my favorites:
Wooden dry erase markers (also great just as regular markers!)

Wax highlighter pencils

Metal refillable pens in red, black, and blue

Unpainted natural pencils and 100% metal sharpeners

100% plastic-free notebooks and planners
I don't have a need for many office supplies these days, but when I rescued a large whiteboard from my coworking space that was just sitting in the basement, I needed some dry erase markers to go with it. I LOVE my Wisdom Supply dry erase markers. They write SO smoothly, and are probably going to last me the rest of my life.
6. If you need a new backpack, choose one built to last.
If it's time for a new bag or backpack and you can't find one in your community or secondhand, choose a brand that is built to last. I got my current L.L. Bean backpack in 2010 before my senior year of high school. It lasted me all through college, has literally traveled the globe with me, and is still in essentially perfect condition more than a decade later.
This option is usually a bit more expensive, but if you can afford the upfront cost, it'll save so much money and so much waste in the long-term.
7. Choose to reuse.
Ditch paper lunch bags for a reusable one! There are so many out there to fit any personality, plus they'll better insulate your lunch. (You can't really pack an ice pack in a paper bag.) Pair it with some reusable food storage instead of plastic baggies and you've got yourself a zero waste lunch, my friend.
My personal favorite food storage is mason jars. They come in so many sizes and they're so perfect for basically anything. Soups, salads, veggies, fruits, cheeses, lunch meats, snacks, the list goes on. And you don't even need to spend money on them! Just reuse old sauce jars or get them from your Buy Nothing group. No need to ever spend more than a few cents on a jar in a thrift store as a last resort.
Reusable wax wraps are a great alternative to saran or foil if that's your typical jam, or silicone bags as an alternative to Ziploc bags if you want a little less weight than a mason jar. 
OR, if you've already got a stash of Ziploc bags in the kitchen, they don't have to be single-use! I have so many bags from my pre-zero waste days that I keep washing and reusing over and over again until they fall apart. 
Sometimes the best option is the one we already have.
8. Who Gives a Crap
I checked out a few back to school lists for Tacoma schools to prep for this post and imma be honest, I totally forgot that tissues and paper towels are usually on those lists. And shout-out to Alyssa in the EcoWarrior Pod for echoing this, too!
So if tissues and paper towels are on your kid's supply list (or you're fresh out of tissues for your office), I love Who Gives A Crap. Their tissues and paper towels are made from bamboo, which is a highly renewable resource (it can grow up to three feet in one day!), but even better than that, Who Gives a Crap donates 50% of their profits to improve access to clean water and toilets around the world, working with local communities to ensure their specific needs are met. 
They're a highly mission-driven company and I cannot recommend them enough.
Save $10 on your first order with WGAC using this link or the one above! In full disclosure, I will also receive a $10 credit, but as always I will never endorse a company or brand that I do not personally use and love.
9. Involve your kids.
Okay, so I don't have kids, and I don't interact with children much at all. But from the eco-parents I've talked to, the best advice they've got is to involve your kids. Talk to them early about sustainability and why it matters. Get them involved in the process. Give them sustainable options and then let them pick their supplies from there. Help them get hyped about the planet and doing their part. And by the time they're making their own decisions, they'll be ready to conquer the world, EcoWarrior style.
So. Did I miss anything, friend? What sustainable back to school tips do you have to share? Tips for talking to kids about sustainability? Favorite zero waste school supplies? Comment below and share them with me!
Keep in mind that we live in an imperfect society and there's probably going to be at least something on your kid's list that doesn't have a great zero waste swap. But think about how much waste and how many resources we could save if we choose even a couple of these options!
Sustainability is a journey. One step at a time.
---