8 Tips for a Low Waste Wedding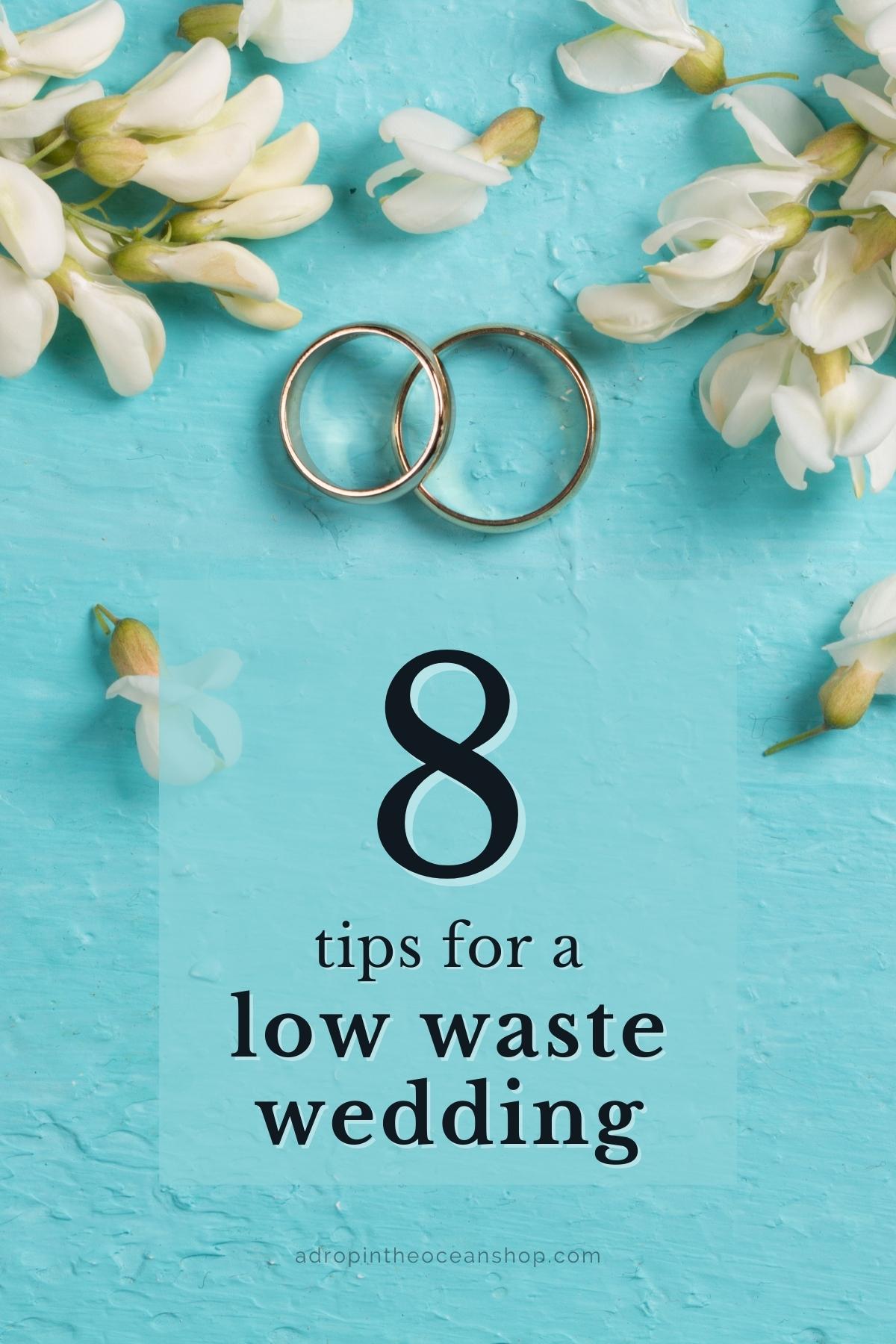 Listen to the audio of this post here:
This post first appeared in our weekly Make Waves Mondays email series on October 11, 2021.
---

Hey again, friend!
This past weekend I was away at a wedding that was so beautiful, so full of love and happiness, and...low waste!
Since I have no personal experience getting married and have no plans of experiencing it any time soon, I told Meghann I'd be using her wedding as today's sustainable topic of choice. Thank you Meghann for letting me brag on your special day!
So without further ado, here are 8 tips for a low waste wedding, inspired by Kirk and Meghann's big day.
A zero waste registry.
Long before we all gathered in SoCal for the wedding, the low waste adventures were already in motion. 
Rather than registering for physical items, Meghann and Kirk's registry was populated with honeymoon funds! Each piece of the honeymoon had its own fund, from the flight to Mexico to the underwater diving experience. I love this so much. 
If you don't need new household items for your married life together, why not opt for a honeymoon fund instead?
Buy Nothing for the win.
If you've been around here a minute, you've heard me mention Buy Nothing groups on many occasion - and today is no exception.
In Meghann's words, "There are so many brides out there that spend a ton of money on their wedding. I knew all I needed to do was find that bride."
So much of the decor was found in Buy Nothing and resale groups - including a "Dog of Honor" bandana and leash for their pup, Puma. And it was all so gorgeous! I mean, look at these table numbers…
But it wasn't just table numbers...
It was pieces of burlap that had been hemmed by hand. 
Yards and yards of fabric for the wedding arch that would otherwise cost hundreds.
Eucalyptus table decor.
Tea light holders.
Battery-operated tea lights. 
The list goes on. And it's a beautiful list.
But first, reuse.
The shells in the centerpieces have been in Meghann's family for decades. She uncovered them at home, packed them up, and featured them throughout the venue as centerpieces and focal points. No need to buy new!
One piece, many uses.
Not only were those shells reused and rescued from storage, they were also used as party favors. It was so fun to see which shells guests picked out to take home with them as a little keepsake from the day.
Locally-sourced flowers.
Flowers can have a huge carbon footprint. About 80% of the flowers sold in the US are imported from across the globe. The morning of the ceremony, Meghann headed off to the local farmer's market and picked up some absolutely beautiful stems for her bouquet and decor. This not only cut the flowers' carbon footprint, but also supported the local economy in the process. And they were gorgeous!
Slashing food waste.
Up to 40% of the food produced in the US goes to waste. So when it came to the wedding dinner, Meghann and Kirk opted for a smaller menu. 
A full buffet with several different offerings often leads to a lot of food waste because, as the saying goes, guests' eyes can be bigger than their stomachs. 
A smaller menu with items to please everyone means less food waste - and less cleanup!
Natural confetti send-off.
Okay so it turns out the rumor that rice is bad for birds isn't actually true. However, we did just talk about food waste and how much of a problem it is. Rice may not have a huge carbon footprint, but it's still wasted food, and probably not native to most of the places it's being tossed for weddings. So if there's another option, why not go for it?
For Meghann and Kirk's big day, some palm branches from the venue were set out to dry overnight so they could be hole-punched into confetti the morning of. But it turned out that palm branches can be really thick and incredibly difficult to hole punch. So instead, we found some smaller leaves that had already been pruned and were sitting neatly on top of the yard waste bin, and tasked the excited kids staying at the venue with tearing them into little pieces of confetti.
The confetti was put in some cute little mesh bags and handed to the guests at the end of the reception for the send-off. No wasted food, no non-native species, and a great little craft for the kids.
Five days, one location.
To celebrate their wedding with their loved ones even more, Meghann and Kirk rented a commercial estate for a long weekend where they could spend several days surrounded by friends and family. 
The estate grounds were the perfect backdrop for a wedding ceremony, a social hour, and a reception - all in one place. 
By keeping everything at one location, including the full wedding weekend, the carbon footprint of their celebration was kept to a minimum by limiting the number of cars driving to and from the wedding and driving to multiple locations for a ceremony and reception.
Meghann and Kirk's wedding weekend was full of love and laughter...and many happy tears shed on my part. 
Thank you both so much for letting me use your beautiful wedding as an example of sustainable wedding practices, and I wish you both a lifetime of happiness and love.
---