#EcoWarriorChallenge - DAY 3 - Bottles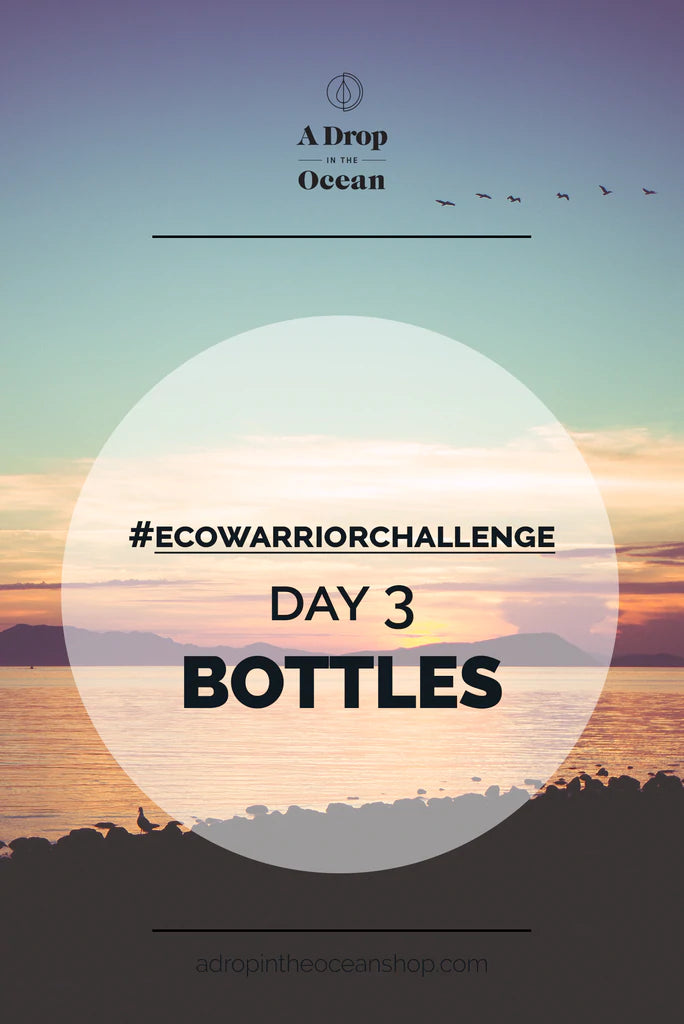 Welcome back to Day 3 of the #EcoWarriorChallenge - World Oceans Day Edition!  As #EcoWarriors, we are protectors and defenders of our planet.  With actions small and large, each of us has the power to create a better planet every day.  On Monday, we saved sea turtles by saying no to straws.  Yesterday, we cared for corals by refusing plastic bags.  Today, we're supporting seabirds.
We are all connected to the oceans.  Oxygen, fresh water, a source of food - we depend on the ocean no matter where we live.  Our bodies are 70% water; we crave water.  So many of us feel at peace or at home when we're around water.  I may live in central Ohio, but the ocean gives me life every day.
And yet, those species whose lives revolve around the oceans need our help.  Seabirds are a keystone species in oceanic regions. Where there is ocean, there are islands.  And these islands can be lush, beautiful jungles teeming with life, singing beautiful melodies each and every day.  Without seabirds, these island ecosystems could collapse. Seabirds distribute seeds and nutrients from island to island.  They are responsible for these lush ecosystems.
Seabirds are also sentinels for what's happening in our oceans.  By flushing the stomachs of these birds, we can understand the resources available and the diets being provided from parent to chick.  What we're finding, unfortunately, is that most of the time, plastic is a main "food" source.
Plastic bottle caps are one of the most commonly-found items in bird stomachs.  We need to end our love affair with bottled water. Unless you live in an area where your tap water is unsafe to drink (the Flint water crisis is still very real), make a pledge to be an #EcoWarrior and refuse bottled water to support seabird populations.  
If you don't like the taste of your tap water, get a filter.  
If you appreciate the convenience bottled water brings, get a few glass bottles and keep them filled in your fridge.
If you simply find yourself forgetting your bottle, Kathryn Kellogg over at Going Zero Waste encourages us to make it part of our mental checklist when leaving the house…. Phone, water, wallet, keys.
We cannot rely on our recycling programs to manage this problem.  We must stand up and be a voice for these innocent creatures.  We manufactured bottles, we can turn the tide on their impacts.
Subscribe to my newsletter to receive an invitation to a super secret, super awesome Facebook group full of other #EcoWarriors like yourself.
How is your #EcoWarriorChallenge going?  Leave a comment below and share your progress, your struggles, and your successes!  I'll be back tomorrow for Day 4.
Photo 2 | Chris Jordan
Sources:
https://storyofstuff.org/movies/story-of-bottled-water/
https://www.banthebottle.net/articles/10-startling-facts-about-bottled-water/
https://sustainability.umd.edu/get-involved/staff/terps-heart-tap/bottled-water-facts-did-you-know
https://www.theguardian.com/environment/2017/jun/28/a-million-a-minute-worlds-plastic-bottle-binge-as-dangerous-as-climate-change
https://news.nationalgeographic.com/2015/09/15092-plastic-seabirds-albatross-australia/
https://bluethefilm.org/
---