#EcoWarriorChallenge - DAY 1 - Straws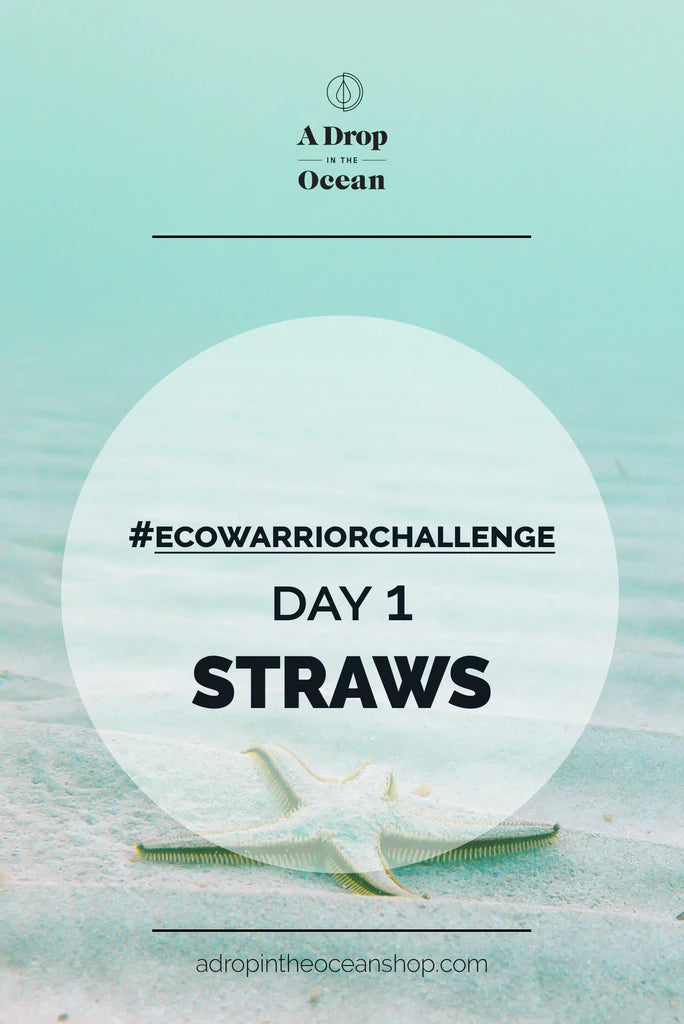 This Friday is
World Oceans Day
.  A day to celebrate the amazing majority of our planet's surface that gives us life.  Did you know that 70% of the oxygen we breathe comes from the oceans, not the rainforests (
source
)?  Crazy, right?  And yet, despite the amazing benefits we reap from the oceans, as a society we often treat this glorious giver of life as if we couldn't possibly influence it at all.  Which is, unfortunately, untrue. Oil spills, carbon emissions, microplastics - all of these and more are influencing the state of our oceans and harming the incredible creatures that live within.
As we begin to think towards World Oceans Day, I want us to focus on the things that we can do to help our oceans.  There are so many facets to conservation. If we each choose one action to protect our oceans, they will thank us. So over the next seven days, I'll be focusing each day on ways we can protect the waters and the creatures of the oceans.  I'm calling it the
#EcoWarriorChallenge - World Oceans Day Edition
.
Subscribe to my newsletter to receive an invitation to a super secret, super awesome Facebook group full of other #EcoWarriors like yourself.
Straws are a hot topic right now.  (Yay!!) The world is beginning to see the dangers that "disposable" plastic straws pose to the planet.  Straws are one of the most common items found during beach cleanups, and are a terrible hazard to wildlife.  Six of the seven sea turtle species are listed as threatened or endangered by the IUCN, and some of their main causes of decline are pollution and marine debris.  If you haven't yet seen the video of the sea turtle with a straw in its nose, it's a sobering sight. We use these straws for 15 minutes and then throw them "away."  This magical place of "away" is often times the ocean. But we have the power to protect sea turtles and other marine life from these single-use plastics.
 There are so many companies, organizations, and restaurants that are going straw-free, and I couldn't be happier.  But these changes wouldn't be happening if it weren't for individuals actively saying "No straw, please" when ordering a drink.  These three words, when multiplied by thousands or millions of people, make an impact.
If you don't believe me, a few months ago I was sitting at a restaurant in central Ohio with five other people.  When the server came to greet our table, she brought with her six glasses of water with six straws.  We never even had a chance to say that we didn't want water or straws.  And so, I did what any good millennial would do. I posted about it on Instagram.
I then proceeded to return to this same restaurant on many occasions but did my best to catch the server before he or she could bring me an unnecessary and undesired straw.  Sometimes I succeeded, and sometimes I failed.
I returned just a couple weeks ago and to my surprise, the server greeted us without waters or straws.  I ordered my drink, and this time I did actually want a water, and asked for "No straw, please." The server responded "We don't have… Okay."
I looked at the person I was with and said "Was she about to tell me they don't have straws in their waters?  Does she think I've never been here before? I know all about their straws!"
And then we looked around.  There was not a single water to be found with a straw in that restaurant.  Not a single one. What?! I still get giddy when I think about it. Now, I'm not naive enough to think that it was my one Instagram post that caused this change.  But I like to think that I had a part in it, among the other thousands of customers they had over the last several months. Our drops in the ocean added up! (Oh and I posted on Instagram again…) 
So here's your #EcoWarriorChallenge for today: Protect sea turtles by saying "No straw, please" when you order a drink.  If you prefer to have a straw, or need one for any reason, opt for a glass, stainless steel, bamboo, or paper straw.  The sea turtles will thank you.
If you don't already follow me on Instagram, I'm over at krystina_jarvis.  I want to see your "No straw, please" moments!  Share them with the hashtag #EcoWarriorChallenge.
Photo 1 | Linus Nylund on Unsplash
Photo 2 | Jeremy Bishop on Unsplash
---