3 Ways to Save Time with Zero Waste Grocery Shopping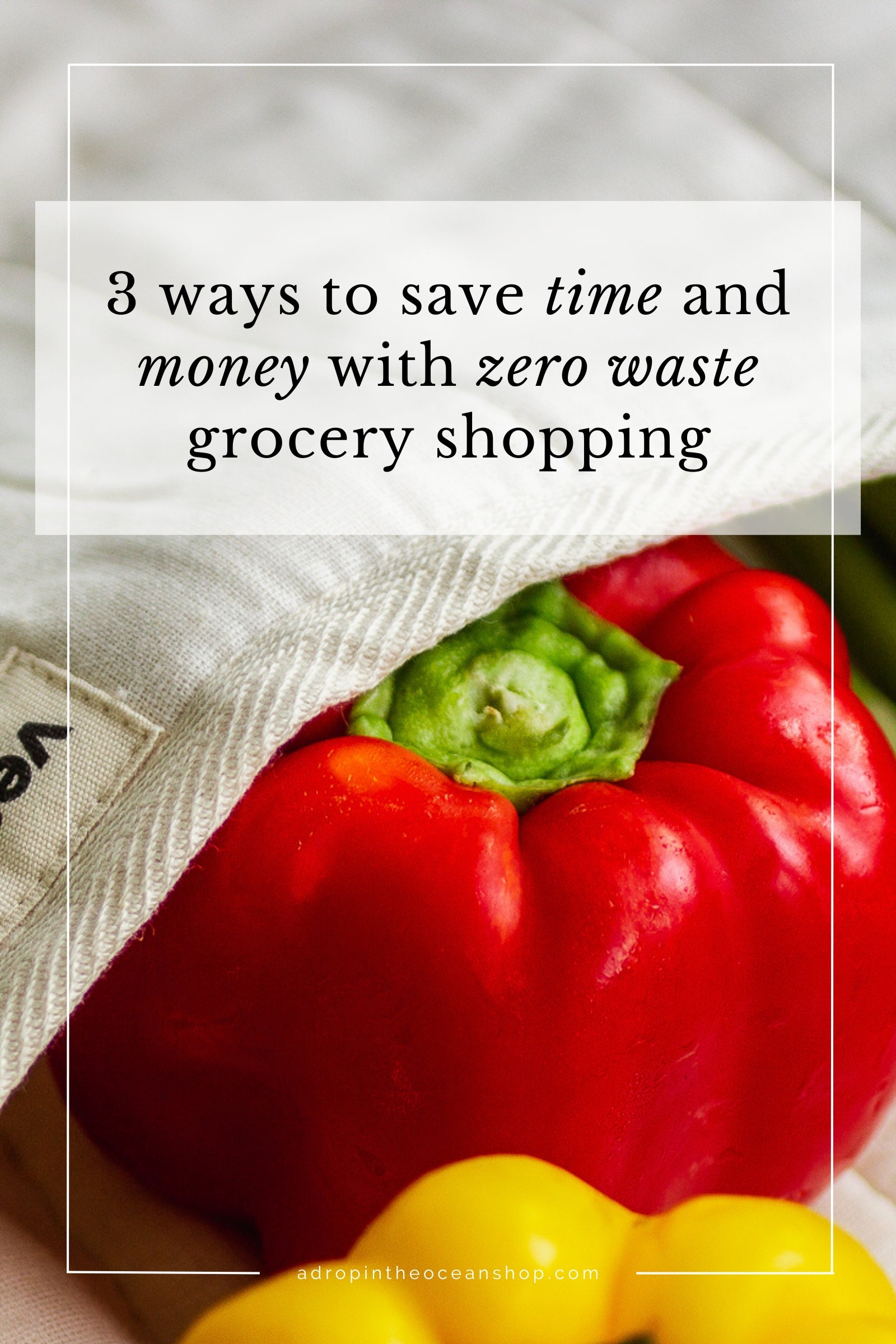 This post first appeared in our weekly Make Waves Mondays email series on February 10, 2020.
Last edited March 22, 2023
---

Hey there, friend!
Have you ever felt like grocery shopping, and especially zero waste grocery shopping like you may have seen in my beginner's guide to zero waste grocery shopping videos, takes waayyyyy too much time and there's no way you could make that work for you?
I see you.
Today I'm sharing with you some of my favorite hacks to streamline your grocery trips to save both time and money.
Oh and save waste, too, of course ;)
Do Some Recon
When I first began my journey to zero waste living, I had no idea what unpackaged food options were available around me. I always did my shopping at one chain grocery store, and never really ventured to the others.
When I decided I wanted to reduce my waste, I knew I needed to learn what was available around me.
Before I ever even attempted grocery shopping zero waste style, I hopped in my car to check out some of the other grocery stores around me. At the time, those were Fresh Thyme and Whole Foods, as well as a local butcher shop.
I made mental notes of what was available at each shop, so when I was ready to shop, I knew exactly which store I needed to go to and where in the store I would find what I needed.
This process took no more than an hour or two, and saved me SO MANY HOURS over time, because it gave me the confidence and freedom to walk in knowing exactly what I needed and where.
If you missed our recent posts with some of my favorite resources for finding bulk bins locally and my best tips for staying low waste when you don't have access to bulk bins, be sure to check those out, too!
Plan Ahead
Menu Planning
Before I ever head out the door to go grocery shopping, I always make a list of the meals I want to cook that week.
I know my go-tos that typically rotate the menu every week or two, but I also have a couple of favorite cookbooks and, of course, Pinterest, when I'm looking for something new.
👉 I make my menu for the week based on my schedule.
So if I have a crazy-busy day, I'm going to plan for leftovers that day.
If I have a light day with no meetings or second job tasks, I'll enjoy larger meals that take longer to prepare.
I'll also use those light days to prep for the busy days. For example, washing and chopping veggies, cooking dried beans, making veggie stock, etc.
Grocery Planning
Once I know what I'm cooking, then I make my grocery list. I divide my grocery list into sections:
Bulk Goods
Produce
Dairy / Refrigerated
Meats / Deli
Packaged / Misc.
Dividing the list in this way helps me from wandering up and down aisles. I can get everything in each section at once.
I wish I could quantify how much time I've saved since doing this. It's such a simple change, but such an incredible time-saver!
All of this is done in one Google Doc, so I can access it on my computer for easy-peasy planning, and on my phone for easy-peasy shopping.
✨ And since it's a Google doc, you can share it with others, too. So if you have multiple people in your household doing the planning or shopping, everyone can contribute to the process on their own time.
Grab your own copy of our meal planning + grocery shopping toolkit! 👇
Grocery Delivery to Your Doorstep
A couple of weeks ago I finally signed myself up for Imperfect Foods, and it's seriously one of my favorite decisions I've ever made.
Imperfect is a grocery delivery service on a mission to eliminate food waste and build a better food system for everyone.
Did you know that one-third of all edible food produced is wasted each year? 🤯
And when over 12% of households in the United States alone are food insecure, this is a massive issue for environmental sustainability and social justice.
Imperfect saves food that would otherwise be wasted and delivers it straight to your doorstep.
"Imperfect" foods may look different than what you'd see on the store shelves (maybe a misshapen carrot or an oversized egg), were deemed surplus by grocers, or were the victim of a packaging change that kept them from being put on store shelves.
There is nothing wrong with any of the food items, but were it not for Imperfect, they'd be destined for landfill.
(I actually PREFER most of the "imperfect" items. Many things like onions, lemons, and apples are smaller than you'd find in the grocery store, which means that if a recipe calls for half of an onion, for example, I can just use one small onion from my Imperfect Foods box, and don't have to worry about finding another recipe for the half of the onion before it goes bad.)
Imperfect not only saves rejected foods, but also delivers straight to your doorstep for way less than grocery store prices.
Choose your box size, delivery frequency, and whether you prefer conventional or organic produce (or both!), and before each delivery you'll get an email reminder to completely customize what goes in your box, so you're not stuck with something you won't eat.
Even better - they'll take their packaging back for reuse!
If you get a gel ice pack, an insulated bag, or an egg carton cushion in your delivery, you can just leave them on your porch on your next delivery day and your Imperfect Foods driver will pick them up!
Imperfect Foods used to only be available in a few select cities in the States, but they've been rapidly expanding and now they deliver to most of the West South Central region, Midwest, Northeast and all along the West Coast. Check out their website to see if they deliver to your area!
I'm so in love with this company that I couldn't help but give them a shoutout in this week's post. If you want to give them a shot, too, use this link to get $20 off your first box.
The above link is an affiliate referral link. I promise I will never promote a product or service that I do not use myself and support 100%. This post is not sponsored; I simply believe in this service so much I wanted to share it with you.
Alright, friend, that's all I've got for this week! I'll see you again next week.
References
Coleman-Jensen, A., Gregory, C. A., & Rabbitt, M. P. (2017 October 4). Food Security Status of U.S. Households in 2016. United States Department of Agriculture Economic Research Service. Retrieved from https://www.ers.usda.gov/topics/food-nutrition-assistance/food-security-in-the-us/key-statistics-graphics.aspx.
Munesue, Y., Masui, T., & Fushima, T. (2015). The effects of reducing food losses and food waste on global food insecurity, natural resources, and greenhouse gas emissions. Environmental Economics and Policy Studies, 17, 43-77.
Pearson, D. & Perera, A. (2018). Reducing Food Waste: A Practitioner Guide Identifying Requirements for an Integrated Social Marketing Communication Campaign. Social Marketing Quarterly, 24, 45-57.
Shafiee-Jood, M. & Cai, X. (2016). Reducing Food Loss and Waste to Enhance Food Security and Environmental Sustainability. Environmental Science and Technology, 50, 843208443.
Young, W., Russell, S. V., Robinson, C. A., & Barkemeyer, R. (2017). Can social media be a tool for reducing consumers' food waste? A behaviour change experiment by a UK retailer. Resources, Conservation and Recycling, 117, 195-203.
---
---