Plastic Free July Confessions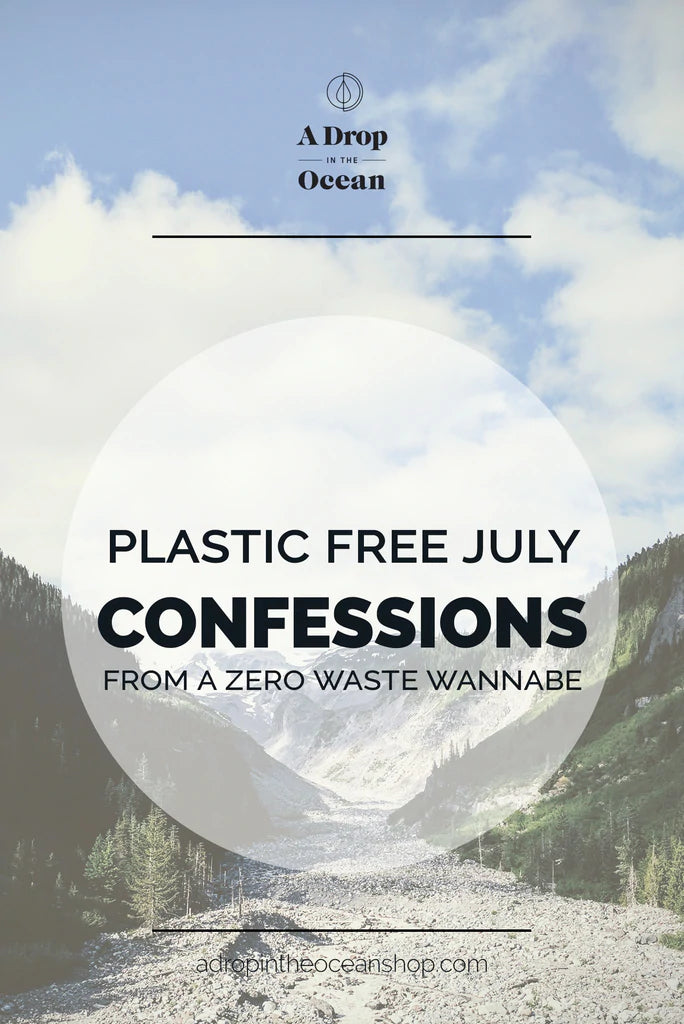 Alright, friends.  I am back and ready to drop a ton of content!
If you follow me on Instagram, you may have seen that I was going off the grid for a few weeks, but would report back upon my return.  And if you don't follow me on Instagram...well go do that now!
I was off adventuring in Paraguay for ten days, bookended with trips to the Seattle/Tacoma area.  Paraguay was an incredible experience, and I realized pretty early on that there would be far too much to cover in one post.  Instead, I'll be breaking it all down into a series I'm calling Lessons from Paraguay. These may not all be directly tied to plastic or zero waste, but these lessons have brought value to my life and I want to share them with you all too.  Coming soon!
There's also some other pretty cool stuff in the works that I can't share yet - so stay tuned in the coming months!
In the meantime, I wanted to follow up with my last post before I left.  In said post, I shared the super cool resource that Columbus Zoo and Aquarium and Calgary Zoo put together for an inter-zoo challenge that was happening throughout the month.  I also shared my personal pledges for the month and promised to report back on them.  Plastic free is a journey, not a destination.  So while it is always my hope that this little corner of the internet inspires you to make small changes for our planet, it's also important for me to share my own struggles and challenges with you.  None of us are perfect, but we can all do our little pieces.
Raise money for a nonprofit. I will raise money to support a nonprofit dedicated to plastic pollution reduction.
Unfortunately, while I truly did have the best of intentions with this one, prepping to be away for three weeks got in the way and I didn't dedicate as much time to this as I hoped.  I'll leave the page up for the rest of this month too and do my best to dedicate some space and time to promoting the amazing work 5 Gyres is doing!
Join a cleanup effort
. 
I will host or participate in a beach, highway, river, or other cleanup effort in my community.
Check!  This one was actually supposed to be one of the easier ones, as I helped plan a river cleanup at work as our Plastic Free July "launch party."  But, we had had a ton of rain and the vegetation was overgrown, so by the time I arrived only about halfway through, everyone was done. So, instead, I grabbed a friend a couple weeks later and we went for a walk down the street from my apartment to a small pond that was riddled with trash and collected a ton of it.  So, hosting and participating in a cleanup effort counts with two people, right? I choose yes.
Advocate for more food packaging options
. 
I will advocate for alternatives to single-use packaging at local grocery stores, markets, or work.
Again, the best laid plans… This is still something I would like to explore, it just didn't happen in July.
Compost pet waste
. 
I will spend 15 minutes learning how to compost pet waste at home or research pet waste composting services available in my area.
Columbus has a really cool company called Green Scoop that will compost pet waste for you!  How cool is that?! They even provide the bucket and pick it up at your doorstep. I haven't made the switch yet, as I still have Litter Genie refill packs to use, but I did do the 15 minutes of learning.
Natural fibers
. 
When available, I will purchase clothing made with natural fibers, such as cotton, linen, or wool, rather than synthetic fibers.
I bought one dress from a small local boutique.  It did not have a tag with the material listed on it, but it definitely doesn't feel synthetic!  So...maybe?
Complete a waste audit
. 
I will conduct a waste audit - including recyclables and compost - to understand how much waste I create and where I can reduce the most.
Did it!  It wasn't too surprising for me as I've done several variations of a waste audit over the last couple years.
Pearly whites
. 
I will purchase toothpaste in an aluminum tube or in a glass jar or make my own!
Guys.  I finally did it.  I made my own toothpaste!  And I actually like it! I'll do a whole other post about that, but for now, check this one off the list!
Tim Taylor your beauty products
. 
I will lessen my plastic impact by making my own makeup.
I ran out of my face powder during the month so I made some more, and bought the supplies to make my own lipstick when mine runs out soon.
That was a close shave
. 
I will replace my disposable razors with steel razors.
Done!  Best decision ever.
Dam the flow
. 
I will use a menstrual cup and or cloth pads.
I meant to...and then the time came and I hadn't bought these yet…and I still haven't.
Create your Own - Guppyfriend
. 
I will purchase a Guppyfriend laundry bag to catch microfibers in the wash.
Yeah I did this one!  As I use it more I'll report back.
Keep my community clean
. 
I will pick up three pieces of litter each day.
I didn't complete this task every day, but I did most days.  Some days I simply didn't see any litter where I was (yay!) and other days I just never left my apartment (double yay!).  I am getting more and more in the habit of picking up litter when I am out and about, though. I was already getting better about it but the challenge definitely pushed me further.
Write letters or emails
. 
I will write one letter or email per day to a public official or company to advocate for planet-friendly policies.
This one I wish I had done better.  I didn't write a single letter! Ugh.  This is such an important step in moving towards a sustainable lifestyle, and I got so caught up in my own head about who I should write to, what I should say and how I should say it and do I email them or snail mail them, and on and on and on.  I need to work on this.
If you have any tips, please comment below with them!
Takeout pro
. 
I will use my own containers when ordering takeout.
I did this once, and it was a super cool feeling.  The staff at the restaurant didn't even flinch! I actually overheard them talking about how great of an idea it was and "why doesn't everyone do this?"  
Honestly, though, the biggest hurdle to doing it more was that most of the time when I get takeout, I get delivery.  And when I want delivery, I don't want to get in my car to pick up the food. I'm too lazy for that, people. Let's just be real about it.  My compromise with myself in these "I can't get myself off the couch" days is to specify in my order that I want everything packaged in minimal plastic, no plastic bag, and no condiments, utensils, napkins, etc.  While it may not always come 100% plastic free, I've seen some pretty creative attempts at plastic-free delivery, and they make me smile, knowing that people are responding to these requests in the best way they can, and if we all were to make these requests then someday the plastic won't even be an issue anymore.  
And that, my friends, is something to celebrate.
---