5 Pieces of Paper That Are Surprisingly Unrecyclable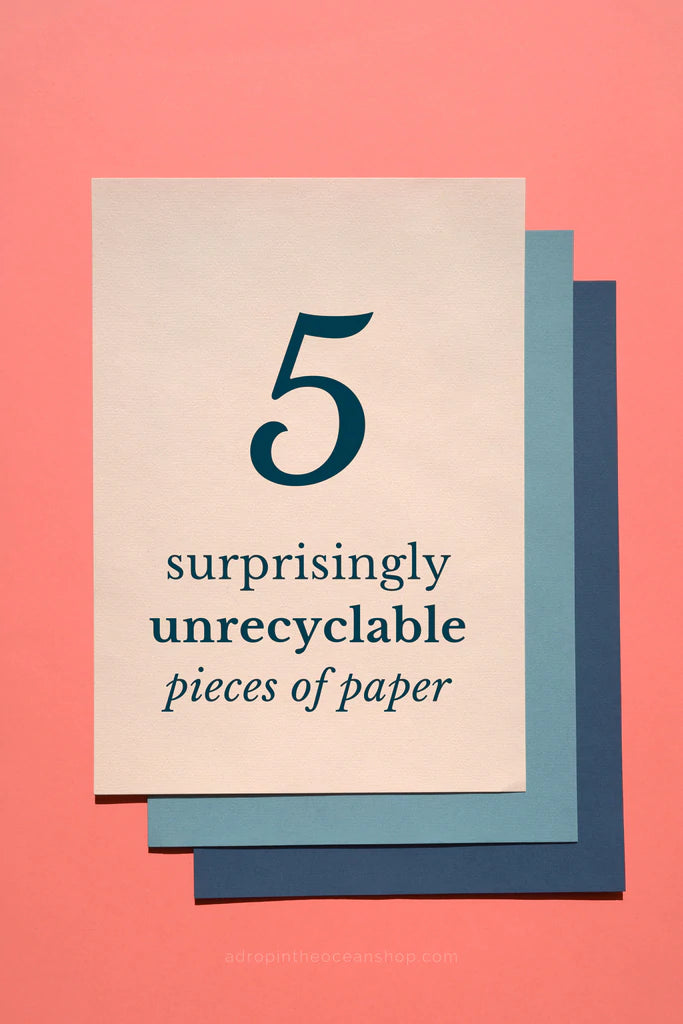 This post first appeared in our weekly
Make Waves Mondays
email series on October 19, 2020.
---
Last week I shared a video on Instagram about a common paper product that's surprisingly not recyclable. I got sooo many comments that I decided to dedicate this week's blog post to the top five surprising pieces of paper that aren't recyclable.
Because as we've discussed before, recycling right really does matter - otherwise we could actually be doing more harm than good.
1. Receipts
Yep, these seemingly harmless tiny pieces of paper (or not so tiny in the case of CVS receipts 😆) are completely not recyclable or compostable. They're actually coated in BPA (gross). These guys, unfortunately, belong in the trash. Opt for an e-receipt or no receipt whenever possible.
2. Shredded Paper
The fibers in shredded paper are too short to be recycled. The shreds basically become confetti in a recycling facility and can jam machinery. Instead, shredded paper can be a great bedding option for tiny pets, or packing material. If you're not in need of either of these things, check out your local Buy Nothing group to see if a neighbor or small business owner could use them. As a last resort, shredded paper can be backyard composted.
3. Paper Towels + Napkins
Whether they've been used or not, keep those paper towels and paper napkins out of the recycling bin. As with shredded paper, the fibers in paper towels and napkins are too short to be recycled. And if they've been used, they're officially contaminated, and remember, contamination is the #1 thing we don't want in our recycling. They can be backyard composted though! (Or, opt for reusable options. Find unpaper towels in the shop 😉)
4. Paper Cups
As much as we all want to believe that paper cups are better than plastic, their end life is actually the exact same. Paper cups are not 100% paper. They're coated with plastic to keep liquids from leaking through. There is a very specific, incredibly uncommon, piece of machinery that can separate the plastic from the paper, but the benefits (aka the resale market) of this separation process are not strong enough to justify the expense and effort. Paper cups (and their plastic lids) belong in the trash. The sleeve can be recycled though! Use a reusable cup whenever possible. I know this is more difficult now with all things COVID, but you may be able to find a local shop. Shout-out to Red Elm Cafe here in Tacoma!
5. Wrapping Paper
As we move into the holiday season, this is sooo important to remember. Wrapping paper is coated in plastic, so it's not recyclable or compostable. The same is true for gift bags. Choose kraft paper for wrapping gifts or a reusable option (wink wink coming soon wink wink 😁)
If you've found yourself guilty of tossing one or some of these into a recycling bin at some point - don't despair, we've all been there. That's the best part about sustainable living. It's a journey, it's not a destination. We're always learning, always growing, always improving.
Here's to another week of learning, growing, and improving 🥂
---
---