How to Use Hand Soap Powder: Step-by-Step Guide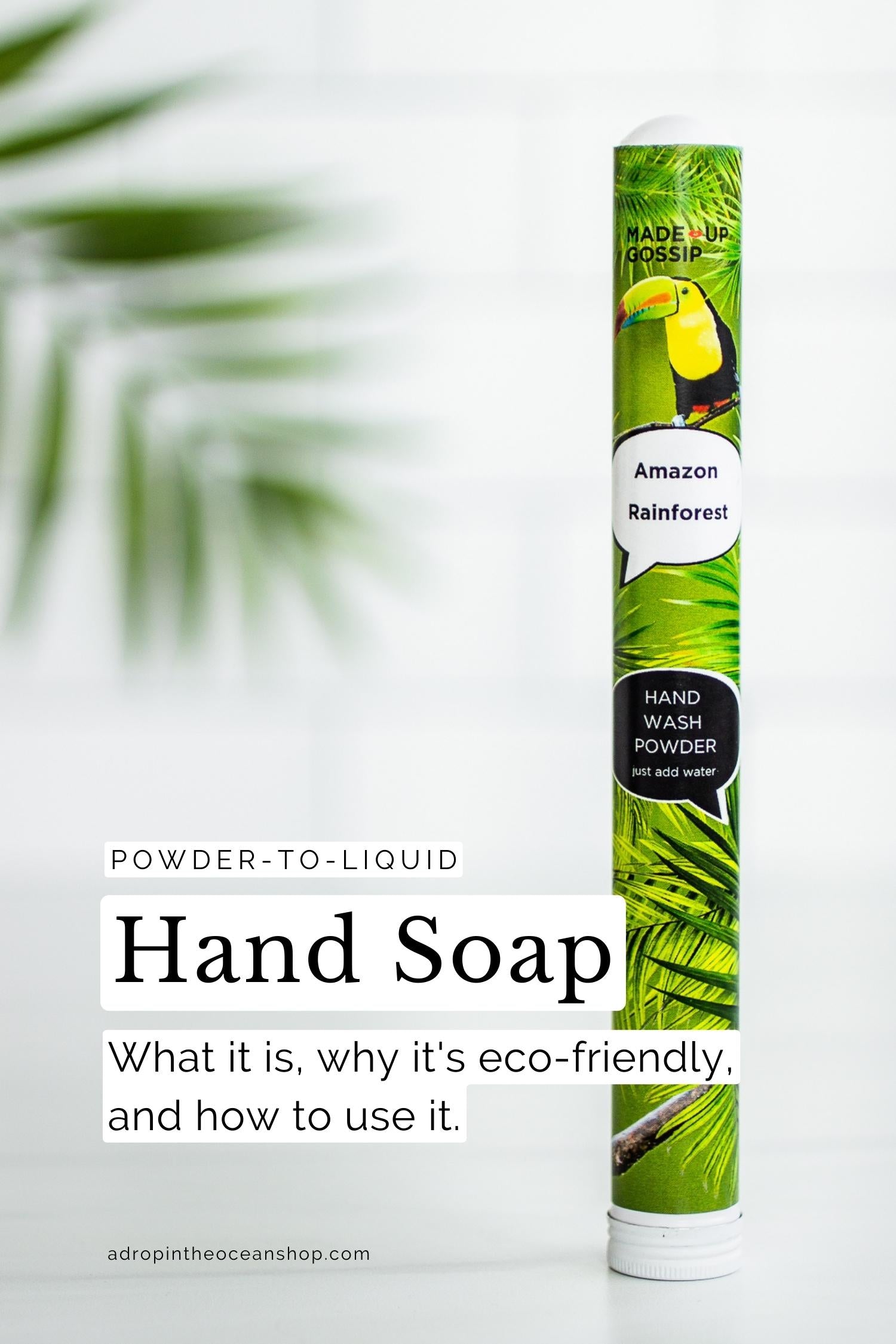 Listen to the audio of this post here:
This post first appeared in our weekly Make Waves Mondays email series on October 31, 2022.
---
Hello hello hello, friend and happy Halloween-week! How was your Halloween? Did you go trick-or-treating? Or did you already party over the weekend and spend the evening chillin' at home on the couch with a bowl full of Reese's? (🙋‍♀️)
This weekend I took a break from the hustle and bustle of holiday prep and unpaper towels sewing to spend some time at my friends' Halloween party, dressed in my favorite pirate costume - pulled together only with pieces I already have in my closet. It was such a great time and a much-needed break from work.
And speaking of holiday prep… This year's holiday collection is dropping THIS WEEK. That also means that if you took advantage of our holiday pre-sale last month, your order is finally heading your way oh-so-freaking-soon.
As I've been decking the virtual halls and loving up on all of the new zero waste essentials we're adding to the shop, I've realized that we have some really sweet products on our shelves that I've hardly even mentioned and was just hoping that you'd stumble upon them, immediately understand what they are and how to use them, and then buy them to incorporate into your EcoWarrior life.
That's not how this works, friend. 
While some of our eco-products are obvious and easy to understand (you use a wooden hair brush the same way you use a plastic one), many of them may not be - especially if you're newer to the zero waste life.
As the zero waste movement has grown and changed over the past few years, so have the products available.
When I first found the zero waste lifestyle, it was alllll about DIYs. DIY deodorant. DIY toothpaste. DIY makeup. 
And while I do still enjoy DIY'ing some of my makeup, dang near everything else I'm THRILLED that there are products I can just purchase now and use straight off the shelf.
That also means that there's so much innovation happening in this space. New, creative ways to reduce waste in all forms - wasted time, wasted energy, wasted resources.
One of my favorite, new, innovative zero waste products on our shelves?
Powder-to-liquid hand soap.
What is powder-to-liquid hand soap?
Just as the name implies, powder-to-liquid hand soap is a powder that becomes liquid hand soap when it's mixed with water.
Because there's no water in the product itself, it's super lightweight and compact, which means that it's got a teeeeeeny tiny carbon footprint. 
The lighter and smaller something is, the less emissions it takes to transport that thing.
---

Related: 6 Ways to Reduce the Carbon Footprint of Your Shopping Habits
---

And to make it even better, the powder-to-liquid soap we've got at A Drop in the Ocean is packaged in a fully-recyclable aluminum tube, rather than a plastic pouch, so they're still super lightweight but without any plastic thrown in the mix.
Each tube of powder replaces one 8oz bottle of hand soap, and is up to 💥 90 PERCENT 💥 lighter than a plastic bottle of soap.
All of this means that with their small size, aluminum packaging, and lack of water, we can ship you 6+ months worth of hand soap in a single envelope weighing less than a pound.
Now that's freaking sustainable. (And it makes them a GREAT stocking stuffer 😉)
How does it work?
Okay, friend. Now that you're sold on the sustainability of our hand soap powders, you're probably wondering how to actually use them (besides the obvious of mixing powder and water).
And the good news is they're ridiculously easy to use.
To make your new bottle of liquid hand soap:
Measure out 250mL (8.5oz) of water and heat it up. Warm water is

~fine~

but hot water is best. Highly recommend hot water always.

Pour the hot water and the powder in a soap dispenser and screw the pump top on.

SHAKE. And shake hard. For about a minute - yes, a full 60 second minute.

Once the powder is dissolved, you've got yourself a full bottle of creamy, moisturizing hand soap!
Can I use the powder with a foaming hand soap pump?
Nope! Our powder-to-liquid hand soap was intentionally developed to be a thick, non-foaming soap, since foaming hand soap may actually be less effective. You'll wanna use a regular soap dispenser for this one.
What scents can I choose from?
Oh I'm so glad you asked, friend 😁 'Cause they're pretty freaking great scents.
Year-round, we've got lemon + verbena, sea salt + agave, unscented, and we JUST added Amazon Rainforest to the lineup. It's grassy, it's dewy, it's floraly, it's rainy. It's so, so lovely.
Aaaaand with our holiday drop this week will also come three NEW, limited release scents - Festive Season, Champagne Sparkles, and Frosted Pine. 
Last year we released Festive Season and it was one of my favorite scents ever. Then I personally tested Champagne Sparkles and Frosted Pine and immediately knew we'd need to add them to the holiday shop this year. 
Festive Season is like a baked apple pie, fresh out of the oven.
Champagne Sparkles is like that first crisp, refreshing, effervescent sip of a glass of bubbly on New Year's Eve.
Frosted Pine is like hiking through a pine forest after a fresh coating of snow.
They're the perfect encapsulations of the winter and holiday season upon us and I just know you're gonna love them, too.
So, friend, the tl;dr version is this:
Powder-to-liquid hand soap has the lowest shipping footprint when it comes to liquid soaps, its luxuriously creamy texture moisturizes while you wash, and we've got lots of scents to choose from.
I'm a big big fan of our liquid lemon drop and lavender rosemary refillable hand soaps, but if you're feeling iffy about the impacts from shipping them, hand soap powder is the way to go.
And as we're coming up on the holidays and you're searching for the perfect, sustainable, and actually useful stocking stuffers for your fam, why not give our hand soap powder a shot?
I hope you have a great start to November and I'll "see" you again later this week for our annual holiday launch!
---